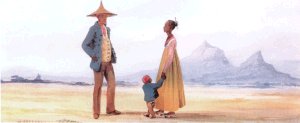 Colonial works: A selection of Charles Davidson Bell's life and landscape paintings are being exhibited at the Irma Stern Museum until November 16.
THE trustees of The John and Charles Bell Heritage Trust are holding an exhibition of paintings by the Cape colonial artist, Charles Davidson Bell (1813–1882), at the Irma Stern Museum until November 16.
Bell arrived in the Cape in 1830 and over a period of 40 years made a significant contribution to many aspects of local life before retiring to his native Scotland. In 1848 he became Surveyor General of the Cape Colony. In 1850 he was appointed a director and then chairman in 1865 of what is now Old Mutual.
He is remembered mainly for designing the famous Cape triangular stamps and for having the suburb Bellville named after him, in recognition of his work as an engineer in the construction of the railway line.
His many and varied accomplishments as an artist form the focus of this exhibition. His artistic illustrations provide a fascinating contribution to the records of social life at the tip of the continent in the 19th century.
The earliest surviving record of Bell's work is an album illustrating his travels around the Cape Peninsula in 1832. His artistic talent resulted in his selection as second artist in Dr Andrew Smith's scientific expedition to the tropic of Capricorn, where Bell was responsible for recording the landscape and various people encountered.
Bell won a gold medal for the best original history painting, titled
The Landing of Van Riebeeck at the Cape of Good Hope in 1652
, now held in the SA Library, Cape Town.
(The Trust was formed in 1978 under the direction of Professor Charles Manning, Bell's grandson. The collection of paintings, drawings, sketches, woodblocks and artefacts is held at UCT.)
---
This work is licensed under a Creative Commons Attribution-NoDerivatives 4.0 International License.
Please view the republishing articles page for more information.
---