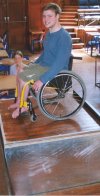 Going up: Second-year BCom student Andrew Ryan puts the new lift in Jameson Hall to the test, getting a taste of what graduation will be like when his turn comes. The life can only be operated using a key. The current lift operator and "keeper of the key" is Cindy Watermeyer of the Disability Unit.
A NEW lift that has been built under the floor next to the stage in Jameson Hall will allow graduands in wheelchairs to be capped on stage, along with their classmates and peers. In the past, the Chancellor, or presiding officer, had to descend the stairs to cap these students.
The device, a standard hydraulic unit, was installed shortly before Nigerian author Chinua Achebe, who is also in a wheelchair, visited UCT to deliver the third Steve Biko Memorial Lecture on September 12. Its installation was the result of some frantic work behind-the-scenes to prepare it in time for Achebe's lecture.
The hoist was a joint project between Properties and Services and the Disability Unit. The design concept was chosen after an imported lift proved too costly and would have required an extensive renovation to Jameson Hall. It would also have affected the stage area, said project engineer André Theys from P&S.
The number of students in wheelchairs who graduate each year is small, usually one or two. At times up to three disabled people may require some form of assistance during UCT's annual graduation ceremonies, said the Unit's Cindy Watermeyer.
Jameson Hall presented several challenges. "Space is a big issue at graduations and a ramp would have taken up too much space," Watermeyer explained. "Also, a ramp is a permanent fixture, you can't move it out of the way when it is not required."
The hoist mechanism was built locally by Mahmood Chikte of Frazman Engineering and lifts the occupant 760 mm to the stage, taking nine seconds to ascend or descend.
During the installation (Theys was present through the night on two occasions to make the deadline in time for Achebe's lecture) Theys' colleague, Chris Briers, suggested using the original floor, removed when excavating the pit, to use as the hoist platform. "This proved highly commendable, as the lift can't be seen when it's not in use," Theys added. "The 'heritage' of Jameson Hall was thus left intact."
Safety features include a sheetwork shroud that envelops the entire frame when raised, so that moving parts do not come into contact with people in the immediate vicinity. But not just anyone may operate the elevator, which is a "managed" or "assisted" lift and not intended for everyday use. For safety reasons, the lift is only operable with a key, held by Cindy Watermeyer. To make arrangements to use the lift, please contact her on 021 650 2427.
---
This work is licensed under a Creative Commons Attribution-NoDerivatives 4.0 International License.
Please view the republishing articles page for more information.
---