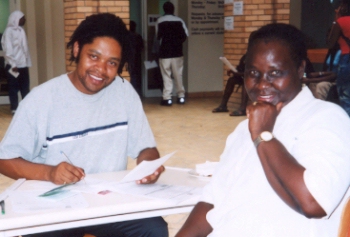 Foreign affairs: IAPO hosted the Department of Home Affairs at UCT last week, enabling those international students whose permits expire between March 30 and June 30, 2002, to renew these permits on Campus. IAPO's Jerome September (left) assisted BA student Annasetta Malanga from Botswana, in the Kramer Quad.
OVER THE years Isabella Scholtz in the Government Liaison Office in the Department of Communication at Welgelegen has performed a sterling service for the University community, assisting both students and staff with visa difficulties.
However, Scholtz is retiring at the end of March and Staff Recruitment and the International Academic Programmes Office (IAPO) will try to assist with these functions as much as possible.
But as neither office has been given any additional capacity, foreign staff and students will have to take much greater responsibility for their visas themselves, according to IAPO Director, Lesley Shackleton.
Praising Scholtz for her commitment, Shackleton added: "Few people realise how much time and effort are required to comply with the often confusing visa requirements of Home Affairs. In addition, Isabella spent much time smoothing things over when staff or students 'forgot' to renew visas, or did not follow government regulations properly."
Relying on Scholtz's excellent knowledge of Home Affairs regulations, and close contacts with the people in Home Affairs, the Government Liaison Office assisted with a multitude of things: getting work permits for new staff and resolving complications related to study permits.
"No longer will we have Isabella to plead cases for late renewals, or stand in lines to get visas for staff or students," Shackleton added.
"Both IAPO and Staff Recruitment are acutely aware how much Isabella's quiet service will be missed.
"Discussions are underway to ensure that UCT retains its capacity to negotiate on behalf of staff and students with valid visa problems beyond their control, however, there will not be the capacity to provide the level of service that was given by the Government Liaison Office."
---
This work is licensed under a Creative Commons Attribution-NoDerivatives 4.0 International License.
Please view the republishing articles page for more information.
---