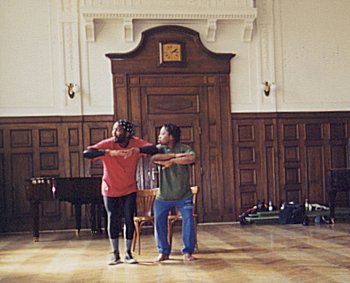 Czech mates: Third-year Drama students Thando Mthi and Nceba Mpiliswana in rehearsal at the Janacek Academy of Music and Performing Arts in the Czech Republic, where they were part of the Drama Schools acclaimed performance of Woza Albert!
THE UCT Drama Department's production of
Woza Albert!
, written by Percy Mtwa, Mbongeni Ngema and Barney Simon, has been invited to the International Theatre School's (ITS) Festival in Amsterdam, Holland, in June.
This follows the production's acclaim at the ITS Festival, Setkani/Encounter, in Brno in the Czech Republic recently. This is the second consecutive year that the UCT Drama Department has been invited to perform at the Czech festival, organised by the Theatre Faculty of the Janacek Academy of Music and Performing Arts.
The festival's mission is to create the space for students, teachers and theatre professionals from national or university theatre schools to meet. It also provides an opportunity for the mutual exchange of experience, methods and results in the field.
Third-year drama student Lulama Masimi directed the production, starring final-year students Nceba Mpiliswana and Thando Mthi and was stage-managed by third-year student Andrea Ariefdien.
The final production on the festival programme, which included productions from Holland, Russia, Slovenia, Britain, Poland, Romania, Bulgaria, Austria, Finland and Slovenia, Woza Albert! won the Dean's Marta Award for "an exceptional performance".
This award was one of five made by a panel of judges who attended all the performances of the Festival's 14 international productions.
The UCT production and the Polish production were the only two to be invited to this major European festival.
---
This work is licensed under a Creative Commons Attribution-NoDerivatives 4.0 International License.
Please view the republishing articles page for more information.
---