Hundreds of excited Khayelitsha learners enjoyed a science show as part of the launch of the isiXhosa translation of George's Secret Key to the Universe – the children's book by Lucy and Stephen Hawking. The translation was done by biliteracy expert Xolisa Guzula, a lecturer from the University of Cape Town (UCT) School of Education.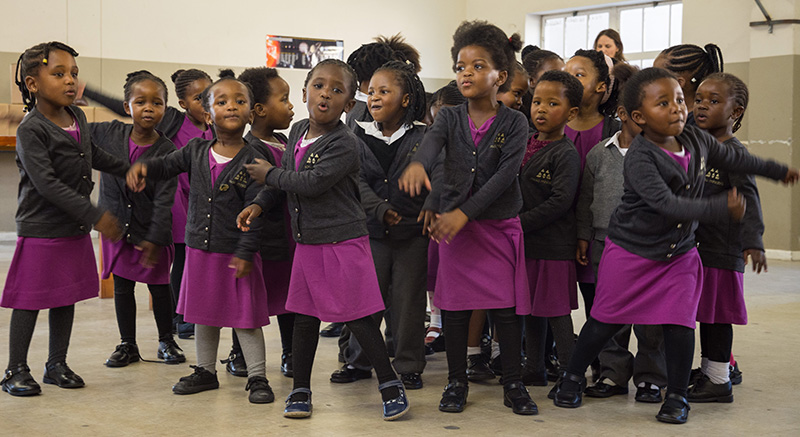 The book launch took place at Molo Mhlaba Primary School in Khayelitsha and kicked off with a song and dance routine by younger learners to welcome guests. Learners from surrounding schools attended and each were given a copy of the translated book, originally written by the father-and-daughter team of Stephen and Lucy Hawking.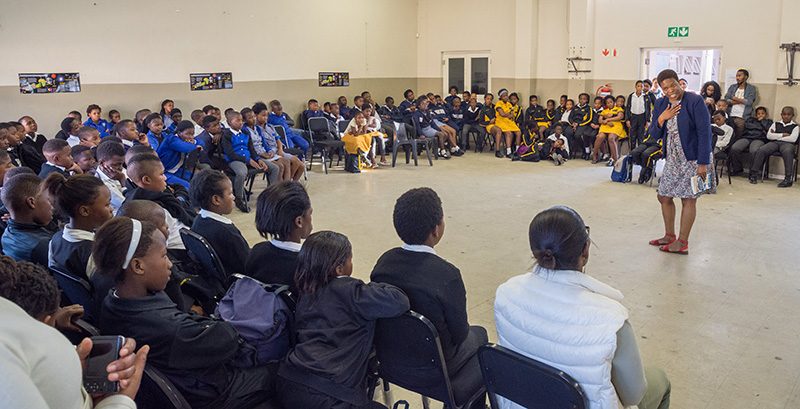 The translator, Xolisa Guzula, introduced learners (aged 4 to 14) to the book before reading a few passages from it. Guzula was an avid reader herself as a child and the scarcity of isiXhosa books meant that she'd read far ahead of her age category. She now translates the sort of books she would have liked to read when she was younger.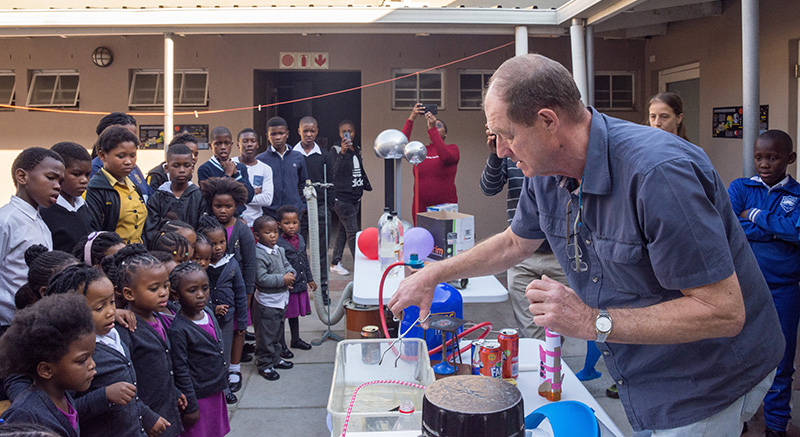 After the reading, UCT lecturers Dr Trisha Salagaram and Gregor Leigh, and MSc student Lizelle Niit from the Faculty of Science treated learners to an interactive science show. Here Leigh demonstrates the effects of atmospheric pressure.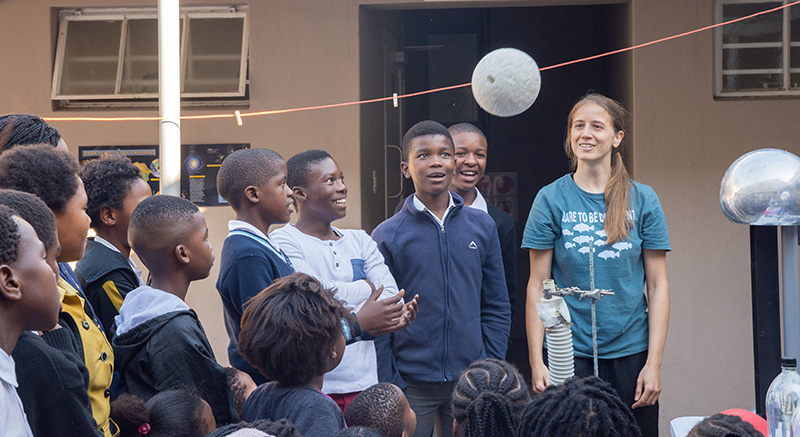 Lizelle Niit uses Bernoulli's principle to float a ball in an air stream, to the amazement of learners. The host school, Molo Mhlaba Primary, has a strong emphasis on science and mathematics and is pleased to have established a link with the UCT Department of Physics.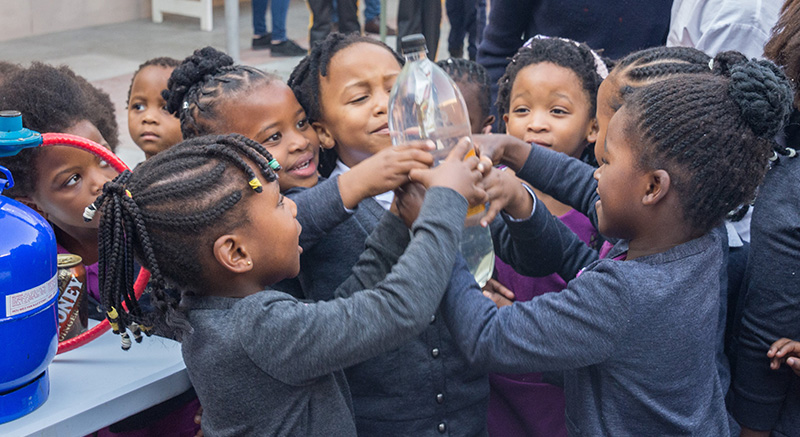 Learners grapple with a Cartesian diver. This same enthusiasm inspired Guzula's translation. Often learners struggle with science and mathematics, but she found that her son was excited about the Hawking cosmology series and was reading the titles voluntarily. If this series could get her child excited about science, she thought it could inspire others too.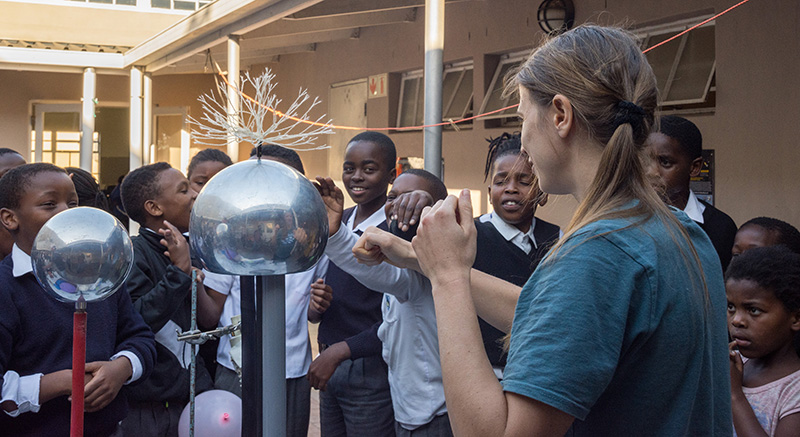 Lizelle Niit demonstrates electrostatics using a Van de Graaff generator. Learners also witnessed a ball "floating" in an air stream, cans being crushed by nothing more than the atmosphere, home-made divers in water bottles which sank or rose in response to isiXhosa commands, and the launch of liquid nitrogen- and water-propelled rockets.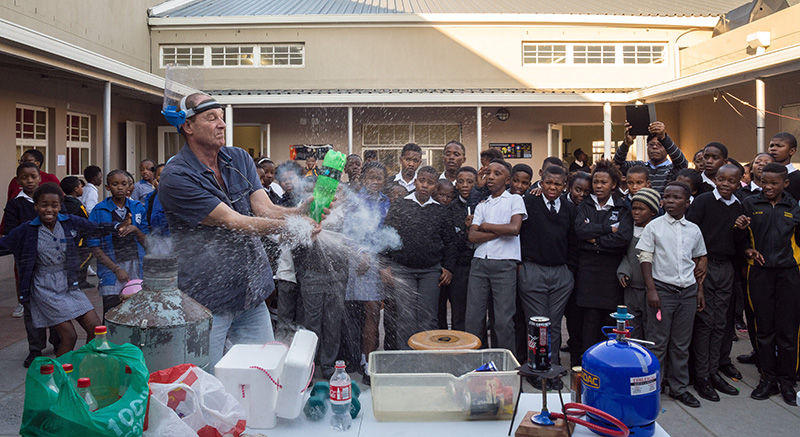 Gregor Leigh launching a liquid nitrogen rocket. He and his colleagues were invited to the launch by the Project for the Study of Alternative Education in South Africa, which Guzula has been working with since 2001. It is hoped that events like this will ignite a love of science in learners at an early age.
---
This work is licensed under a Creative Commons Attribution-NoDerivatives 4.0 International License.
Please view the republishing articles page for more information.
---