From teaching interventions to revolutionary research and the development of isiXhosa reading and teaching material, Xolisa Guzula is a force of change within the South African education landscape.
Guzula is a quintessential reader. From an early age, she would devour any book placed in front of her. With the exception of school setworks, isiXhosa materials were scarce, so she read beyond her years, tackling the assigned texts of older family members.
She was reading isiXhosa classics such as The Wrath of the Ancestors at the age of 10. She would later study this text as an undergraduate student, tackling both English and isiXhosa as part of her bachelor's degree in primary education.
She did not know it then, but her imperative to pursue both languages would equip her for a career as a translator, multilingual teacher trainer and as a formidable researcher in biliteracy development.
It was while researching for UCT's Learner Progress and Achievement Study in 1998/99 that the penny dropped for Guzula. As a 21-year-old, she was trying to uncover why so many students were 'over-aged' within the schooling system.
Language was the culprit and students who struggled with English had failed, repeated years, dropped out and come back to school years later.
Guzula began to think about her own teacher training at UCT. It troubled her that the training had assumed she would be teaching English-speaking children.
During her master's degree in education, policy, administration and social planning, she found herself frustrated once more, with regard to how long it took for research to have a bearing on educational policy.
So she began working at the Project for the Study of Alternative Education in South Africa (PRAESA) in 2001, where she was tasked to both observe and intervene in the classroom. It was here that she really began to apply biliteracy strategies and focus on multilingual teacher training.
Developing isiXhosa texts
It was through her work in biliteracy development at PRAESA that she became involved in translation.
Where isiXhosa books were available, they were riddled with errors.
She embarked on her first translation project, Little Hands Books for Babies, together with her colleagues at PRAESA. Then at the start of PRAESA's Culture of Reading Project they selected the story of Pinocchio. Instead of directly translating it, they decided to retell it in isiXhosa and adapt it to fit the South African context.
"It was an important moment for us, because we were turning the power of languages. Because it is always translations from English to African languages and never African languages to English.
"I learned to translate, not because I was trained in translation. I translated because there was a need to translate. We promoted biliteracy, but we had no isiXhosa books. So I learned on the go."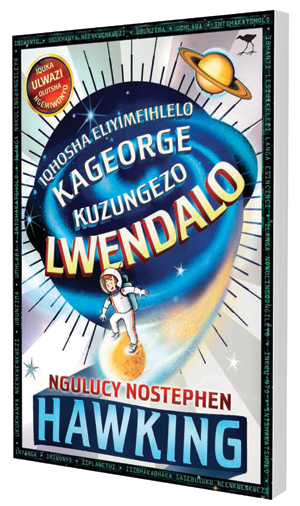 She is now creating the very texts she craved as a child. Her latest success is a translation of Lucy and Stephen Hawking's George's Secret Key to the Universe.
Now, thanks to Guzula, isiXhosa and isiZulu speaking children can read Science Fiction in their own languages.
Learning about science in isiXhosa
She was inspired by her son, Khwezi, who began to enthuse about science to his mother when reading the third title in the Hawkings' cosmology series, George and the Big Bang.
We often hear about students struggling with science and mathematics, she says.
"But here was my child reading scientific books voluntarily."
If this series could get her child excited about science, why not others?
It was a significant undertaking, but Guzula soon found herself completely absorbed in the text. She was so excited to learn what would happen next that she was up at 05:00 daily. After just a month of work she had finished the translation, three months before it was due.
IsiXhosa translation work is riddled with complexities, she explains. There are issues of literal translation and of imposing English onto isiXhosa in ways that just do not make sense in the language. Translation is a constant negotiation between the source language and the target language, she says.
The text also needs to be accessible for children who speak different varieties of isiXhosa, and who have learned the language in different contexts.
There was also the issue of terminology. The book focuses on space and the cosmos and there were many terms that simply did not exist in isiXhosa. She had to coin the words or phrases for them, calling on friends and colleagues on social media to debate her choices.
Some terms do already exist in isiXhosa, but are not well known by children, for a variety of reasons.
"Science is something that gets taught in school, and in English from grade four, so they never acquire those words in their own language first. They acquire them in English."
So she eases children into the use of these words by using transliterated words first, written in the isiXhosa orthography. These are followed by the isiXhosa term, "uJuphitha okanye [or] uCandabusuku", for example.
Learning languages together
Although initially wary of academia, Guzula has returned to UCT to do her PhD in language and literacy and bilingual education.
Her research is based in the #Stars of Today Literacy Club, which she runs in Khayelitsha.
The abrupt switch to the English medium in grade four has always presented problems for learners, she explains. As English and isiXhosa are taught separately in schools, it is difficult for children to transfer the knowledge they have obtained in one language to another.
Guzula therefore endeavours to bring together different varieties of English and isiXhosa to use all of the linguistic resources the children have.Language is part of who you are, she explains. It is how you express your knowledge, your experiences, your identity and your culture, and it determines how you make meaning in learning.
After the abrupt shift into English, all of this is erased and the children have to start afresh in a new language.
Through her work at PRAESA, Guzula and her colleagues found that children who were taught English, isiXhosa and Afrikaans together in a language class were able to read and write in all three languages by grade six.
Training multilingual teachers
She is passing on these strategies in her current role, teaching the Postgraduate Certificate in Education (PGCE) foundation phase class at UCT. She aims to train these soon-to-be teachers to be aware of diversity within the classroom and to work multilingually.
"We want to calibrate education for bilingual speakers. Because of the monolingual bias in education, an Anglonormative bias, we see how other people's knowledges don't come through into the classroom," she says.
When you work multilingually, explains Guzula, all children are included in the classroom. They are all heard and are able to participate. They feel valued in the school space.
"We know the education principle that when you teach children, you must start with what they know. For me, starting with what they know means starting with their language."
For Guzula, multilingualism is a way to respect diversity and to value one another.
It is also a way to decolonise.
"For me, a decolonised institution is a multilingual institution. And a decolonised pedagogy is pedagogy that allows people to bring in what they know."
---
This work is licensed under a Creative Commons Attribution-NoDerivatives 4.0 International License.
Please view the republishing articles page for more information.
---