The University of Cape Town's (UCT) first in-person graduation since the start of the COVID-19 pandemic was a festive, jubilant affair. And students, their loved ones and academic staff were delighted to be back inside the Sarah Baartman Hall – with all the bells and whistles – after a two-and-a-half-year hiatus.
The PhD winter graduation kicked off in fine style on Friday, 22 July, with a morning and afternoon ceremony. The academic procession was led into the hall by Sky Dladla and Blackroots Marimbas – a Neo-traditional indie band from Gugulethu. The band consists entirely of UCT students and alumni.
Graduation day is a highlight on the university's annual calendar, but it came to a grinding halt as UCT and other institutions of higher learning had to adhere to strict COVID-19 restrictions. But on Friday, graduands – brimming with pride – could finally return to the stage in the Sarah Baartman Hall. They received the graduation ceremony of their dreams as their loved ones and academics who've equally contributed to their successes cheered, ululated and applauded excitedly.
UCT Chancellor Dr Precious Moloi-Motsepe conferred a total of 104 doctorate degrees and seven honorary doctorates on the day. She also presented the 2021 Social Responsiveness Award to UCT's Professor Leslie London. Meanwhile, Vice-Chancellor (VC) Professor Mamokgethi Phakeng awarded the VC's Medal to former dean of UCT's Faculty of Health Sciences Emeritus Professor Marion Jacobs. The UCT 2021 Meritorious Publication Award was presented to Associate Professor Hedley Twidle from the Department of English Literary Studies, as well as Professor Jay Pather and Dr Catherine Boulle from the Institute for Creative Arts.
"To our graduates, I want to say: halala."
"To our graduates, I want to say: halala! Congratulations on what you have achieved. We are here to celebrate the work you have done over many months and years. You have made personal sacrifices; you have had to persevere. We honour and acknowledge you today for completing this journey," Dr Moloi-Motsepe said.
Role models
During her address, Moloi-Motsepe said the cohort embodies what renowned poet Maya Angelou had in mind when she wrote: "You may encounter defeat, but you must not be defeated. In fact, it may be necessary to encounter the defeats, so you can know who you are, what you can rise from, how you can still come out of it."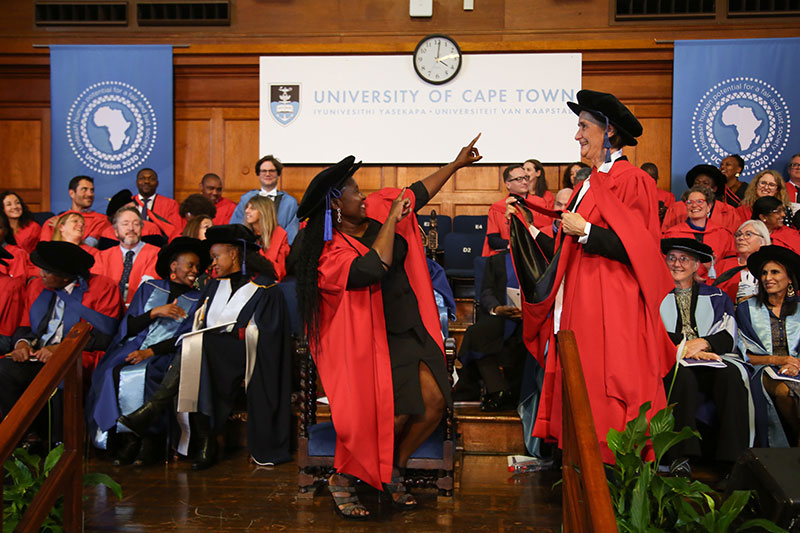 By attaining their doctorate degrees, she said graduands serve as role models to other young South Africans, many of whom face immeasurable challenges in the country today. She encouraged the cohort not to underestimate the power of their example and to continue to help others to be the best that they can be.
She reminded graduands of UCT's Vision 2030, which is built on inclusivity and the need to develop an engaged, research-intensive African university that fosters creativity through outstanding achievements in learning, discovery and citizenship. She said she is struck by how powerfully the university's vision is reflected in each graduand's research synopsis.
"A prosperous and inclusive South Africa requires us to shape an economy that is more innovative, more knowledge-based and more closely integrated with the rest of Africa. This is the day that shapes all our futures, and I thank you immensely for your contributions to this journey," Moloi-Motsepe said.
Honouring exceptional South Africans
Every year, UCT confers honorary doctorates on individuals who have excelled and made significant contributions in their respective fields and in society. During Friday's afternoon ceremony, Moloi-Motsepe conferred four of these esteemed degrees on Trevor Jones, acclaimed South African composer of film and television scores (Doctor of Music); Mzolisi Toni, disability rights activist and the secretary general of Disabled People South Africa (Doctor of Social Science); Khaya Mfenyana, a respected family physician and leader in health professions education (Doctor of Science in Medicine); and Kaizer Motaung, the founder and chair of Kaizer Chiefs Football Club (Doctor of Social Science).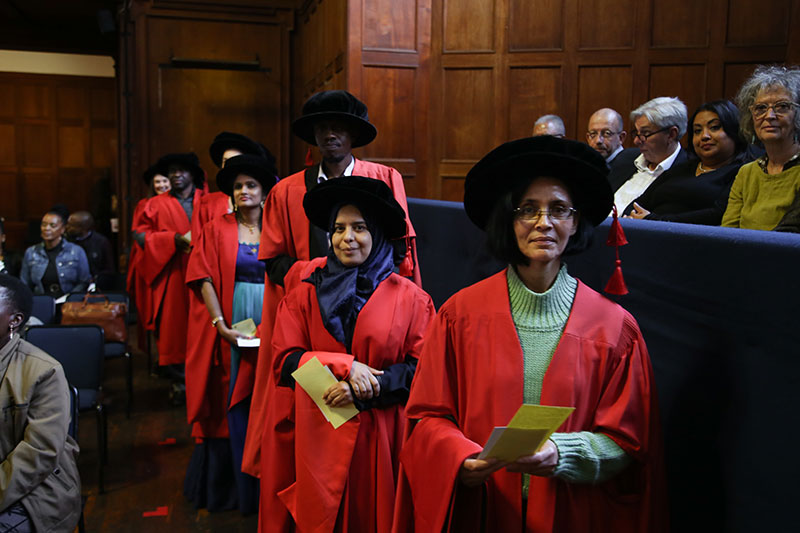 Addressing the audience, which included the leader of the Economic Freedom Fighters, Julius Malema, Motaung said that in the past he had declined several invitations from other institutions to receive this honorary degree.
"I did so as I felt I had not scratched the surface yet. I believe that there is so much work outstanding [that needs] to be done in our country. South Africa is beset with so many challenges and I thought accepting an honour would not be justified at that stage," he said. "However, I stand here very proud and pleased to accept this honour from this institution."
'Become good citizens'
Motaung encouraged graduands to always do their best. After all, he added, you never know who is watching and when an opportunity is beckoning on the horizon. The football legend also shared a valuable life lesson with his audience. He reminded them that bumps in the road are inevitable but urged them to keep going despite difficult circumstances. This is what he chose to do when he first started Kaizer Chiefs.
Leading purpose-driven lives is equally important, and it takes perseverance and determination to get this right. It also requires being kinder and more considerate than you were yesterday, admitting when you are wrong and taking the necessary steps to make things right, he said.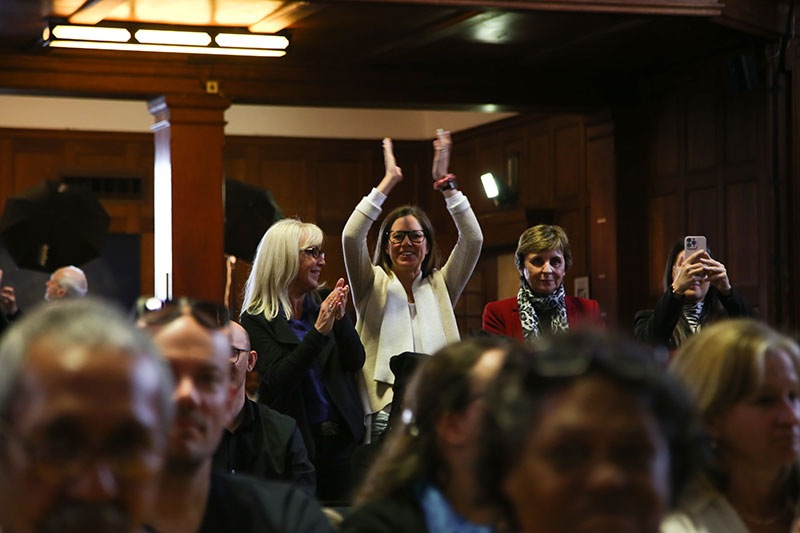 "The world – not only South Africa – is waiting for you. The world is an oyster for you. Go out there and make a difference in your communities. Become part of the solution and not part of the problem in society. I urge you to go out there [and] become good citizens", Motaung said.
Unleash your human potential
In closing, Professor Phakeng offered a final word of congratulations to the cohort of graduates. She said she hopes that their studies have endowed them with the knowledge and vision to unleash their human potential for a fair and just society. She urged them to take up the challenge to become leaders in their fields – leaders with a social conscious.
"Being a leader in your field during this time is not going to be easy, because this constantly changing world of ours is not easy. It's the wish of all of us on stage that you encounter the unimaginable adventures that lie before you with unfailing self-respect and moral courage. You are now a UCT graduate and you are made to lead. So, go out there and make our country and our world a better place to live in," she said.
---
This work is licensed under a Creative Commons Attribution-NoDerivatives 4.0 International License.
Please view the republishing articles page for more information.
---