"As much as we are building consciousness on campuses, we also need you as ambassadors in communities." This was one of the salient points made by Deputy Minister of Higher Education, Science and Innovation Buti Manamela when he addressed a University of Cape Town (UCT)-led gender-based violence and femicide (GBVF) assembly recently.
The statement, viewed in isolation, was simply that as much as there is an acknowledgement of how unchecked instances of GBVF can go in institutions of higher learning, they don't happen in isolation because institutions are part of communities in which students reside.
"If we do not deal with this issue outside of campus, it will continue to reproduce itself on campuses. We come from homes and families where in some instances, these acts [of violence] are celebrated," Manamela said.
The assembly was in remembrance of students in the post-school education and training (PSET) sector who lost their lives to GBVF.
"Student leaders are tasked with creating platforms for conversations around toxic masculinity and around the entitlement that men have. But also, to lead conversations around unlearning of certain practices which have hidden themselves under religion or culture."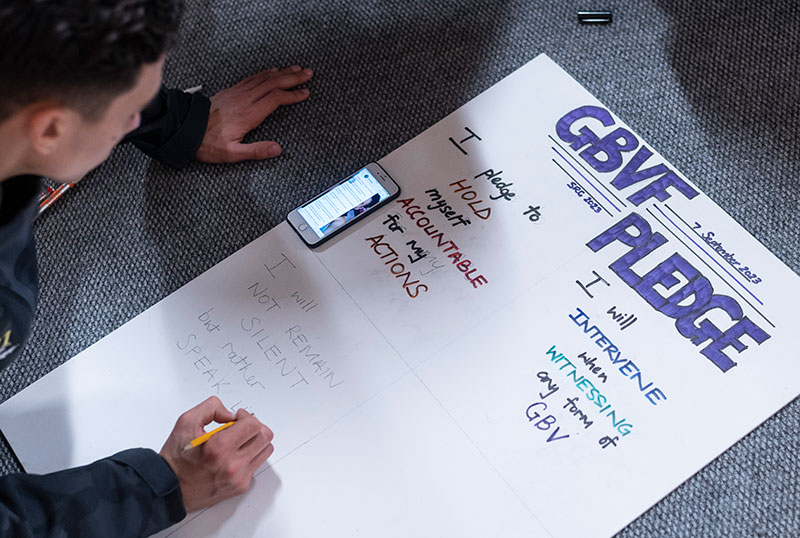 A study by Higher Health, the agency tasked with developing and implementing health, wellness, GBV, mental health and other programmes in the higher education sector, revealed that 62% of students feel unsafe on campus and consider themselves to be at high risk of GBV.
"GBVF is one of the most important struggles that our post-school education and training system is facing."
The protocols are aimed at facilitating measures such as safe rooms, disciplinary committees, writing of complaints, and collection of evidence so it stands up in court, staff–student relationships, and actions to ensure greater safety on campus and in student residences.
They have two key commonalities: they are complainant/survivor-friendly and clarify roles and responsibilities of all the stakeholders involved in a joint, collaborative response to GBV, namely institutional management, academia, transformation/gender officers, security and other staff, student formations and policing and justice agencies.
"GBVF is one of the most important struggles that our post-school education and training system is facing," Manamela concluded.
Using our circles of influence
Gracing the assembly were student leaders, academics and a representative from the National Prosecuting Authority (NPA).
UCT Deputy Vice-Chancellor (DVC) for Transformation, Student Affairs and Social Responsiveness Professor Elelwani Ramugondo urged that the assembly help [us] "develop strategies within our own circles of influence to change the cycle of objectification and of the helplessness that women and girls feel over their own lives".
Special director of public prosecutions at the NPA, Advocate Bonnie Currie-Gamwo, said matters of GBVF need to be dealt with by the criminal justice system in the country. "This will automatically require linkages between tertiary institutions and the various role players in the criminal justice system. Universities simply cannot do it on their own. There is a toxic environment created when perpetrators still walk among us because of ineffective reporting structures."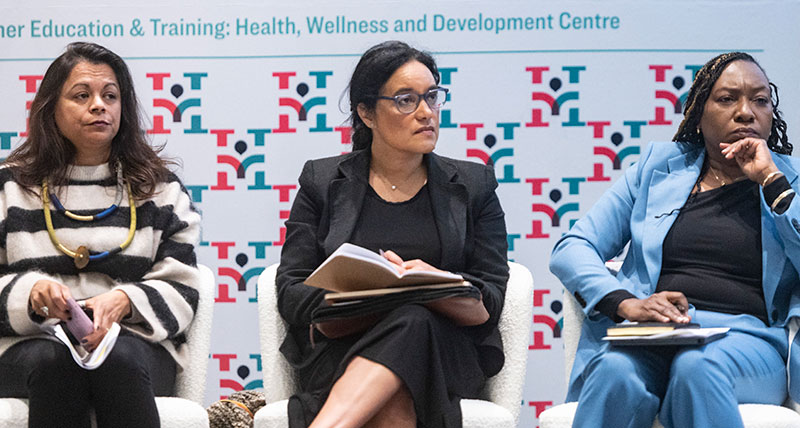 Currie-Gamwo added: "UCT is serviced by several police stations, but often it's difficult to report a case. How do we make the process easier? Institutions bear that responsibility to ensure their structures are approachable. In creating a coordinated, integrated approach, I urge institutions to connect to a Thuthuzela Care Centre."
The mandate of the centre is to reduce secondary victimisation and improve conviction rates. Furthermore, their approach to rape care is one of respect, comfort, restoring dignity and ensuring justice for children, women and men who are victims of sexual violence. When reporting, the rape survivor is removed from crowds and intimidating environments, such as at the police station, to a more survivor-friendly environment.
Objectifying women's bodies
The topic of objectification of women's bodies by society and media was addressed by psychology lecturer at UCT, Professor Floretta Boonzaier, who noted that said objectification "has led to a normalisation of violence and an everydayness to it".
"Years ago, I wrote a short paper about the kinds of stories we tell about violence. One of the big things was the idea that women are responsible for their own victimisation. Victim-blaming discourse is pervasive," Professor Boonzaier said.
Others who spoke at the assembly include Higher Health CEO, Professor Ramneek Ahluwalia; Professor Rozena Maart from the University of KwaZulu-Natal; anti-GBVF activist "Miss Pearl"; as well as Associate Professor Barbara Boswell, the head of the Department of English Literacy Studies at UCT.
---
This work is licensed under a Creative Commons Attribution-NoDerivatives 4.0 International License.
Please view the republishing articles page for more information.
---