Research plays an indispensable role in ushering the substantial advancements that have enhanced and contributed to the improvement of society. This was the overarching message conveyed about researchers recognised at this year's National Research Foundation (NRF) Awards – three from the University of Cape Town (UCT) walked away with special recognition awards while a further six were awarded A-ratings.
The annual NRF Awards recognise and celebrate South African research excellence and are regarded as the gold standard for demonstrating the country's research prowess.
UCT Deputy Vice-Chancellor for Research and Internationalisation Professor Sue Harrison expressed pride over the attainments of the university's academics at this year's awards.
"We are extremely proud of the researchers who received accolades at this year's award ceremony," Professor Harrison said. "What is outstanding about this year's cohort of NRF awardees is that their research transcends geographical borders. Whether they are seasoned academics, emerging scholars, or the next generation of researchers – their collective efforts aim to improve society on a global scale, spanning South Africa, Africa, and beyond."
The NRF rating system upon which these awards are based, provides us with a benchmark by which we as a country can measure our value as a global knowledge creator."
Professor Mosa Moshabela, the chairperson of the NRF Board, remarked: "These honours are not to be taken lightly. We, at the NRF, do not. The NRF rating system upon which these awards are based provides us with a benchmark by which we as a country can measure our value as a global knowledge creator."
In his keynote address, Minister of Higher Education, Science and Technology Dr Blade Nzimande emphasised that science and technology are critical enablers of building a competitive and sustainable economy. They are equally important for addressing the plethora of societal challenges in the country and the rest of the world.
UCT's research prowess was in full display as three researchers received special recognition awards in the following categories:
Hamilton Naki Award – Professor Abdulkader Tayob, Department of Religious Studies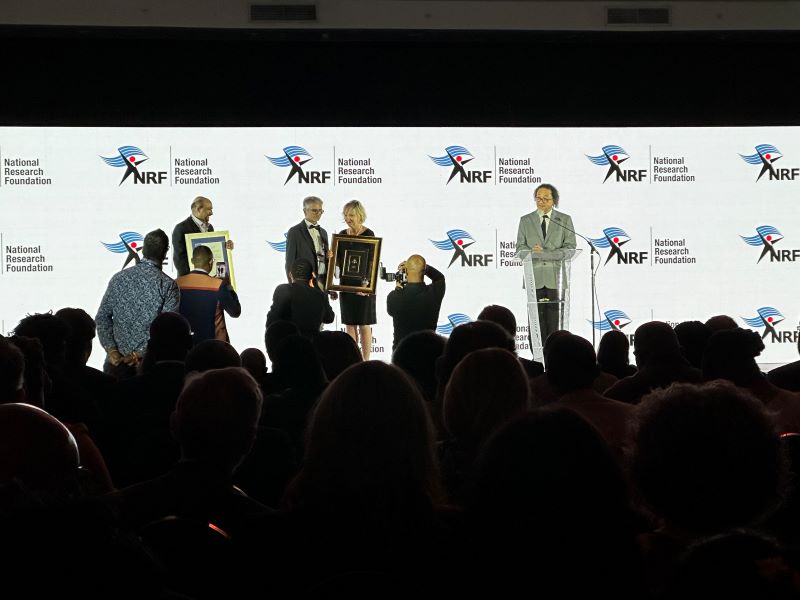 The Hamilton Naki Award honours individuals for advancing their careers in science and achieving world-class research performance despite considerable challenges. The award is named after the self-taught surgeon who trained generations of medical students in surgical techniques.
In 1983, when Professor Tayob completed his high school education, he gained admission to study medicine at UCT. However, he could only enrol at the university if he obtained permission to attend what was once an institution primarily reserved for white students. Fast forward to today, he is a Professor of Islamic Studies at UCT and holds the NRF Chair in Islam, African Publics and Religious Values. Despite growing up during the height of apartheid and enduring financial exclusion, Tayob has contributed significantly to developing various fields within the general study of religion.
"In my view, the Hamilton Naki Award does not ignore the discrimination and prejudice faced by black scholars during apartheid. However, it focuses attention on their achievements despite these conditions. It indicates that many in South Africa have thrived in the face of poverty, inadequate school, and racial prejudice," Tayob said.
Although he is retiring at the end of 2023, his heart is still set on his academic pursuits as he prepares to write a monograph on moral economies in Africa; a read which intends to bring to light the challenges and achievements of economic systems underpinned by religious values.
Research Excellence Award for Emerging Researchers Award – Associate Professor Nastassja Koen, UCT Department of Psychiatry and Mental Health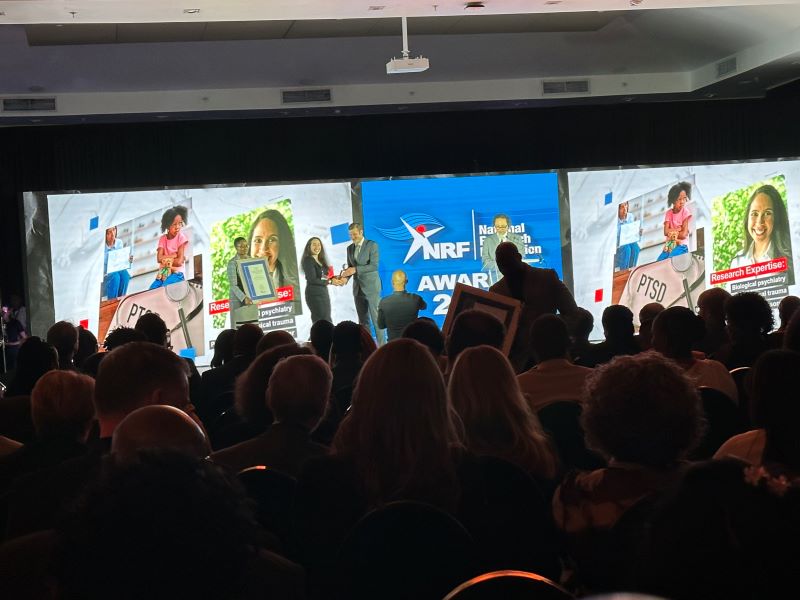 This accolade recognises outstanding research excellence by current Thuthuka grant-holders. Thuthuka is central to the NRF's human capital development strategy and aims to redress historical imbalances among South African researchers.
Associate Professor Koen's research is particularly relevant to the South African and African contexts. It focuses on improving the mechanical understanding of adverse genetic effects of traumatic stress and to outline the underlying neurobiological pathways. Through the Drakenstein Child Health Study, she is involved in researching the genetic and environmental factors that influence maternal and child health as they relate to transgenerational trauma.
With an impressive record of academic excellence, Koen has published more than 70 peer-reviewed papers and nine book chapters. Her scholarship is in high demand at local and international conferences, often by invitation.
Reflecting on her latest accolade, Koen said: "I feel very privileged, humbled, and honoured to be receiving this award from the NRF. I think this is such great validation – both of my research over the past decade, and importantly also of the support, guidance and collaboration from my supervisors and mentors; from my fellow researchers, and from students and trainees over the years."
Research Excellence Award for Next Generation Researchers – Taryn Golding, UCT Department of Chemistry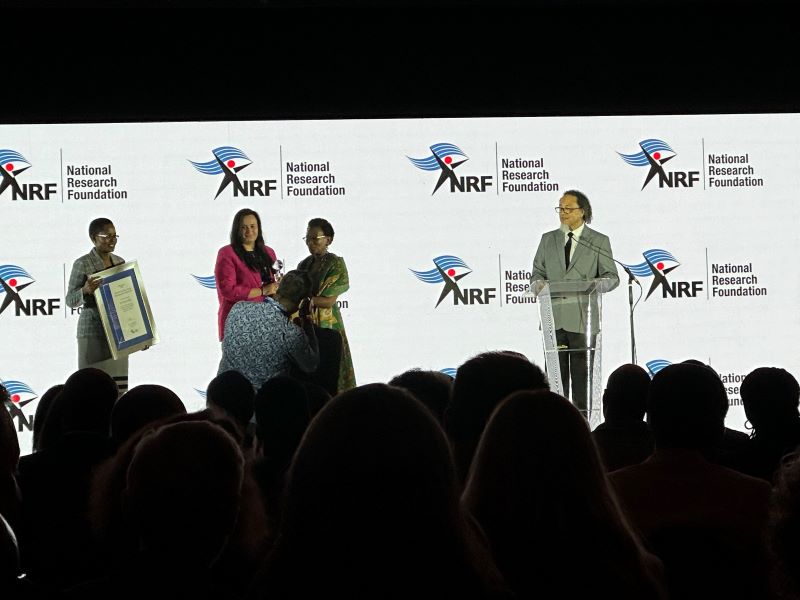 This honour recognises outstanding academic performance by final-year doctoral students.
Golding's current research project is in the evaluation of emerging metallodrugs (drugs that contain metals, eg, iron) to treat malaria. The project is assessing the combination of organic compounds that contain carbon-metal bonds – ferrocenyl complexes – as potential drug leads that can target different stages of the parasite that causes malaria.
The impact of malaria is worsened by both acquired and inherent resistance to chemotherapeutic treatments in clinical settings. Thus, a thorough understanding of the biology of the disease is key for effective drug development. This research also undertakes to identify intracellular targets to gain an understanding of the mechanism of action of these metal-based complexes, with the aim of overcoming emerging resistance and minimising adverse side-effects.
"Receiving this award reinforces my commitment to making a lasting difference in combatting malaria. It highlights the potential impact of my work and dedication to fighting this deadly disease that affects millions of people in sub-Saharan Africa," said Golding.
Ratings-based awards
A-ratings are awarded to researchers recognised as leading international scholars in their fields. The standard and impact of their research is assessed through the NRF rating system, which is based on peer review. Four UCT researchers were acknowledged for their first time as A-rated, and an additional two were recognised for receiving this rating for the second and fourth times.
First ratings
Professor Vasco Brattka, Department of Mathematics and Applied Mathematics
Professor Renée Christine Kraan-Korteweg, Department of Astronomy
Professor Claire Spottiswoode, FitzPatrick Institute of African Ornithology
Professor Alphose Zingoni, Department of Civil Engineering
Second rating
Professor Peter Ryan, FitzPatrick Institute of African Ornithology
Fourth rating
Professor George Janelidze, Department of Mathematics and Applied Mathematics
---
This work is licensed under a Creative Commons Attribution-NoDerivatives 4.0 International License.
Please view the republishing articles page for more information.
---