Six researchers from the University of Cape Town (UCT) have been recognised for their outstanding achievements and contributions to society at this year's National Research Foundation (NRF) Awards.
The awards are held annually to recognise and celebrate South African research excellence and its impact on society. Researchers and research groups are nominated by their peers at their representative institutions. The awards are presented across two categories: NRF ratings-based awards and special awards.
Six UCT researchers were awarded in three categories. Additionally, UCT researchers were awarded A-ratings by the NRF this year. And one P-rating was awarded to a researcher within one month of joining UCT.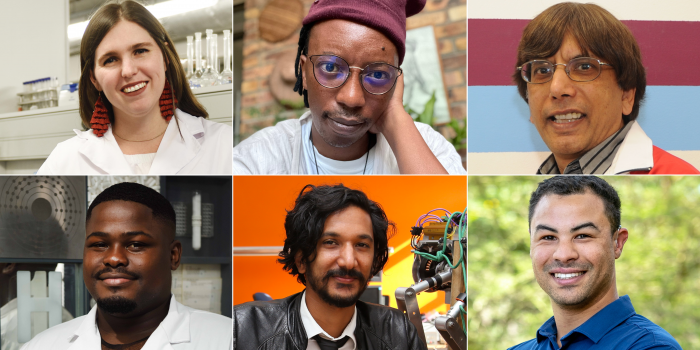 Hamilton Naki
The Hamilton Naki Award honours individuals for advancing their careers in science and achieving world-class research performance despite considerable challenges. The award is named after the self-taught surgeon who trained generations of medical students in surgical techniques.
Professor Rajend Mesthrie, Department of African Studies & Linguistics
The fourth of five children, Mesthrie was born and brought up in rural KwaZulu-Natal, South Africa. His love and interest for languages stems from his parents. Although his mother could not write, she could read. His father, on the other hand, only had about three years of formal education but could read two languages (English and Hindi) and had a conversational knowledge of two others (isiZulu and Tamil).
Mesthrie has held the joint Department of Science and Innovation and National Research Foundation (NRF) South African Research Chair (SARChI) in migration, language and social change since 2008. His work emphasises the significance of sociolinguistics in understanding heritage, culture and social change in a multilingual society, one in which migration is an important – if not a defining – feature.
Throughout his career Mesthrie has made a point of building bridges in his teaching and research by taking the positives from his rural upbringing like the spirit of sharing and helping. As the first black president of the Linguistics Society of Southern Africa, Mesthrie has been keen to transcend the restrictions of his early life and across cultures.
Research Excellence Award for Next Generation Researchers
This award recognises outstanding academic performance by final year doctoral students.
Jessica Fell, Department of Civil Engineering
Fell's current research as part of the 'Pathways to water resilient South African cities' project contributes to the global research agenda on water-sensitive city transitions as well as the United Nations (UN) Sustainable Development Goals (SDGs) for clean water and sanitation, and sustainable cities and communities.
She is using a novel planning and decision-support tool to strategically identify opportunities to repurpose stormwater ponds into multi-functional blue-green Infrastructure. Her research is interdisciplinary and aids in planning for equitable water-sensitive cities in South Africa.
Nkosiyomzi Haile Matutu, Department of Psychology
Matutu's current work explores the topic of intimate partner violence in men's same-sex relationships. Through this exploration, his research aims to answer questions about advancing decolonial feminist scholarship and methodologies. His work asks important questions about ethics, politics, epistemology and theory and what this means for the purpose of research and for those he works with.
Although early in his career, Matutu has presented his work at national and international forums and has published in his field and beyond.
Athi Welsh, Department of Chemistry
While Welsh's research approach is reliant on training in basic science and scientific methods, it is firmly grounded in solving problems important to the pharmaceutical industry and addressing SDG 3 for good health and well-being.
Welsh's work aims to provide a thorough understanding of the biology of cancer, which is of utmost importance for effective drug development.
His research interest is in the use of small molecule and macromolecular transition metal-based molecules as chemotherapeutic agents. This metal-based approach provides a novel, lesser-explored route to eradicating cancer and potentially provides new modes of action, a nascent field of research, targeting diseases not only endemic to sub-Saharan Africa but also globally.
Research Excellence Award for Emerging Researchers
This award recognises outstanding research excellence by current Thuthuka grant-holders. Thuthuka is central to the NRF's human capital development strategy and aims to redress historical imbalances among South African researchers.
Professor Amir Patel, Department of Electrical Engineering
Patel's research focuses on solving problems with an African perspective. He uses robotics to understand the locomotion of animals, as well as techniques such a sensor fusion, optimal control and physical experiments to understand the neuromechanics of manoeuvrability.
Patel's work has resulted in 20 papers in the top five robotics and computer vision publications, and he has made an impact in biology with a co-authored paper in Nature Protocols and a cover story in Integrative & Comparative Biology.
Going forward, Patel will be exploring a new transdisciplinary venture, which hopes to bring together the fields of ecology, artificial intelligence and robotics to solve an important global health problem: the inability to effectively monitor the health status of wildlife.
Dr Wade Petersen, Department of Chemistry
Petersen's research looks at designing new molecules for drugs – a goal with growing importance given the increase in drug resistance. He is also interested in ensuring that the drugs he designs are produced in the most environmentally friendly and sustainable way possible.
Petersen's work and research group strive to pioneer a new era of chemistry expertise on the continent, contributing to the creation of new knowledge and keeping South Africa up to date with emerging trends and technologies.
NRF ratings
This year, UCT's Professor Linda-Gail Bekker from the Faculty of Health Sciences and Professor Tommie Meyer from the Faculty of Science improved their ratings to an A, as did Timothy Egan (also from the Faculty of Science) who has unfortunately subsequently passed away. Emeritus Professor Dirk van Zyl Smit from the Faculty of Law also achieved a new A rating.
Several researchers retained their A-ratings: Professor Valerie Mizrahi (Faculty of Health Sciences), Emeritus Professor Gerald Nurick (Faculty of Engineering & the Built Environment), Professor Anusuya Chinsamy-Turan (Faculty of Science) and Emeritus Professor David Chidester (Faculty of Humanities).
Recently, UCT also welcomed Associate Professor Jess Auerbach, who has taken up a position heading the Graduate School of Business's Master of Philosophy (MPhil) in Inclusive Innovation. She subsequently was awarded a P-rating by the NRF this year, as a result of support from her previous institution, North-West University.
---
This work is licensed under a Creative Commons Attribution-NoDerivatives 4.0 International License.
Please view the republishing articles page for more information.
---