Celebrating women through music was part of the South African College of Music's (SACM) theme when they hosted the University of Cape Town's (UCT) Big Band evening of jazz, South African grooves, classical swing, and soul music at The Baxter Theatre earlier in August.
The UCT Big Band has been part of Cape Town's jazz scene for 25 years, having maintained a consistently high standard of performance to date. The band and its smaller version, the UCT Little Big Band, have been one of a few performing groups in South Africa to concentrate on the most contemporary sounds in modern big band jazz, and bringing the full big band sound to indigenous South African music.
The show preparation has been in the works since mid-July and, as performers neared the end of rehearsals and got ready for showtime, some of the performers fell ill and had to be replaced while the taxi strike in Cape Town almost put paid to the last bits of preparation.
Nonetheless, and much to the director of the evening's ensemble, Associate Professor Amanda Tiffin's pleasure, the show certainly did go on.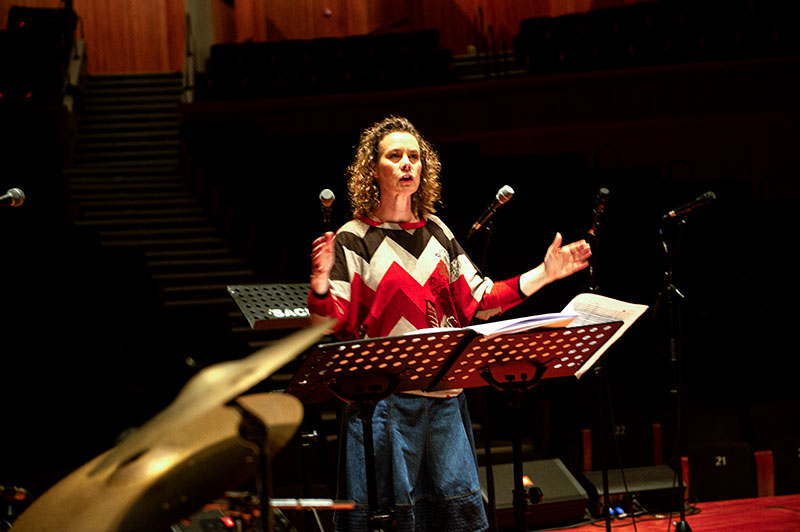 "There was a terrible flu going around and we have had performers jumping in," Associate Professor Tiffin told the audience.
She and her team were also deliberate in choosing music written by women as they treated the audience to 11 items with special features from faculty staff and students.
Work by Toshiko Ashiyoki, Mary Lou Williams, SACM alumnus and international saxophonist and composer Shannon Mowday, as well as Tiffins, was thoroughly enjoyed by the audience.
Vocalists Abigail Petersen, Amy Campbell and Anathi Mobo featured as soloists while woodwind specialist Danél Dippenaar featured as a guest soloist on saxophone, flute and clarinet.
On stage
Mobo wears many hats, including being in the process of completing her master's in music and being the lead vocalist for the Little Giants Big Band as well as the Lady Day Big Band. On the evening, she took to the stage to perform a piece composed by Marc Hendricks and arranged by Mike Campbell, titled "A Place For You".
"Getting on stage is always nerve wrecking but the audience took to the performances very well, so the nerves eventually subsided," said Mobo.
"The music performed was music written by women."
"We have been preparing for the show since mid-July and the build-up to the show was very exciting. The highlight of the evening was receiving a standing ovation," she added.
There was one piece, composed and arranged by Ashley Laity, which hit close to home for the UCT community. Named "For Bhelekazi", the piece is in memory of Uyinene Mrwetyana, the first-year Humanities student who brutally lost her life in August 2019.
As South Africans took to the streets in protest of Mrwetyana's death and awareness was raised on matters of sexual and gender-based violence, "this piece also came from that," Tiffin said.
At the end of the show, concertgoers were treated to a piece by Tiffin, performed together with her colleagues Petersen, Campbell and Mobo, titled "Ayo Ayo".
Mobo was full of praise for Tiffin. "She did an amazing job putting this together. The music performed was music written by women, so it was a great way to showcase woman artistry."
---
This work is licensed under a Creative Commons Attribution-NoDerivatives 4.0 International License.
Please view the republishing articles page for more information.
---