In its latest edition of the Anti-racism Conversation Series, the University of Cape Town's (UCT) Office for Inclusivity & Change (OIC) facilitated a deep discussion around the challenges faced by African women in the science, technology, engineering and mathematics (STEM) fields. The event took place in the Mafeje Room at the Bremner Building on lower campus on Wednesday, 17 May.
As UCT focuses its efforts on unleashing human potential and creating a fair and just society, it has become increasingly clear that the three pillars of its Vision 2030 – transformation, excellence and sustainability – are inextricably linked to one another.
Understanding this deep interconnectivity, the university and its leadership have recognised the value that deep reflection on each of these elements presents for moving UCT towards achieving its massive transformative purpose.
"The interconnection of these pillars of our vision is best appreciated when we recognise that inclusivity is critical for sustainability and that diversity drives excellence," said Deputy Vice-Chancellor for Transformation, Student Affairs and Responsiveness Professor Elelwani Ramugondo.
"Building a scholarship on transformation for us is both diagnostic and practice-oriented."
"Building a scholarship on transformation for us is both diagnostic and practice-oriented, and intentionally draws from our own internal resources, both administrative and academic support staff with a passion for transformation, and who are thought leaders on social justice in the higher education sector."
In line with this, and following the release of its anti-racism policy and related procedures in June 2022, UCT launched its Anti-racism Conversation Series to promote scholarly debate and intellectual engagements to advance social justice, both on campus and further afield. The Women in STEM event is the latest in this series.
The work for now
Anti-racism, rather than the more commonly used non-racialism, was specifically chosen as the point of focus by the organisers to highlight that we must strive to make diversity and representation the norm before we are able to move towards eradicating racial discrimination.
"UCT has many policies and procedures that aim at dislodging the remnants of colonialism and apartheid, but today's conversation really goes a little bit deeper," noted the OIC's Undere Deglon.
"It goes beyond policies, procedures, and codes of conduct. It really goes to the more insidious forms of oppression; the oppression that happens on a personal level and also at a relational level," she added.
This sentiment was echoed by Professor Ramugondo in her opening address to the attendees. "Non-racialism is a beautiful idea, but to be a non-racial society takes work. Anti-racism is the work for now, for today, for every day until we get to what we can say is a non-racial society.
"Anti-racism makes it very clear and poignant that what we should see around us is representation as a start to diversity. We need to be very aware that those who look up to us will have no hope in occupying certain positions when they don't see themselves represented by the people in those positions," she explained.
Exploring this complex topic were African Gender Institute lecturer Dr Zamambo Mkhize, and the head of UCT's Global Surgery Division, Professor Salome Maswime. Both African women and experts in their respective fields, the speakers have each grappled with the ideas of anti-racism and driving systemic change.
Their presentations focused on the legacy of racism that can be observed in systems and society. They also touched on the steps or actions that can be taken to work to overcome discrimination and meaningfully increase the representation of African women in positions of power.
The erasure of blackness
Dr Mkhize's talk, provocatively titled "They are just women, what do they know?", laid bare the realities of transformation as it currently stands. She explored the idea of transformation, what it means and looks like, with specific reference to the higher education sector and STEM fields, as well as the threats that exist for moving our society towards one that is inherently anti-racist.
"Universities remain a microcosm of society. In a country where the overwhelming majority is African – and within that African women – it's concerning that African women remain grossly underrepresented in senior managerial positions in all spheres," she said.
"STEM education and careers were designed to attract white, heterosexual, middle to upper-middle class, Christian, able-bodied men," she pointed out. "This highlights how the ontology and epistemology are constructed, along with the belief that the innateness of STEM abilities is solely for white people or white males."
"This conundrum of consciousness and reflexivity in which [black] individuals prevent other [black] individuals from progressing further in the educational inquiry is an act of violence."
Mkhize noted that here the issue lies in the fact that Africans are required to assimilate to a system that has been designed to "erase blackness".
This, she said, leads not only to a failure to address structural racism and misinformed beliefs that success is based purely on personal achievement, but also has far more insidious results. For example, the internalisation of racism and other discriminatory views by black Africans in positions of power.
"African students have often experienced the worst form of discrimination from people who, under the South African racial categories, are classified as black. This conundrum of consciousness and reflexivity in which [black] individuals prevent other [black] individuals from progressing further in the educational inquiry is an act of violence, an act of self-violence," she added.
Representation for transformation
Internalised racism is closely linked with unconscious bias. Professor Maswime pointed out that this issue has an outsized effect on black African women who are studying in, working in and being serviced by those in the STEM fields.
"You may have a clever student who looks like you in the classroom and when they respond to a question, you accept that response. But when a clever student who doesn't look like you responds, you might not see that cleverness or the brilliance in them just because your mind is programmed in a certain way," she said.
"Cervical cancer, which is curable and preventable, is the leading cause of death in Africa. African women are dying not because we don't know how to treat the disease, it's because some among us have not decided that these women shouldn't die from this disease that we know how to treat."
While Maswime supports the idea of working towards eliminating these unconscious biases, she noted that we should not let non-racialism drive the erasure of blackness.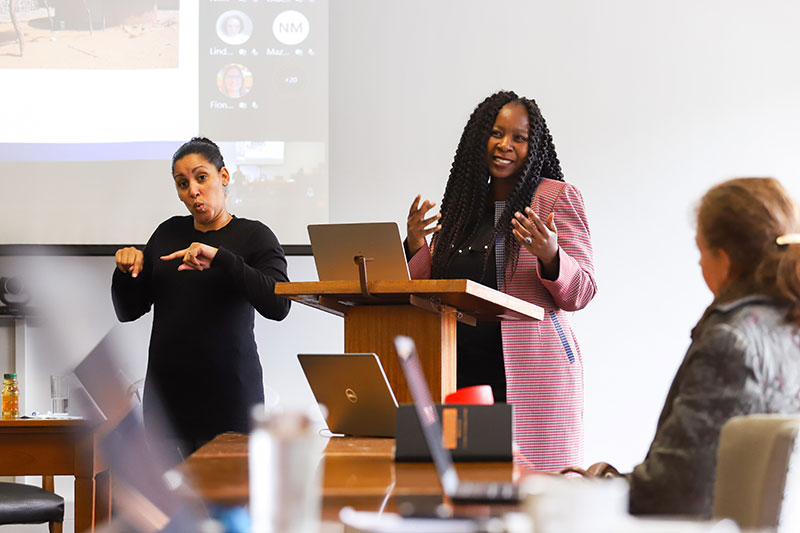 "We shouldn't throw the topic of race out of the room. The legacy of racism is a social determinant of health that needs to be addressed. For example, someone realised that most of the pictures in our [medical] textbooks show skin diseases on white skin. This perpetuates the notion that blackness doesn't exist or isn't affected by these issues," she explained.
The solution, rather, is to create a system that champions inclusivity by acknowledging these shortfalls and continuously questioning the status quo. According to Maswime, representation is the most powerful tool that we have to drive change.
"When you look around and no one looks like you, it's uncomfortable. You don't know how you should act because you've never seen someone who looks like you operate in that environment.
"We need a diverse workforce and we need inclusivity that embraces the full breadth of talent, expertise and perspectives across the sector, whether you're looking at getting medical students into courses, or whether you're looking at who becomes the full professor or the dean," she added.
---
This work is licensed under a Creative Commons Attribution-NoDerivatives 4.0 International License.
Please view the republishing articles page for more information.
---