The Catalysis Institute at the University of Cape Town (UCT) recently hosted German minister of Education and Research (Bundesministerium für Bildung und Forschung, [BMBF]), Bettina Stark-Watzinger, and Western Cape premier, Alan Winde, who toured the institute and received updates on two large BMBF-funded green energy research projects under way at UCT. The visit took place on Monday, 27 March.
The two research and demonstration projects are Green-QUEST – which aims to develop a viable, sustainable green fuel product to supplement and eventually replace liquified petroleum gas – and Catalyst Research for Sustainable Kerosene (CARE-O-SENE), which aims to create sustainable aviation fuels.

"The Green-QUEST project seeks to fully explore the technical, social, and environmental aspects pertaining to the introduction of a new cooking fuel for low-income households in sub-Saharan Africa," said Professor Jack Fletcher, the director of the UCT Catalysis Institute, which forms part of the Department of Chemical Engineering in UCT's Faculty of Engineering & the Built Environment.
"The fuel itself is a sustainable liquified fuel gas (green LFG) – essentially a synthetic alternative to conventional (fossil-derived) liquified petroleum gas (LPG). Yes, the stuff all gas stoves, braais and heaters run on in South Africa. The project is motivated by the fact that vast numbers of poor-income families still use coal, wood, biomass/waste for cooking fuel, often in under-ventilated dwellings with huge negative health impacts from inhalation of soot particles."
Professor Fletcher added that the World Health Organization estimates that three to four million premature deaths occur annually as a result of exposure to these biomass fuels, alongside other negative effects, including deforestation and loss of productive time to wood/biomass collection.
"Several African countries, consequently, are seeking to move these communities to LPG which, while avoiding the problems of health, deforestation, and time loss, still remain a net emitter of fossil-fuel carbon dioxide. Green LFG aims to fossil LPG with all the same benefits but in an essentially carbon-neutral manner in keeping with global net-zero targets."
CARE-O-SENE is a German–South African research project in which seven German and South African partners are working together on fuel catalysis research and technology development, with the goal of making large-scale production of green kerosene possible by 2025, thus decarbonising the aviation sector and making it sustainable over the long term.
Project partners
The Green-QUEST consortium partners include UCT's Catalysis Institute, Energy Systems Research Group, African Climate Development Initiative, and the UCT Graduate School of Business; Nelson Mandela University; the Council for Scientific and Industrial Research; Hydrogen Energy Applications (HYENA) in South Africa; the Southern African Science Service Centre for Climate Change and Adaptive Land Management (SASSCAL – Namibia); and the Helmholtz Zentrum Berlin (HZB) and Forschungs Zentrum Jülich (FZJ) in Germany. Sasol (South Africa) and SHV Energy (UK/Germany) are two large industrial associates of the project.
Professor Michael Claeys, the director of the DSI-NRF Centre of Excellence in Catalysis at UCT's Department of Chemical Engineering, is the principal investigator of the UCT team that is partnering on the CARE-O-SENE project, which is led by Sasol and the HZB. Other CARE-O-SENE project partners include the Fraunhofer Institute for Ceramic Technologies and Systems, the Karlsruhe Institute of Technology, and INERATEC GmbH, with €30 million in funding provided by the BMBF and a further €10 million by the partners.
Partnerships for progress
"On behalf of UCT, I welcome you to this discussion on green hydrogen in South Africa, and the Green-QUEST and CARE-O-SENE projects in particular," said Professor Sue Harrison, UCT deputy vice-chancellor for Research and Internationalisation. "Your keen interest in sustainable energy solutions to assist low-income communities resonates with UCT's long-standing focus on energy and means to achieve renewable energy." Professor Harrison emphasised that UCT's research focus is on pursuing research that creates impact across communities, nations, and continents. "We welcome the participation of the global consortium team to develop the holistic response to the need for clean and economical energy."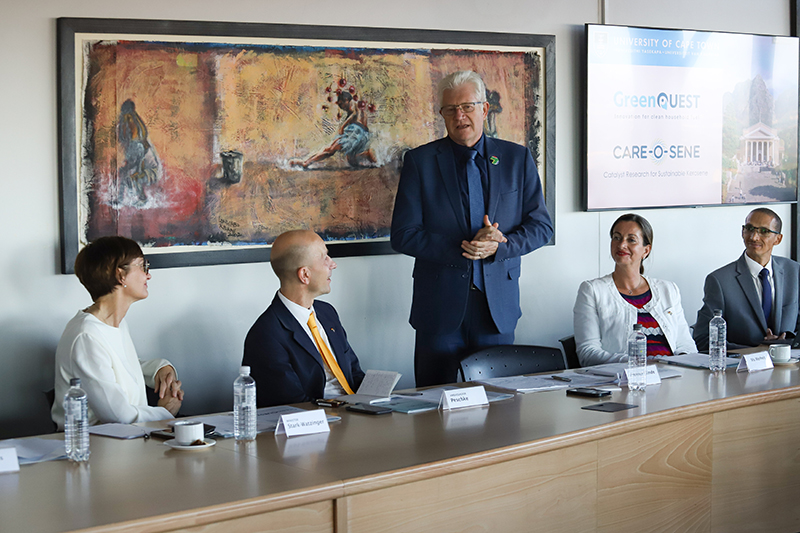 Speaking on behalf of the CARE-O-SENE project, Dr Thembakazi Mali, the senior vice-president for Research and Technology at Sasol, said, "Sasol has a long history with the University of Cape Town in catalyst development, and it is quite fitting that UCT was brought into this consortium by Sasol and the German partner. This is a true partnership between the two countries, and a true partnership between academia and industry, about innovation and with a strong decarbonising effect."
Referring to South Africa's long-running scheduled power cuts (loadshedding), premier Winde said, "We have a crisis. But crises, in my book, are opportunities – opportunities to fix things and make them better." He spoke about his belief in partnerships and thanked the Federal German and Bavarian State governments for their long-running partnerships with South Africa and the Western Cape. "Our partnership in this region and our country, between South Africa and Germany, is a really good partnership … It's been going for a very long time, and through that partnership we've done a lot of work."
Minister Stark-Watzinger said, "South Africa's potential in the energy transition is enormous, and so is Germany's. If we use that joint potential, we can achieve quite a bit." She said the African continent is particularly well suited to producing green hydrogen made by green energy, that costs of green energy will continue to decrease, and that the continent could provide green fuels to power up to one-third of global energy consumption. She indicated she would be signing an agreement to establish a Just Energy Transition Research Chair in South Africa, and that "its research will help our governments make good decisions [about the energy transition] in the future".
The minister's visit took place ahead of a three-day (Tuesday, 28 March, to Thursday, 30 March) Green-QUEST Project consortium meeting at UCT, involving all project partners.
---
This work is licensed under a Creative Commons Attribution-NoDerivatives 4.0 International License.
Please view the republishing articles page for more information.
---