Just a few steps away from the lecture hall where scientists and clinicians convened to discuss, debate and shine a spotlight on cutting-edge research that would ultimately improve the lives of their patients, the main hall of the new Groote Schuur Hospital (GSH) building was a hive of activity. Patients, dressed in their hospital gowns, strolled in all directions – likely to stretch their legs and to get their daily dose of vitamin D. This while a group of loved ones gathered in the waiting area and outside the building presumably for the first patient visiting slot later in the day.
What these patients and their families didn't know was that ground-breaking work in the field of medicine, carried out by seasoned and emerging African scientists and clinicians – that would in time directly impact their health and well-being for the better – took centre stage during the University of Cape Town's (UCT) Department of Medicine's 47th annual research symposium last week.
The two-day festival of science was held under the banner "Celebrating science" on Wednesday, 19 October and Thursday, 20 October at GSH – a UCT teaching hospital. During his welcome address, Professor Ntobeko Ntusi, the chair and head of the Department of Medicine, said the event has become the department's flagship academic meeting and provides researchers with the unique opportunity to showcase their work, reconnect, network and share and learn from each other.
"The theme for this year's meeting is 'Celebrating science', highlighting our aspiration to be a department that leads with excellence and to have a meaningful impact in all areas of our core competence."
"The theme for this year's meeting is 'Celebrating science', highlighting our aspiration to be a department that leads with excellence and to have a meaningful impact in all areas of our core competence," he said. "I am confident that the organising committee has assembled a programme that is instructive and exciting and meets the needs of our trainees and early-career scientists as well as our established academics and senior clinicians."
This year's event started with an eponymous lecture in memory of the late Professor Bongani Mayosi. Professor Mayosi was the dean of UCT's Faculty of Health Sciences and also served as the former head of the Department of Medicine. This year, the Bongani Mayosi Memorial lecture was delivered by Professor Nthumbi Peter Ndung'u, the director of basic and translational science at the Africa Health Research Institute (AHRI) in Durban. The AHRI advocates for optimal health and well-being among under-resourced populations.
A real honour
Professor Ndung'u said he was excited and grateful for the offer to deliver the memorial lecture titled: "The legacy of Bongani Mayosi: scientific excellence and the next generation of scientists".
"I am grateful to have been invited [to this event]. What an incredible human being [Bongani Mayosi was]. I think we can all learn from [him], and what a big legacy he has indeed left for all of us to emulate," Ndung'u said.
As Ndung'u prepared to deliver his lecture, he reflected on Mayosi's life and his love for science. Therefore, he decided to focus his presentation on HIV – an area of medicine that is well-researched globally, although finding a cure remains an ongoing struggle. In the context of South Africa, he said the country continues to record one of the highest numbers of HIV-infected adults and children in the world, but stressed that we are not alone. Alarmingly, global data indicates that while the number of HIV-infected individuals has slowly declined over the years, a whopping 1.5 million people around the world are infected with the virus annually. Recent research into the prevalence of HIV in a KwaZulu-Natal community, carried out by Ndung'u's colleague at the AHRI, revealed that 40% of men and 60% of women in the 25–44-year-old age group are currently living with HIV.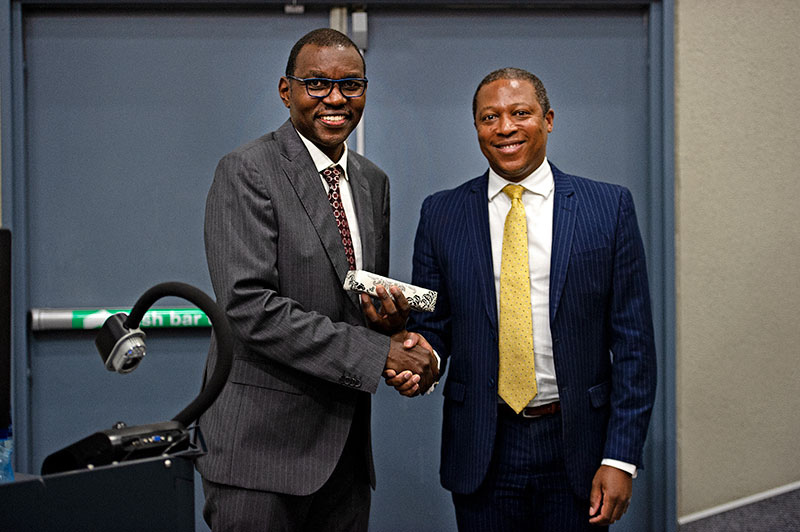 "I think that this kind of data [implores] us to think about what we can do to [eradicate] HIV completely and not just to control HIV," Ndung'u said.
HIV manifestations
Ndung'u reminded scientists and clinicians in attendance that antiretroviral (ARV) therapy remains crucial to controlling the spread of HIV. If the virus is controlled, no onward transmission will take place – making this treatment option highly effective and very beneficial. However, he added, when ARV therapy is interrupted as a result of non-compliance on the part of the patient, the virus rapidly returns.
Essentially, Ndung'u explained, HIV manifests in two different forms: productive HIV – once the virus develops in the white blood cells and produces new variants, these cells become HIV DNA positive, RNA positive and HIV-protein positive. The virus then also attacks the immune system, and typically what happens next is that the cells die.
On the other hand, HIV also latently affects cells. This means a group of immune cells in the body become infected with HIV but don't actively produce new virus, and therefore are able to survive. According to research, HIV latency occurs during the early stages of infection. Therefore, Ndung'u added, when exploring options for a cure for HIV, scientists must focus their research on how to completely eliminate HIV-latent cells. What's needed in this regard is to adequately control infection to reduce the number of HIV-infected cells overall. In this way, the immune system will be able to contain the virus replication by itself. This means that even when a patient stops ARV therapy, the virus will remain contained.
"This is what we hope will be the first line of HIV cure strategies," he said.
Honouring a legacy
In closing, Ndung'u said honouring the legacy of Mayosi is important and it means actively promoting research excellence, and capacity building to pave the way for the next generation of African scientists. Further, an added part of this ongoing process is encouraging visionary leadership, sustainability and healthy collaborations among peers to enable a conducive research culture.
---
This work is licensed under a Creative Commons Attribution-NoDerivatives 4.0 International License.
Please view the republishing articles page for more information.
---