After a two-year hiatus driven by the COVID-19 pandemic, the University of Cape Town's (UCT) student sports clubs and societies have kicked off the year with bumper enrolments. For example, the swimming club membership is up from 56 to 258.
Other success stories are basketball, up from 54 members (2019–2021) to 197 in 2022; and volleyball, up from 21 members to 122. The keen interest was also thanks to the inaugural Welcome Festival, replacing Plaza Day and hosted on the lush spread of UCT's Green Mile. The brainchild of UCT Sport's acting manager, Kiran Maharaj, the festival drew throngs of new students to browse stalls and offerings, sit down to a game of chess, turn a few somersaults on the jumping castles, play Bossaball (volleyball on a trampoline) or join a game of bubble soccer (played while half-encased in an inflated bubble).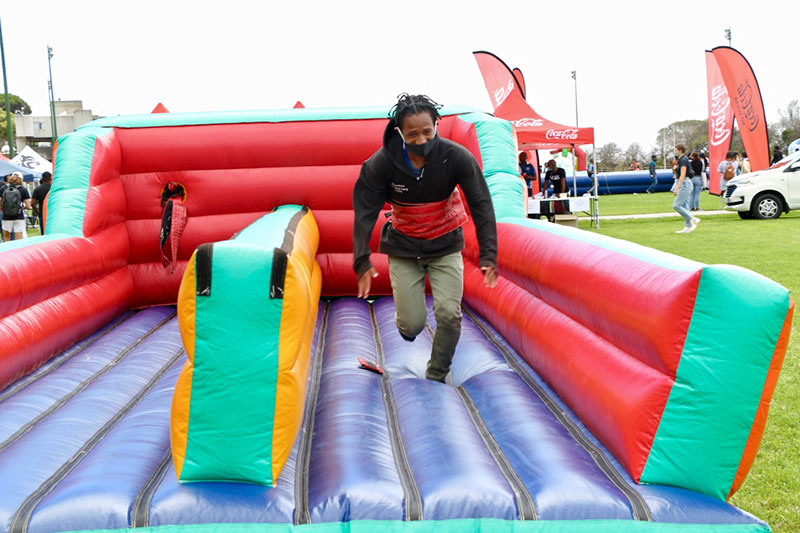 "It was also partly a reflection of how much students have missed being together on campus."
If it sounds like fun, it was, said Maharaj, and an opportunity for new students to buddy up and bond around common interests in an uncompetitive, relaxed environment. These are the times enduring friendships are made, future work networks are created, and common causes identified, which cement relationships even years after students have graduated, Maharaj added.
"It was also partly a reflection of how much students have missed being together on campus and simply socialising and connecting," said Maharaj.
While COVID-19 saw the UCT Sports Centre repurposed for exams and other academic purposes during the past two years, it's now in full use again as a sporting facility after 15:00 each weekday.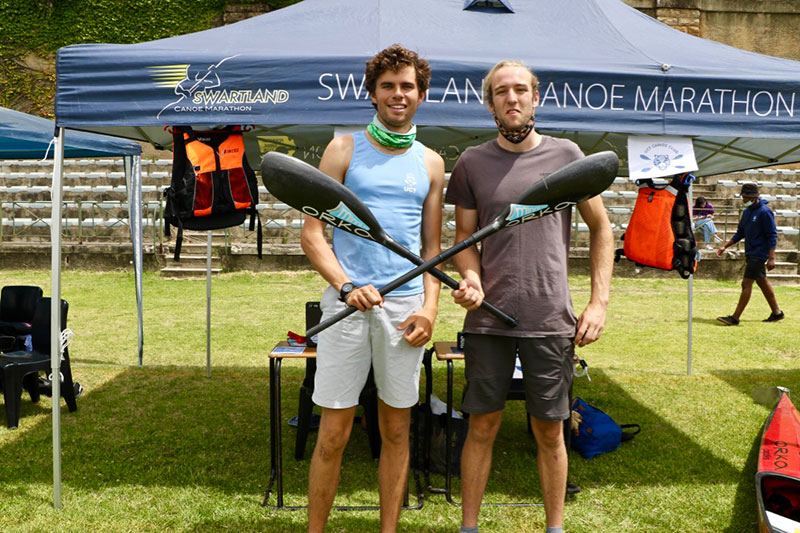 Maharaj is also very proud that by enforcing UCT's stringent health and safety protocols, only one infection was reported by a club, but this via a family member. Nonetheless, their cautious approach remains in place, even as COVID-19 restrictions are gradually being relaxed.
Societies and clubs
UCT's sports, clubs and societies fall under the Department of Student Affairs; Student Development Cluster, UCT clubs and societies sector managed by senior coordinator, Student Leadership, Lindie Gayiza. The clubs and societies are more recreational and interest-based, academic, cultural, special interests, environmental and political societies; for example, law, medicine, culture, politics, the environment, film, fashion, faith, choirs and debating.
In her role, Gayiza and her team support some 125 student societies and five development agencies within the university. These also provide extra-curricular training sessions for the organisations and students.
Unlike the sports clubs, all clubs and societies are managed by the students, who elect their leadership and see to administrative functions, supported and advised by the Student Leadership office.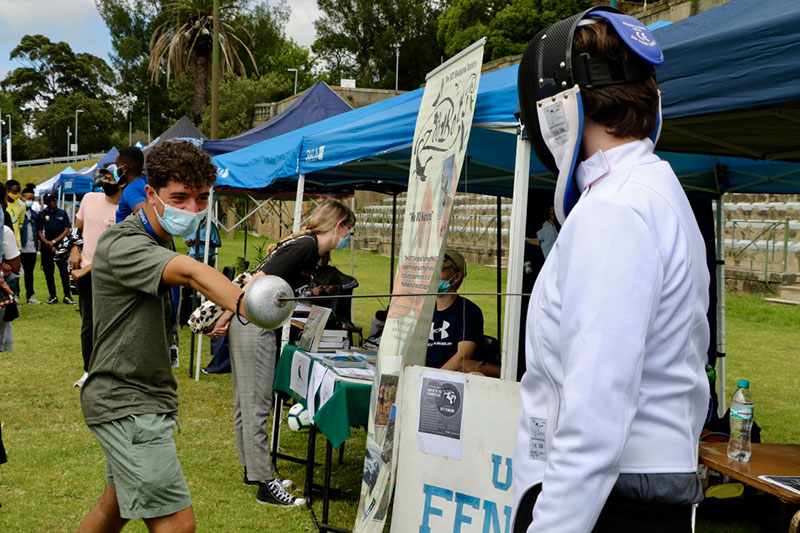 "The role of societies and development agencies is to create a community and sense of belonging for students on campus – and to facilitate a space of development and growth outside the formal learning space," said Gayiza.
Transformation is an important aspect of this, she added.
Final membership numbers will become clearer towards the subscription cut-off in June as enrolment is ongoing, she said.
One of the newer societies is HER Campus, an online magazine targeted at female students in universities and colleges around the world. Content is written by more than 7 000 contributors from more than 400 campus chapters in nine countries.
"My role gives me an opportunity to make a difference in a student's growth and development."
"Because of COVID-19, we have [since] not been able to accept new societies, although we currently have societies in monitoring phase that might become official in 2023," said Gayiza.
The reward of her job is seeing students thrive. Gayiza is passionate about youth development and youth effecting meaningful change in society.
"My role gives me an opportunity to make a difference in a student's growth and development, being able to assist in seeing a holistic graduate ready for the real world – and having a lot to offer the world."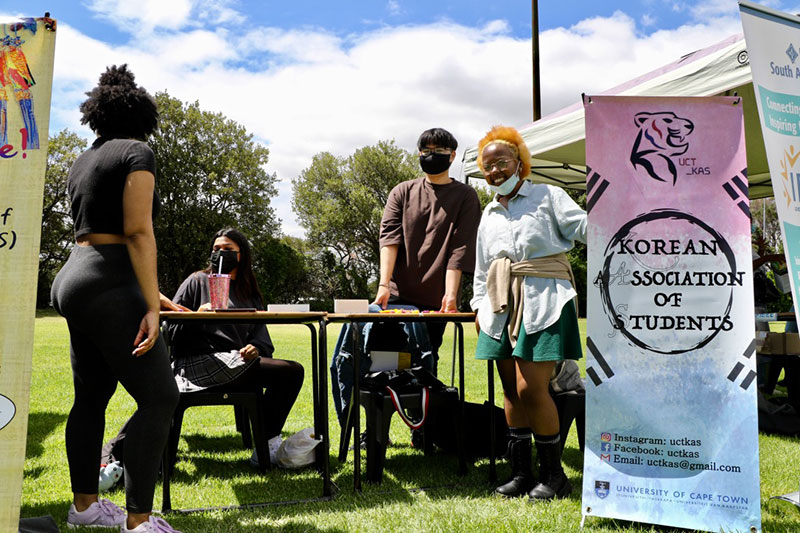 There are also many societies and development agencies that run "amazing" outreach projects.
For the sport
Maharaj and his team of four in Sport and Recreation are responsible for managing 38 sporting codes – from Archery to Ultimate Frisbee.
These clubs provide for all levels of competition from purely social programmes through to high-performance sport. Most clubs have top-level coaches – and many coach at provincial level. Many of the bigger sports adhere to professional sporting codes and participate in those formal leagues. UCT has a proud record of achievement both in the Western Province leagues and at national student tournaments.
"The biggest thing is making sure that the clubs run smoothly, and all the students have a great sporting experience as part of their student experience at UCT."
They also deal with various sporting federations and with University Sports South Africa (USSA). It involves a lot of management and administration, from organising venues to ensuring training happens, hiring coaches, putting the right things in place, etc.
"But the biggest thing is making sure that the clubs run smoothly, and all the students have a great sporting experience as part of their student experience at UCT," said Maharaj.
One of the highlights of Maharaj's career in student sport (he was a top-level volleyball player in his day) has been witnessing the transformation in certain sporting codes such was water polo, rugby, cricket and rowing.
The men's water polo team's head coach and assistant coach are both black African men; the woman's water polo head coach and assistant coach are both coloured men. The rowing coaching team are all women.
Basketball is coached by a black African woman while volleyball is coached by 62-year-old veteran, Anne Siroky, who used to be an Olympian beach volleyball player.
"She was the best setter when I was coming through the ranks," said Maharaj. "The last time she coached UCT, we won gold."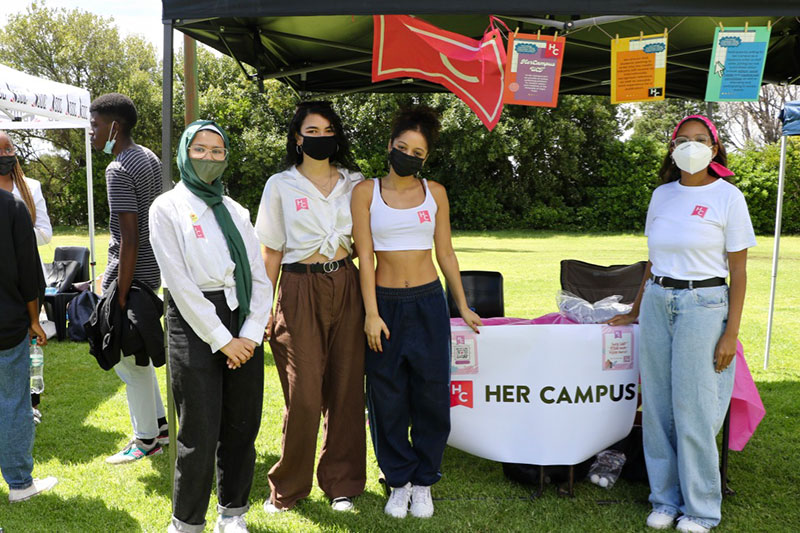 Membership has boomed in volleyball, up over 100 students turning up for practices.
"I got a call saying, 'We need more volleyballs!'," said Maharaj. "And when practices were cancelled during the [student fee debt] protests, there were crying emojis all over the WhatsApp group."
Basketball membership hit 160, another mini boom.
Health for all at UCT
But there is more to sport than trophies and medals, said the chair of UCT Sports Council, Dr David Maralack: the all-important health aspect. Dr Maralack is a senior lecturer and convenor of Sport Management in Applied Management in the Faculty of Commerce.
"In addition to ensuring that formal sports and UCT clubs run effectively, the UCT Sports Council and the Students' Representative Council took a strategic decision to expand their contribution to the health and well-being of the UCT community."
Maralack said that while the negative effects of COVID-19 lockdown to health, well-being and social interaction have been well documented, South Africans faced other health risks.
"There is an emerging case of colliding epidemics in South Africa. The prevalence of obesity, food insecurity, mental health, and an increasing problem of physical inactivity underpins a worrying trend. The overall prevalence of overweight/obesity in men and women is 39% and 69% respectively, and nearly half of all South Africans are insufficiently active. Physical inactivity in South Africa is one of the top 10 modifiable risk factors, and accounts for approximately 14% of all causes of mortality."
UCT sports administration is now working with key stakeholders to enhance the full sports development spectrum, including elite and competitive levels, to enhance recreation opportunities through mass-based programmes and partnerships.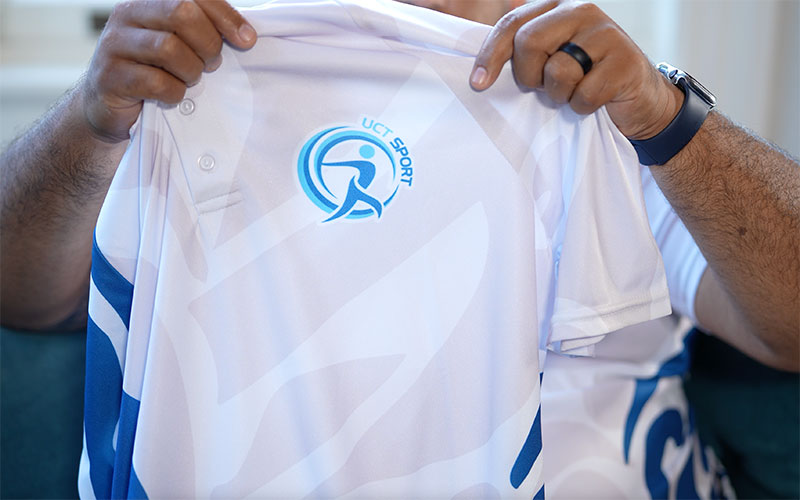 That 2022 brims with potential for the university's sports and societies was perhaps summed up by a high-profile media personality who posted on Facebook shortly after the Welcome Festival.
"I just drove past UCT and was so SO beyond happy to see life, activity, fun happening on the rugby fields. Got a huge lump in my throat. (Soppy old baggage.) First time we've seen buzz up there in 2 years. A precious friend is in third year and about to go 'back' to campus … as she says, 'for almost the first time'.
"May all our UCT (and Stellies, and Wits, and SACAP and Red and Yellow and UKZN and all the rest) kids have a wonderful year and complete their degrees in health and peace. I'm sure you all join me in hoping all our students have a university or college experience filled with growth, adventure, stimulation, learning and …fun. Oh my goodness. I'm not a praying woman … but I'm hoping SO hard for them to have fun. Our youngsters need it and deserve it."
---
This work is licensed under a Creative Commons Attribution-NoDerivatives 4.0 International License.
Please view the republishing articles page for more information.
---