Working in Hanover Park, a community plagued by gang violence, serious and violent crime and abject poverty, is a constant uphill battle. But for Liesl Hermanus, the clinical services coordinator at the Perinatal Mental Health Project (PMHP) at the Hanover Park Midwife Obstetrics Unit (MOU), every day is an opportunity to make a difference in someone's life.
In recognition of her outstanding work in service of pregnant women and new mothers
in the Cape Flats community, Hermanus was named the deserving recipient of the 2021 University of Cape Town (UCT) Vice-Chancellor's (VC) Global Citizenship Award. The award recognises members of the UCT community who have demonstrated excellence in living out the UCT mission through areas of service, the pursuit of knowledge, the dignity of the human being and contributions to the common good.
In keeping with tradition, the Global Citizenship Award was officially conferred during UCT's Annual Awards ceremony on Monday, 6 December. Hermanus joined a long list of UCT staff members who accepted awards from VC Professor Mamokgethi Phakeng during a virtual event.
"Personally, I don't think I've done anything different [this year] when compared to the past 10 years."
"To be very honest, I don't think I fully realised the magnitude of this award until I heard the VC talk about it during the filming of the [annual awards] ceremony. Personally, I don't think I've done anything different [this year] when compared to the past 10 years. It's been a privilege to serve the Hanover Park community," Hermanus said.
Mental health support
Hermanus's work on the PMHP, particularly in the past 12 months, underpins the award's eligibility criteria. The PMHP is an initiative of UCT's Department of Psychiatry and Mental Health and operates from the Hanover Park MOU. The project supports pregnant women and girls and new mothers who suffer from common mental health disorders such as anxiety and depression.
The service site provides routine mental health screening as part of their first antenatal clinic visit and boasts a rigorous monitoring and evaluation process. Counsellors conduct routine follow-up assessments with clients six weeks post-birth, and should assessments reveal that a mother is at risk of depression down the line, counsellors provide free on-site counselling and follow-up case management for a full year post delivery.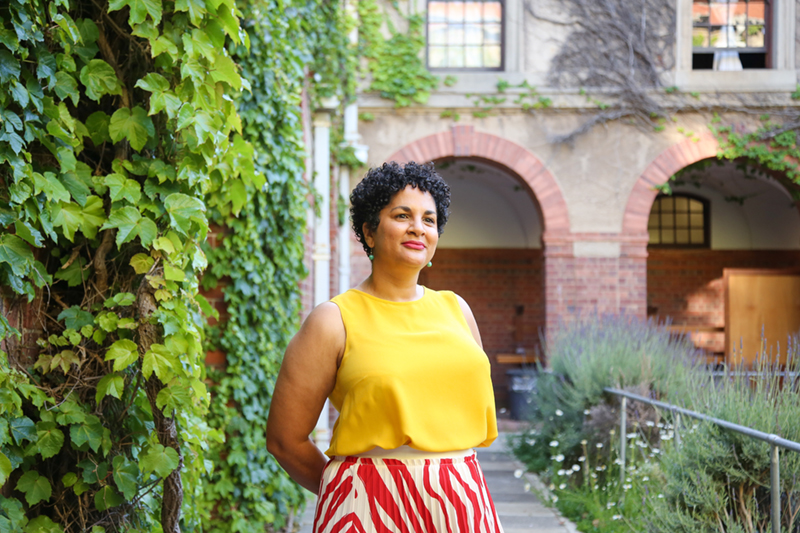 Hermanus, who coordinates and manages the perinatal mental health support service at the Hanover Park MOU, said that statistical analysis of 2018 data revealed that the assessment and counselling service delivered the following results:
93% of clients bonded well with their babies
68% of clients reported an overall positive post-birth experience
80% of clients managed to resolve psychosocial and lifestyle challenges.
These results, she said, demonstrate that the project has had a beneficial impact on clients' mood, their coping mechanisms and general day-to-day functioning. The intervention also builds their assertiveness and resilience and equips them with the skills they need to face the challenges of motherhood under difficult socio-economic conditions.
The COVID-19 Mamas Campaign
However, these young pregnant women and new mothers were often not equipped to deal with the devastation of the COVID-19 pandemic, which revealed deep disparities between the haves and the have-nots in South Africa. At the onset of the hard lockdown in 2020, Hermanus said, many clients approached counsellors on the programme for assistance – food, clothing and other basic services like toiletries were some of their requirements.
Encouraged to do something to help, Hermanus jumped in and established the COVID-19 Mamas Campaign.
"I have spent a considerable amount of time in Hanover Park over the years and I was shocked to meet mothers who in 2020 [did not have] the means to support themselves, take care of their basic sanitation needs or provide for their young babies," she said.
Hermanus collaborated with a long-time friend and the duo quickly established a campaign team. Collectively, through an online campaign, the group managed to raise R100 000, and the funds went towards providing pregnant women and new mothers and their babies with clothing and toiletry starter packs. Thanks to these generous donations, the campaign was also able to support several other birthing units on the Cape Flats with "mommy and baby" starter packs.
"Pregnant women and new mothers were particularly vulnerable during this time and were struggling to take care of themselves."
"Pregnant women and new mothers were particularly vulnerable during this time and were struggling to take care of themselves. They had very little to get by. But with this campaign we were able to provide some relief. For them it was one less thing to worry about," she said.
Service excellence
For Hermanus, her work in Hanover Park extends beyond the PMHP, the COVID-19 Mamas Campaign and the many new mothers and their babies. In a community ravaged by gang war, unemployment and poverty, she is committed to making a difference in any shape or form.
When the idea to collaborate with graffiti artist Love Leigh Art arose, Hermanus grabbed the opportunity with both hands. And thanks to their transformation of several bare walls in the community, the 10 talented graffiti artists managed to create something magical. Today their work gives many residents a reason to smile.
"I have been in talks with these guys to come out to Hanover Park for the longest time, and when they eventually got here, I can't even begin to describe how happy I was," she said.
"The community was overjoyed too. Community members seem happier about the space and it makes me so happy knowing that I played a part in this process. This is the embodiment of what it means to work in a community and to serve our people."
A dedication
Journeying with young and expectant mothers on the PMHP project over the years – having those difficult conversations and working through the issues together – has been a rewarding and fulfilling experience. Hermanus said she has also grown on both a personal and professional level.
Therefore, receiving a Global Citizenship Award is a privilege and the highlight of her career. Hermanus is honoured and humbled that her work has been recognised on this broad scale. But she maintains that she could not do it by herself.
"I don't see this as my award. I see it as our award; so many people in the community of Hanover Park and the MOU – my second home – have had a hand in this work and have contributed," she said.
"We've done all of this together, even though in the last two years we were often apart. This one is for all of you."
Hermanus said she is exceptionally proud of what the team has managed to achieve in the 10 years since she joined the project, and of the daily difference they continue to make in the lives of so many marginalised women and children.
"I cannot celebrate this award alone because I could not have achieved this all by myself. I am so grateful to my formidable team. We've done all of this together, even though in the last two years we were often apart. This one is for all of you," she said.
---
This work is licensed under a Creative Commons Attribution-NoDerivatives 4.0 International License.
Please view the republishing articles page for more information.
---