"I am afraid to walk alone at night in the forest. I am afraid to walk alone at night. I am afraid to walk alone. I am afraid to walk. I am afraid."
These were the words on a postcard among scores of cards pegged on lines outside the Clareinch Post Office and fluttering in a chilly wind on Saturday, 28 August. The Clareinch Post Office was the scene of University of Cape Town (UCT) student Uyinene Mrwetyana's rape and murder in August 2019, when she went there to collect a parcel. Just over two years later, a gathering at the post office marked the start of the 'Post Office to Parliament' campaign, a protest against the country's rising tide of gender‑based violence (GBV) and femicide.
Coordinated in collaboration with UCT's Office for Inclusivity & Change (OIC), the campaign was championed by the Uyinene Mrwetyana Foundation. Part of the campaign was a call for South Africans to share their thoughts on GBV, using a postcard. UCT served as the collection site for thousands of these postcards, leading up to the protest from the post office to Parliament.
The protest, attended by a small group of stakeholders because of COVID‑19 safety protocols, also commemorated University of Fort Hare student Nosicelo Mtebeni who was murdered recently, allegedly by her boyfriend.
Stakeholders at the event included those attached to the University of the Witwatersrand, The Good Men Foundation, LivCurious and other sponsors, as well as the first Uyinene Mrwetyana Scholarship holder, Luhlaganiso Mabeje. The event was attended by members of Mrwetyana's family.
No freedom in GBV
Speaking on behalf of the Mrwetyana family, Uyinene's uncle, Thembalani Mrwetyana, said, "It is [at] times like this when one feels ashamed to be called a man; to be associated with such pain, cruelty and horror. But then again, it is that very same shame that should push us as men to stand up against those among us, those who continue to perpetrate such evil deeds.
"When did we stop being protectors, carers and providers of our communities?"
"Today, I feel compelled as a man to stand up against our fellow men folk, against those who perpetrate hate, cruelty and horror against our daughters, sisters, aunts, mothers and grandmothers. If I may borrow from the words of the writings of Nelson Mandela, he said, 'Freedom cannot be achieved unless women have been emancipated.' Those words are still as true today as the day he uttered them."
He said that while GBV existed, men would never be free either.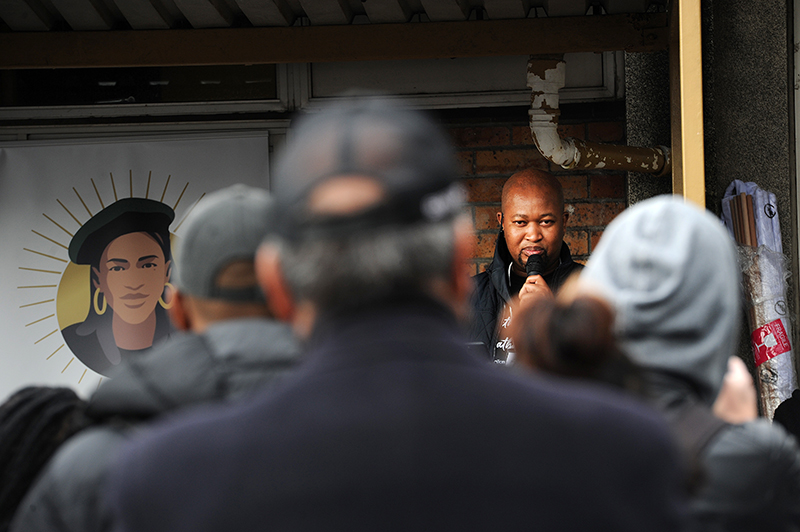 "As real men, we cannot keep quiet and be free, while those who call themselves men among us continue to rape and to maim our girl children. As real men, we cannot keep quiet and be free while those who call themselves men amongst us continue to use power to deprive our sisters of opportunities.
"So where have we gone wrong? Where have we lost it? Where did we lose it? When did we stop being protectors, carers and providers of our communities? When did we lose our humanity as men? When did we stop seeing girl children as blooming flowers to be cared for and nurtured? Where did the love go, from men?"
Messages to Parliament
Later on Saturday, thousands of other postcards were delivered to the parliamentary precinct where a memorandum was presented to the Minister of Women in the Presidency, Maite Nkoana‑Mashabane.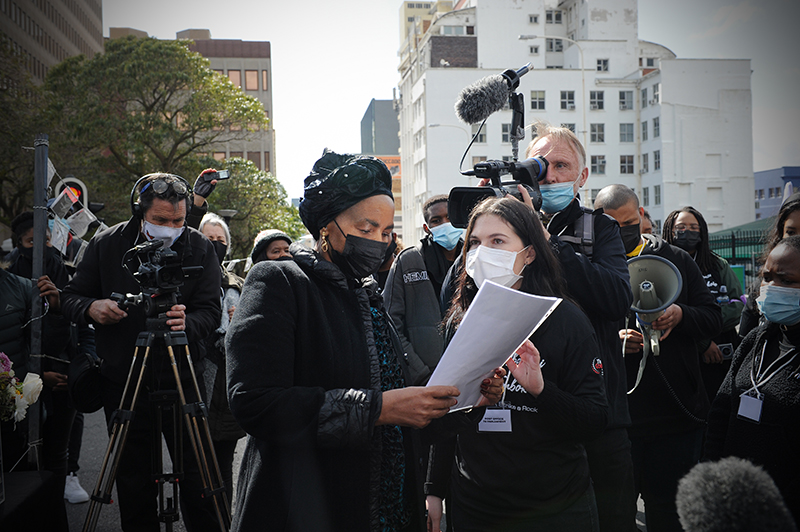 The memorandum demanded an urgent response to ongoing GBV, and questioned delays in the formation of a board of trustees to oversee the establishment of a multisectoral co‑ordinating national council on gender‑based violence and femicide. The National Strategic Plan on Gender‑Based Violence and Femicide (GBVF-NSP) was approved in March 2020. The public nomination process was to be overseen by the Presidency, through the Ministry of Women, Youth and Persons with Disabilities. But little progress has been made.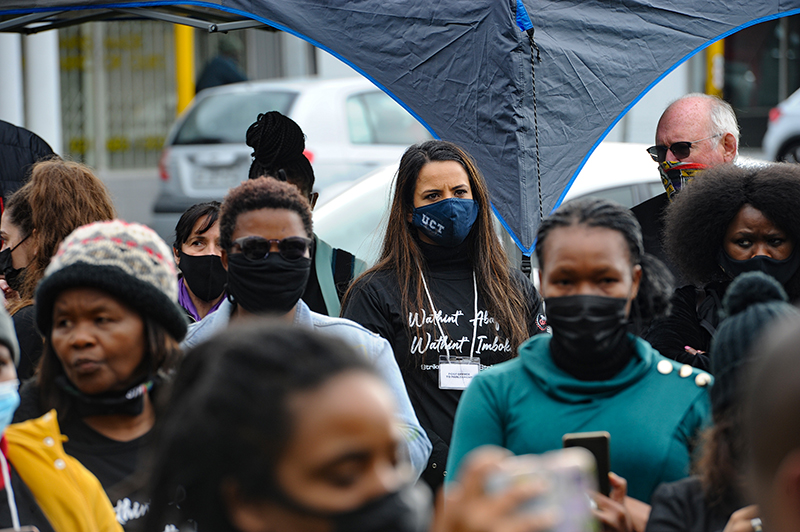 OIC director Dr Sianne Alves said, "The department for Women, Youth and Persons with Disabilities has a mandate to establish a national council on gender‑based violence, to eradicate GBV and femicide to ensure that there is dedicated expertise that governs behavioural change programmes, monitoring and evaluation of specialised courts and capacitation of refuge shelters, and specialised training of the South African Police Service to provide respectful and empathic care for survivors who reach out to them, as first responders."
In turn, Minister Nkoana‑Mashabane pledged that the national council would be in place by the end of December 2021, agreeing that more should have been done and that women had had enough of being "slaughtered like goats" and being robbed of their opportunities to participate fully in the country's economy.
Local Member of Parliament Nazley Khan Sharif said she too had raised the issue of the slow drafting of legislation for the national council, and promised action.
"We are commemorating two years of the tragic, brutal events … [when Uyinene was murdered]. We are still mourning more women that are being murdered at the hands of men.
"And two years later is long enough. So, I will take this petition, I will hand it to the Speaker of Parliament, as well as the [Portfolio] Committee of Women, Youth, Persons with Disabilities, I will make sure that we deliberate on it, we write a report on it, and that we speak about it in Parliament. Because that is where the change needs to happen."
Full circle
UCT student organiser Thandile Ngxikwe said the Post Office to Parliament initiative signalled a full circle since the events of 9 August 1956, when 20 000 women marched to the Union Buildings to protest the introduction of the apartheid pass laws for black women. They presented a petition to then‑Prime Minister JG Strijdom.
"And when no one was going to stand by their side, they took it upon themselves to walk through the Union Buildings to say, 'I will not be denied the right to move freely in the land of my birth.' In the new dispensation, in this facade that I call South Africa, the 'Rainbow Nation', where we celebrate ubuntu … we see the lack of accountability of our leaders and our men.
"In the new dispensation, how many protests [for women] have to be seen to say 'I want the right to be?'. This month of August carries so much. It carries pain, it carries hurt. It carries celebration, yes, of our strength to deny all odds and still get up and be able to come here today and say, enough is enough."
---
This work is licensed under a Creative Commons Attribution-NoDerivatives 4.0 International License.
Please view the republishing articles page for more information.
---