In the shadow of one the country's major vaccination manufacturing plants, staff of the University of Cape Town (UCT) filed through a hall to receive their COVID-19 jabs.
Jammie Shuttles carried hundreds of UCT workers to a vaccination site at the Metro Emergency Medical Service (EMS) centre in Pinelands on Tuesday, 3 August 2021, joining hundreds of thousands of citizens aged 35 and above across the country in a national inoculation drive to combat COVID-19.
UCT provided Jammie Shuttle transportation to the Pinelands EMS site every 30 minutes on 2 and 3 August.
Coincidentally, these workers were being vaccinated next door to the Biovac Institute, which is set to start manufacturing the Pfizer-BioNTech vaccine later this year.
A friendly team at the vaccination site guided the university workers through screening, vaccine registration checks, and then to a waiting area spaced out to social distance protocols. Although it was a large gathering, air flow in the hall, sanitisers and masks were the order of the day.
Amid an atmosphere of slight nerves, staff members took ticket numbers and proceeded to allocated cubicles to receive the long‑awaited jabs. Some were nervous, scared and doubtful while others were unfazed by needles or vaccine rumours. What most of the recipients agreed was that they were doing this for their safety, the safety of their families and those around them and to improve their working lives.
Reducing risk
Candice Dykes, 37, is an administrator at UCT's Faculty of Health Sciences and comes into contact with students and academic staff daily.
She described the weeks building up to this moment as a stressful time, during which many people died.
"I come from a coloured, Christian community and there is a huge cohort of people who don't feel the vaccine is the way to go … You hear stories and you watch videos about people having strange reactions, so obviously that puts a little bit of doubt in your mind," she said.
"If you just look at the number of people that are dying, and when you are faced with that every day, the choice is very simple. I'm also a mother of kids, so for me, there is no other option – I need to get vaccinated."
Within her current role at the university, Dykes needs to go into work every day.
"I am in contact with students and lecturers, so it is obviously going to give me peace of mind that I don't have to feel that I am under that much stress anymore. My colleagues in my office where I work are actually all vaccinated already."
A friendly team at the vaccination site guided UCT workers through screening, vaccine registration checks, and then to a waiting area spaced out to social distance protocols.
Fees Office customer liaison assistant Nthabiseng Stuurman said she was scared but death close to her led to the decision to be vaccinated.
"I had a lot of family members [and close friends] who died from COVID‑19. I decided to come today because it is important to do this. I am nervous because me and needles are not friends at all," said Stuurman.
She comes into contact with parents and students regularly for her work, putting her at risk of infection.
"It's going to be much better. I think there will be [fewer] chances of infecting my colleagues and visitors to our office as well," added Stuurman.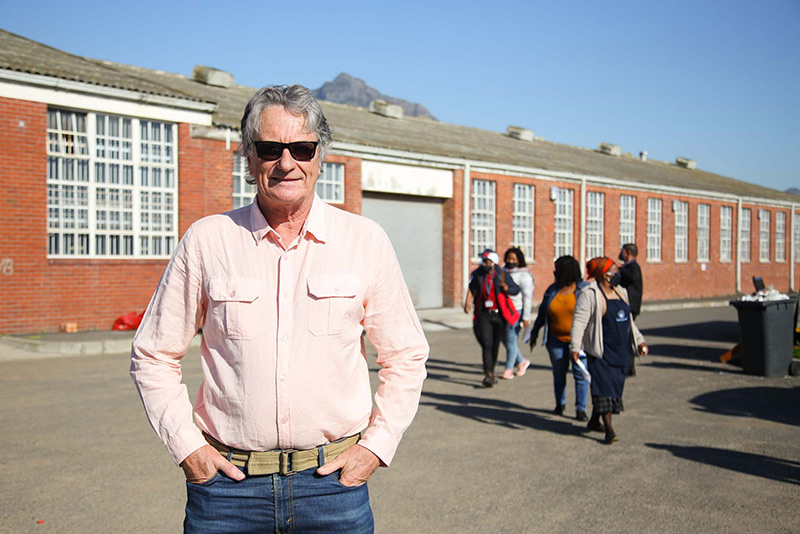 Emeritus Associate Professor David Coetzee, a public health specialist who works in the office of the university's Chief Operating Officer on COVID‑19 projects, said that during the implementation of the vaccination programme, they had learnt that fake news is a threat.
"We are learning that there is a lot of fake news going about; a lot of people saying you get COVID‑19 once you get the vaccine. This is often people who were incubating COVID‑19 already when they went for the vaccine, and that is why we are particularly careful about asking people about signs and symptoms of cold and flu to make sure that they are not incubating COVID‑19 when they get the vaccine.
"The vaccine is very effective against getting severe disease and against hospitalisation and ICU and against death," he said.
New campus vaccination site coming
Plans for a new vaccination site at the university's Forest Hill residence are in full swing, with doors set to open in a matter of weeks. The vaccination site is expected to serve both the university and the broader public as a resource for the Western Cape Department of Health.
"We are hoping that our vaccination site, which will be at Forest Hill … in Mowbray, will be all set up so that by 1 September, when we are allowed to vaccinate people over 18, we will be ready because a lot of our students would fall into that category," said Emeritus Associate Professor Coetzee.
"The vaccination site at Forest Hill is provided by UCT on university property but it will be totally run by the provincial department of health. Eligibility criteria [for the vaccine] will be exactly what the government requires in terms of age and registration."
UCT's Chief Operating Officer, Dr Reno Morar, visited the site and spent time engaging with UCT staff and members of the Metro Emergency Medical Service team.
UCT's chief operating officer, Dr Reno Morar, who was also at the Pinelands site, said the university is hoping to take lessons learnt from the staff vaccination programme to implement at Forest Hill.
"We want to make sure that it is efficiently run, that it is friendly, that people feel welcome, and where they have fears and anxieties, we are able to address those very quickly," he said.
"We are aiming to open that site by the end of August, and the initial plan is to have the site run for at least 12 months, knowing that COVID‑19 will be with us for a number of years to come. Having that vaccination site available will also help in making sure that if booster doses are required, that site will be available to vaccinate communities, students and staff."
---
This work is licensed under a Creative Commons Attribution-NoDerivatives 4.0 International License.
Please view the republishing articles page for more information.
---