The importance of paying it forward was the theme of University of Cape Town (UCT) Vice-Chancellor (VC) Professor Mamokgethi Phakeng's speech as she honoured the 2021 Mamokgethi Phakeng Scholarship and Prize recipients.
In 2020 Professor Phakeng launched her scholarship and prize initiative aimed at financially deserving black South African women postgraduates studying science, technology, engineering and mathematics (STEM) subjects at UCT. Phakeng has committed to donating 10% of her salary to finance the initiative and her contribution will provide wrap-around funding covering tuition, accommodation and a monthly stipend.
The annual prize is awarded to the top South African women master's or PhD students in the field of mathematics, applied mathematics and mathematics education at UCT, the University of the Witwatersrand (Wits) and, more recently, the North-West University (NWU). Phakeng's aim is to establish this prize at all 26 universities across the country.
"This is a special day. It's on this day that we acknowledge the young women who [have earned] the Mamokgethi Phakeng scholarship."
In honour of the 2021 recipients, Phakeng hosted a brunch on the lawns of Glenara, the vice-chancellor's official residence, on Monday, 7 June. In attendance were deans of UCT's faculties, university senior leadership and the Deputy Vice-Chancellor for Teaching and Learning Associate Professor Lis Lange.
"This is a special day. It's on this day that we acknowledge the young women who [have earned] the Mamokgethi Phakeng scholarship [and prize]. It [the scholarship] funds them for the whole year and provides everything they need so that they can focus on their studies," Phakeng said.
The 2021 scholarship recipients are: Xolisile Thusini (PhD in biomedical engineering), Bongiwe Sithole (master's in architecture) and Sisonke Mgwebi (master's in architecture). Motshidisi Charity Moroke (PhD in mathematics) from NWU is the recipient of the 2021 prize. This is the first year that the prize, which was first launched at Wits in 2012, has been awarded to a student outside of UCT and Wits.
Starting the scholarship
The idea behind the scholarship is to help young black South African women postgraduates succeed. Phakeng said there are simply too few of them who pursue their postgraduate studies in STEM, and when they do, there are even fewer scholarship opportunities in South Africa.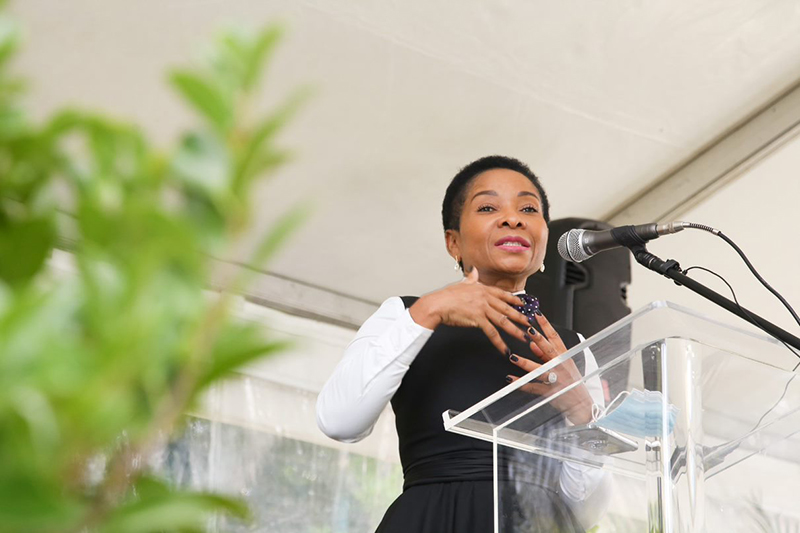 As the country's first black woman to receive a PhD in mathematics education in 2002, Phakeng said the achievement was just not enough for her. While many celebrated her monumental success, she remembers feeling "embarrassed" that South Africa took so long following the advent of democracy before producing the first black woman mathematics PhD graduate.
"I thought then that 10 years down the line, the country has a right to ask me if I'm still the only one [to hold a PhD in mathematics]. Anyone would be within their right to ask me this. I couldn't just be happy to be the first," she said.
"I think there's a reason to celebrate firsts [but] only if you do something about it … Use it as a challenge, use it as a springboard to build something bigger, to make sure that you are not the last."
This scholarship is one way of encouraging other women and providing a platform for them to pursue their dreams, said Phakeng.
Guardian angel
Phakeng told the scholarship and prize beneficiaries, and members of the audience, that if she had not received a scholarship to complete her postgraduate education, she would not be standing in front of them today.
She relayed a personal story about how a guardian angel had come to her aid during her honours year at Wits. Desperate for funding, Phakeng explained how she approached the university's Academic Development Unit for possible scholarship opportunities, but there was nothing available. Determined, the young Phakeng gave the office her contact details in case something came up, and about a month later, she received a welcome phone call. She was told that a Mr Damoyi had agreed to fund her studies.
"If he [Mr Damoyi] hadn't paid for it, the truth of the matter is, I wouldn't be here today."
Mr Damoyi was impressed with her degree of study and with her results, and had agreed to provide the funds – no questions asked. To this day, she said, she still knows very little about him, only that he lived in KwaZulu-Natal.
"If he [Mr Damoyi] hadn't paid for it, the truth of the matter is I wouldn't be here today. There's no question about it. It doesn't matter how smart you are, or how hard you work, if you don't have the fees, you won't succeed, even with your smartness and hard work," she said.
"This is my opportunity to do [for you] what Mr Damoyi did for me."
Giving thanks
Both 2020 and 2021 Mamokgethi Scholarship and Prize recipients said they are grateful for the sponsorship opportunity and took to the podium to personally thank Phakeng for her generosity.
For Moroke the influence and inspiration she receives from Phakeng is immeasurable, and finally meeting her in person is the "icing on the cake".
"The fact that you were once a student at North-West University is so inspiring to me and it motivates me. I appreciate that there are outstanding black women like you … who lets the rest of us know that we are capable and worthy," Moroke said.
Sithole told the audience that pursuing a postgraduate degree can be a lonely journey. But she is grateful to have a support structure and a network of fellow UCT students and academics who she can depend on and ask for help.
"I am especially appreciative of Vice-Chancellor Phakeng for this opportunity – thank you," she said.
A teary Mgwebi said the scholarship means a lot to her. And she added that she's sure it means as much to the other recipients, and to the many women out there who need help and who will come after them.
"It [also] means a lot to the people I want to help, and the change and impact I want to make on South Africa."
"It [also] means a lot to the people I want to help, and the change and impact I want to make on South Africa," Mgwebi said.
Thusini said that she is inspired by Phakeng and fascinated by how much she has achieved.
"Yet you remain humble and treat everyone around you with respect and the dignity they deserve. Thank you for believing in me, for believing in us, and for believing that we have what it takes to carry the future of the country. I hope that we will be able to carry that forward to the next generation who will not be fortunate enough to meet you in person," Thusini said.
---
This work is licensed under a Creative Commons Attribution-NoDerivatives 4.0 International License.
Please view the republishing articles page for more information.
---