Master's graduand Liisa Shangheta's first chemical experiment was conducted covertly, under her bed at boarding school in Grootfontein, Namibia. Shangheta was only 11, but remembers hustling to elicit a single raw egg from the sympathetic kitchen staff. She needed a binding agent for the craft paper she was making.
"I was very busy," said the University of Cape Town (UCT) master's graduand in oceanography. Far from her home in the remote Okongo district in northern Namibia, Shangheta said, she enrolled for everything she could at boarding school: Conquestor, Readathon, and lots more. Fortunately, her parents were willing enablers of her rapacious curiosity.
"I was always asking my parents, 'Why?'"
If not for that fount of inquisitiveness she may never have ended up studying oceanography at UCT; and now, preparing to graduate in July.
"I wanted to know why the waves continued breaking. What was happening here?"
Shangheta saw the sea for the first time at age 14, on holiday with friends who took her to Henties Bay, Swakopmund and Walvis Bay. (Paying it forward, in 2019 Shangheta and her older sisters saved money to pay for their three younger teenage sisters to come to Cape Town to see the sea for the first time.)
After the long journey west, Shangheta said, she became aware of a transition in the landscape: red sand dunes appeared, and beyond that, a ribbon of blue that stretched as far as she could see. And then came the smell of ozone off the ocean, or efuta, as the sea is called in her mother tongue, Oshikwanyama.
"My tiny brain went 'boom!'. It was just majestic. I was fascinated. I wanted to know why the waves continued breaking. What was happening here?"
It seemed unlikely that the encounter would shape her later life. But it did. Hip-deep in the sea, she was both nervous (she couldn't swim at the time; she only learnt in her third year at university, through the UCT swimming club) and enthralled. Of course, she had questions. What made the ocean salty? Was it the same salt as table salt? And why had the seawater affected a sore on her foot, causing reddening and swelling?
Sea, climate and turning points
Back home, she read up about the ocean's chemistry. It was more complex than she'd imagined. She also had no idea that the ocean could be so inextricably linked to local climate so far inland. In 2000 and 2001, floods had hit her usually arid hometown in far north-eastern Namibia, brought on by a strong Benguela Niño phenomenon in the equatorial Atlantic Ocean. It had caused extensive flooding far into Namibia and Angola.
"Half our house was underwater," she said.
In 2013, Shangheta enrolled at UCT for a BSc, majoring in computer science and mathematics. By second year she'd realised that her heart wasn't in it. It wasn't that she didn't have the ability; she just wasn't that interested. A period of introspection yielded several vital insights. First, she was an extrovert. Second, she was interested in many things. It also sparked a spiritual journey to know herself, who she is and what she wanted from life.
Shangheta returned to the faculty handbook. And there it was: oceanography. It popped out. She remembered how obsessed she had been with the ocean after that first meeting.
"I knew I didn't suck at maths or computer science. I just wasn't using them in the right way."
"I'd never heard of oceanography. And then I thought, okay, let's look into this. I did research, and I found out that oceanography played to one of my biggest strengths – which can be a weakness – that I'm a master of many things. I like to do a lot of things, and I'm good at a lot of things."
The ocean could be studied through so many lenses: chemistry, physics, biology, ecology, law…
"I knew I didn't suck at maths or computer science. I just wasn't using them in the right way. I needed all of them to tie together – and oceanography created that platform for me."
Her master's research investigated physical ocean and atmospheric parameters around the Prince Edward Islands in the remote Southern Ocean, far from any continental land mass.
"So, when we see changes happening in the sea-surface temperature, and in the other ocean and atmospheric parameters, it's an indication of something other than continental influence – which is most likely climate change. And that can inform the marine biologist about what is happening and how these changes could affect, for example, the penguin population, fish availability, and so on."
Inclusivity and change
While the academic field corralled her many interests, Shangheta's university experience also brought her personality and skills as a mover and shaker into play, particularly as chair of the department's postgraduate student committee.
Oceanography was "an interesting space" when she started, just emerging from its male-dominated identity. There were also race dynamics to be tackled.
"In my undergrad, it was as clear as day that you had a black group and a white group of students. There were even two different WhatsApp groups, one with mainly white students and the other with mainly black students.
"I am not afraid to ask people hard questions at times," said Shangeta, with a broad smile. "I was like, huh, you guys have a white WhatsApp group? Why am I not on it? And they were like, okay, well… yeah.
"No one was racist per se. It was more about being more comfortable talking to certain people. And I was like, yeah, well, I'm a different colour – get comfortable talking to me! I made friends with the white kids, I made friends with the black kids."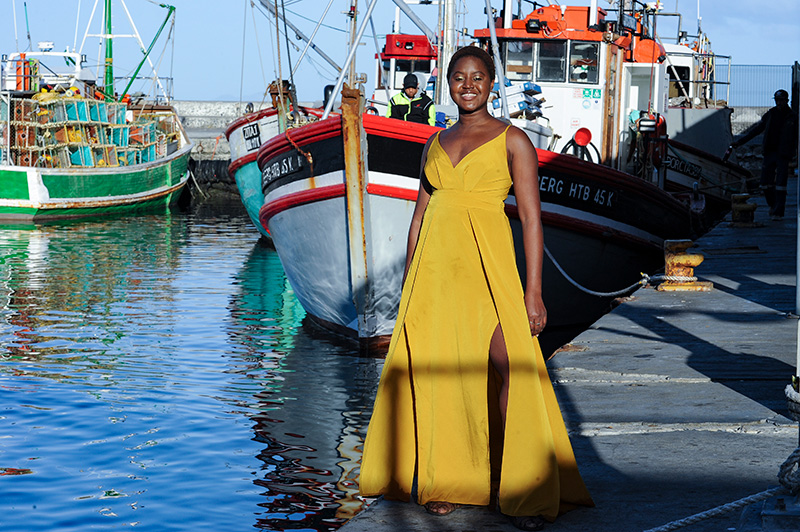 She also decided to take change into her own hands by becoming the postgraduate representative.
But transformation needed more than a common WhatsApp group. In her first year as the postgraduate representative, Shangheta invited UCT's Office for Inclusivity & Change to present a workshop to the department, "and help us become more of a family". There was a great turnout of students, and most of the lecturers attended.
"And that workshop helped people to see the leaders within them."
In her second year, two staff members funded a programme to create cohesion in the department. It was decided that only students would attend. Afterwards, a memorandum was given to staff detailing the changes the students wanted to see in the department. The new head of department, Professor Isabelle Ansorge, who was also committed to change, came up alongside them, making budget available for burger-and-drinks evenings every second Friday, creating necessary common ground in an informal setting.
Ocean advocate
With her master's degree done, Shangheta is deliberating her next step. But she's not in a rush to start a PhD.
"I feel my PhD research should be more informed by a lot of things. For instance, I'm very passionate about marine law. So, my PhD could be a sort of marriage between physical oceanography and ocean sciences and marine law."
Here she cites the Namibian Fishrot scandal which broke in 2019, revealing money laundering and corruption on a grand scale. With stricter policymaking and law, this could have been avoided, Shangheta said.
"I've always been an advocate for things… I don't mind taking the government to court, because people must be held accountable; and with corruption levels so high, someone must stand up for the ocean and say, 'No, you can't misuse me. No, you can't change existing laws [that are in place] to protect me for your own benefit.'"
"It starts with educating people about the basics of the ocean."
And on the eve of World Environment Day on 5 June, Shangheta urgently wants to address ocean literacy.
"Because, as we know, our people [black people] often don't have a relationship with the ocean. And that won't come overnight. It starts with educating people about the basics of the ocean. Why is the ocean salty? What is the ocean? What makes the waves? Just so that we can start having a relationship with the ocean instead of 'Just bring me a bottle of ocean water as a souvenir, please'. I'm passionate about ocean education and literacy.
"I'd like to see the Namibian curriculum include more than a page about the ocean in our geography textbooks. In fact, it would be lovely to have marine sciences or oceanography as a subject on its own at high-school level, so that people can understand that the ocean plays a major role and that we can't isolate climate change and the ocean.
"The ocean has so many solutions, if we just listen."
---
This work is licensed under a Creative Commons Attribution-NoDerivatives 4.0 International License.
Please view the republishing articles page for more information.
---