Dr Rubina Bunjun, a junior research fellow from the University of Cape Town's (UCT) Faculty of Health Sciences, is the first scholar from an African university to be awarded the Dr John Gusdon Memorial New Investigator Award.
The award, which is presented by the American Society for Reproductive Immunology (ASRI), is given to a "new investigator with trainee status who has made a significant contribution by presenting an outstanding research paper during the ASRI Annual Meeting".
The research, which Dr Bunjun completed while still a postdoctoral research fellow in Associate Professor Jo-Ann Passmore's lab in the Division of Medical Virology, revolved around characterising biological factors affected by hormonal contraception that may have implications for human immunodeficiency virus (HIV) risk in women.
"If you want to make improvements, you first have to know what the current solutions are doing."
Designed as a sub-study to the Evidence for Contraceptive Options and HIV Outcomes (ECHO) Trial, Bunjun's investigation focused on the effects of contraceptives, specifically the injection DMPA-IM, on the female genital tract. This, the infectious disease immunologist said, is not only important in terms of HIV but also for improved contraceptive design.
"The ECHO trial was designed to determine whether there was a link between contraceptives and HIV. Although the trial found no link between DMPA-IM use and increased HIV risk, the unique trial design was a great opportunity to really look at what contraceptives are doing to the genital tract, which may still have implications for HIV," she explained.
"Of course, this isn't only significant for HIV, but also for designing better contraceptives for women. Because if you want to make improvements, you first have to know what the current solutions are doing."
A statistically significant increase in Th17 cells
Titled DMPA-IM Drives Cervical Th17 HIV Target-cell Accumulation in Women in the ECHO Trial, Bunjun's study considered how the contraceptives DMPA-IM (injectable), the copper intrauterine device (IUD), and the levonorgestrel subdermal implant affected HIV target cells in the female genital tract – specifically those that are highly susceptible to HIV infection.
"If you think about HIV exposure in terms of sexual intercourse, the Th17 cells are CD4 [white blood] cells that HIV is most likely to infect. The rationale when we designed the study was that more of these cells in the genital tract could translate to an increased HIV risk, because it would be easier for infection to occur," said Bunjun.
Samples for the study were collected through scraping the cervixes of participants with a cytobrush, as well as gathering vaginal secretions to analyse soluble immune molecules, both before contraception was started and one month afterwards.
"We had two samples: one baseline sample from before the women began taking the contraception and one from a month after, that we compared to see how they were different.
"What we found was that there was a statistically significant increase in the number of [Th17] HIV target cells present in women after using the injectable DMPA-IM, but not the other contraceptives. In fact, the injectable was the only contraceptive that led to this increase," she reported.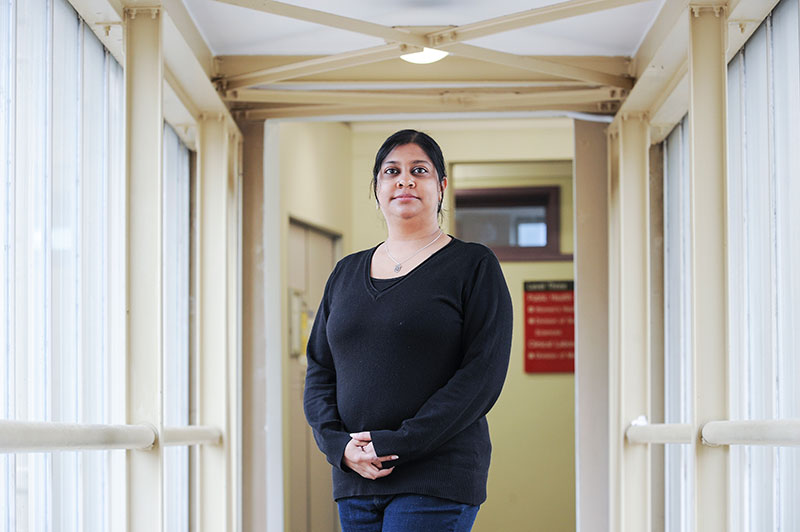 The importance of these findings, added Bunjun, is the identification of a biological difference caused by DMPA-IM that was previously thought to increase HIV risk. However, this difference has been detected in a study where there was no overall increase in HIV acquisition associated with DMPA-IM compared with the other contraceptives.
"It's important to know that this increase in HIV target cells that we found does not directly translate to HIV risk. What our study does show is that HIV target cells alone cannot be used as a proxy for increased HIV risk.
"It lays the groundwork for other studies – which may find that there are more Th17 or other HIV target cells in the genital tract – and the suggestion that the mere presence of more of these cells increases HIV risk should be made with caution," she elucidated.
Securing a better future for women
A feminist and champion for improving the lives of vulnerable populations in our society, Bunjun began her research into hormonal contraception after looking for areas in which she could make a difference for women, particularly women in Africa.
"This is a women's rights issue. More women get sexually transmitted infections and more women have HIV, and disproportionately so. In joining the group with Associate Professor Passmore, who is the head of the Mucosal Infections Group (MIG) in the Division of Medical Virology, I could tease out this question of why young African women are more susceptible to HIV.
"There has been research in the field for the past 30 years or so suggesting that certain types of hormonal contraception, specifically the injectable, increase risk for HIV. This is, of course, a big problem in South Africa and sub-Saharan Africa, because women in these regions are the biggest users of injectable hormonal contraception globally," she explained.
"Visibility is an incredibly important factor when it comes to these types of awards, especially in terms of transformation and encouraging the next generation of women."
In addition to the findings set out by the study, its recognition by the ASRI also has the potential to improve women's reproductive health. According to the ASRI, its main mission is "to foster the development of reproductive immunology research … and provide mentoring for new scientists interested in reproductive immunology".
For Bunjun, the exposure from receiving the Dr John Gusdon Memorial New Investigator Award is a highly important element in being able to further immunology research and provide mentorship to new scientists.
"Visibility is an incredibly important factor when it comes to these types of awards, especially in terms of transformation and encouraging the next generation of women, specifically women of colour. You can't become what you don't see, so if you don't see people who look like you in a particular position, you might not realise that you can actually do that," said Bunjun.
"I'm also really passionate about public and social engagement. So, with this kind of visibility and engagement, I hope that women – specifically women in sub-Saharan Africa – realise that they can keep studying and secure a really good future for themselves."
Since completing her HIV risk research, Bunjun has been using her skills to investigate COVID-19 immunity, particularly in adolescents, and the implications for the current public health crisis.
---
This work is licensed under a Creative Commons Attribution-NoDerivatives 4.0 International License.
Please view the republishing articles page for more information.
---