Harro von Blottnitz, Professor of Chemical Engineering at the University of Cape Town (UCT), has been elected a Fellow of the South African Academy of Engineering (SAAE). His election places him among an elite group of 213 fellows who straddle the worlds of academia and industry, and who are considered thought leaders in their fields.
"It feels like a professional achievement," said Professor Von Blottnitz, who has maintained his registration with the Engineering Council of South Africa while also being a full-time academic. "Keeping a professional presence alongside my work at UCT is something I've been deliberate about throughout my career."
Importantly, this has allowed him to keep a finger on the pulse of South Africa's engineering industry, which has in turn afforded him the opportunity to enhance professional best practice through his own research and the mentorship he offers students.
"Keeping a professional presence alongside my work at UCT is something I've been deliberate about throughout my career."
On its website, the SAAE states that its mission and vision is to "promote the technological welfare of the nation by marshalling the knowledge and insights of eminent members of the South African engineering profession … and to be a source of expert advice on matters pertaining to global competitiveness and quality of life for the nation."
SAAE fellows are nominated by their peers.
"Membership of the [SAAE] is indeed an honour, indicating recognition of the merits of an engineering professional by his or her peers," said Heleen Duffey, SAAE secretary. "Fellowship is not available on application, and compliance with certain criteria is required."
Nominations are considered by the executive committee of the academy; and once the candidate has been confirmed compliant with certain minimum criteria associated with professional expertise and recognition from within the engineering profession, all fellows of the academy are invited to indicate their approval of the candidate being elected.
Serious about sustainability
Since the earliest days of his career, Von Blottnitz has been interested in finding ways to improve the sustainability of South Africa's engineering industry.
After graduating from UCT with a BSc in chemical engineering in 1990, he spent two years working as a process engineer at a polyvinyl chloride production plant in Sasolburg. It was during this time that the dire need for more sustainable practices in the industry was impressed upon him. As a result, Von Blottnitz returned to UCT to pursue a master's in what was then known as environmental engineering, followed by an engineering doctorate in waste and recycling in Germany.
"I've been passionate about my research and the sustainability angle, and felt impatient as a younger engineer that our profession in South Africa was moving very slowly in relation to this agenda."
Von Blottnitz added that historically the engineering professions were very much focused on public safety and making sure that all work is done properly, while not putting anyone in danger; and rightly so, of course.
"But in the last 20 years, the sustainability agenda has come up as a strong additional focus in engineering work globally, which is hugely encouraging."
Research focused on the future
Currently, Von Blottnitz's research is focused on two specific areas of sustainable engineering.
"The one is directing the Energy Systems Research Group, which is South Africa's leading think tank for quantitatively understanding our energy futures and associated greenhouse gas emissions," he said.
Based at UCT, the group – comprising academics, researchers and postgraduate students – combines modelling of energy and economic systems with policy analysis and field-based research to generate and enhance knowledge of energy systems in South Africa and the Southern African Development Community region.
Among other things, the group has recently assisted national government with projections for the country's greenhouse gas emissions, and is now busy extending its models to explore how fast and by when net-zero carbon dioxide emissions could be achieved.
"It's an exciting group to have the honour to lead and to provide a bit of guidance," said Von Blottnitz.
In terms of his own research, Von Blottnitz has been devoting a good deal of time and energy to the question of plastics.
"I had a PhD graduate last year whose research focused on understanding how to take a lifecycle approach to plastics in South Africa. Now, I have another PhD student who is working on quantitatively describing what a circular plastics economy would look like in our country."
There is also an important link between these two fields of research, said Von Blottnitz, in that the raw materials for plastic polymers are manufactured during the conversion of the coal-to-liquid fuel process at the Sasol oil refinery in Secunda.
"For a net-zero greenhouse emissions future, we cannot imagine having Secunda in its current format. So there's an interesting intersection with how South Africa's biggest industrial site will have to find a future in a low-carbon and circular economy."
Thought leadership
As stated in its mission and vision, the SAAE aims to provide thought leadership on difficult topics in the engineering industry, both locally and globally.
The expertise of fellows is harnessed through various working groups. Currently, the SAAE does not have a group focusing on circular economy, which is Von Blottnitz's main area of research. So, to start off with, he will be joining the discussion on energy, a field he's actively been working in over the past few years.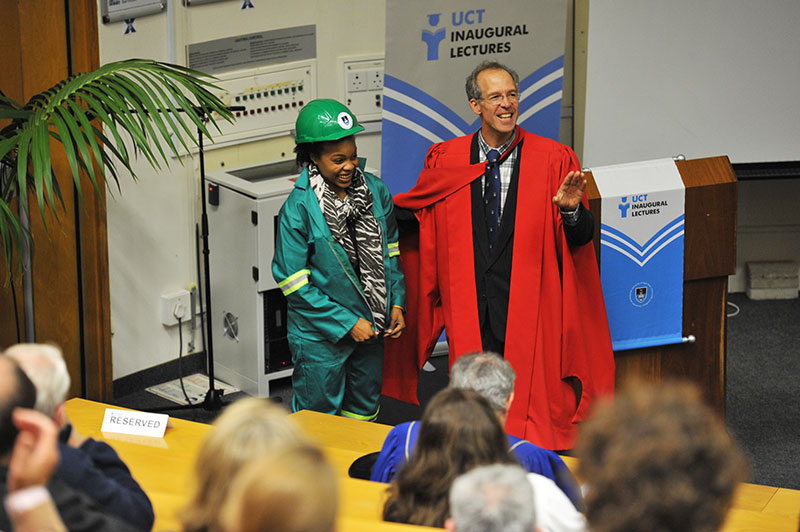 "Circular economy combines waste management and recycling together with primary resource management to really understand resources as something circular, rather than something that we mine, we manufacture, use and then we put it into a disposal site," Von Blottnitz explained.
"We'll have to see where the academy can make space for that. In time, I may have to have a discussion with the academy's leadership and other fellows."
Shaping bright young minds
In the meantime, Von Blottnitz continues to share his expertise and insights with both under- and postgraduate students at UCT.
His core fourth-year course, 'Business, Society and Environment' aims to equip final-year chemical engineering students with the tools to thrive in a fast-changing workplace, where knowledge of circular economy and sustainable engineering matters.
Since joining UCT in 1998, he has also supervised more than 60 master's and 10 PhD students.
"At a university it should always be about the students and what they do after they've been with us," said Von Blottnitz.
"In my 20 years at UCT I've taught some fantastic youngsters, and am very proud of seeing them in action once they've completed their studies."
---
This work is licensed under a Creative Commons Attribution-NoDerivatives 4.0 International License.
Please view the republishing articles page for more information.
---