Building process logistics have delayed the return of the 44 remaining students who were among those evacuated from the University of Cape Town's (UCT) Smuts Hall and Fuller Hall residences, after a runaway mountain fire on 18 April caused substantial damage to these historical buildings. These students have been temporarily housed.
National monuments, and integral to the historical core of upper campus, the buildings are among UCT's oldest – built in an era of wooden floors and clay-tiled roofs. Restoring these and making them safe for habitation by students is Student Housing's main priority, said the senior coordinator of residence operations, Shanaaz Sonday.
Heritage materials
"There are many factors in the fire rehabilitation and construction repairs of the residences, and due to the nature of the heritage requirements, some of the necessary resources – such as imported roofing tiles, and the treatment of the wood type used for the original flooring – will take some time to complete," she said.
Associated work, such as plastering and painting, fire securing and additional rewiring for electrical, Wi-Fi and fire detections systems, can be completed only once the damaged roof tiles and floors have been installed.
"It's an ongoing process, and we're trying to be as sensitive to the students' academic needs as possible."
Sonday said that the Properties and Services team have worked with the construction project team to secure and waterproof the damaged areas of both residences, limiting further weather damage. They have cordoned off damaged areas for the returned students' safety.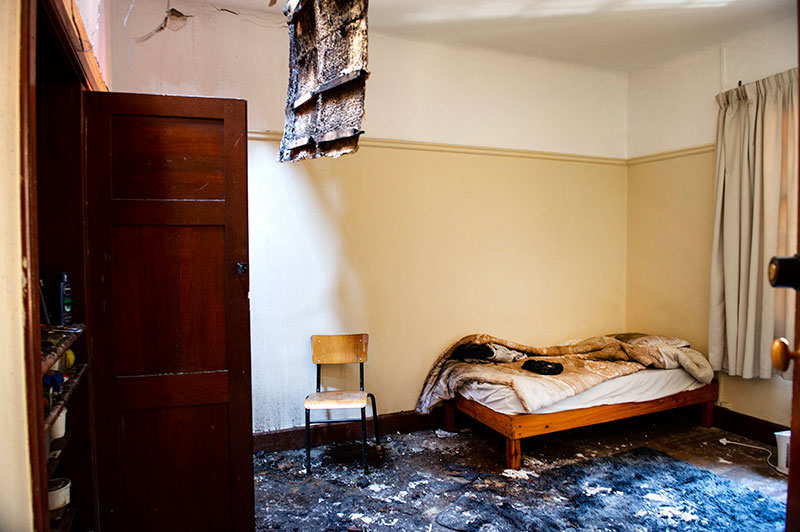 The extended building processes have also taken the students' current academic schedules into account. Building would be noisy and disruptive, said Sonday.
"It's an ongoing process, and we're trying to be as sensitive to the students' academic needs as possible," she added. "We don't want to impact their tests and exams or online classes."
Temporary accommodation
In the interim, 33 Fuller Hall residents and 11 Smuts Hall residents have been temporarily housed in leased private accommodation at The Nest in Mowbray and at Rondebosch Court on Main Road. The six people accommodated in Woodbine House for postgraduates, which was also damaged by fire, have also been temporarily housed. They include a student with disabilities and his carer. Suitable accommodation has been found for them at The Woolsack on UCT's middle campus.
"We are pushing to finish off restoration at Woodbine House before the end of this month," said Sonday. But the timeline for Fuller Hall and Smuts Hall has yet to be finalised.
Those who have returned to Fuller Hall came home to warm welcome messages and hot chocolate at the entrance, as well as goodies in the dining hall. Acting Fuller Hall warden, Dr Rethabile Possa-Mogoera, said that the residence house committee would have arranged something special too, but had decided to wait until all the students were back.
"It was an emotional reunion – but lovely, too, to see how happy they were to be back!"
"We didn't want them to feel left out," she said. "They were happy to be together again because they were split across three hotels: Fire & Ice, Victoria Junction and the Protea Hotel in Mowbray. It was an emotional reunion – but lovely, too, to see how happy they were to be back!"
Caring for students and staff
It's also been a tough time for the residences' wardens and their teams of subwardens. For example, from the start Dr Possa-Mogoera and her team travelled between the university and the three hotels, helping their students settle in and acclimatise.
"Seeing me made them feel better," said Possa-Mogoera. "My subwardens also worked longer hours than they would have because of the many issues [that needed attention]. We had a number of students who suffered from panic attacks and anxiety, or [had] reactions to the food in the hotels – so this was very hectic for them."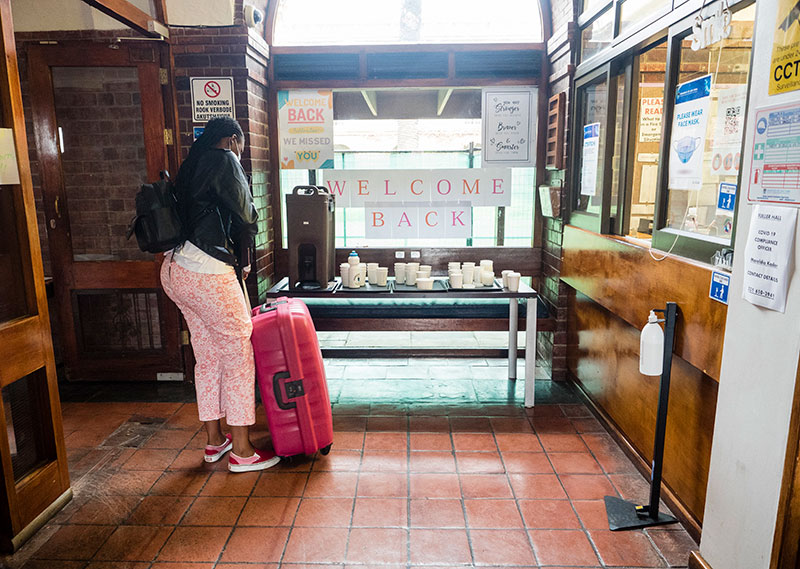 Possa-Mogoera said she had recommended that her team take leave to recuperate, especially if they felt they were not coping. In addition to the health and wellness facilities available to assist students, similar services are also available to staff through UCT Human Resources.
"I had to see a counsellor too," said Possa-Mogoera.
But she is thankful that some normality has returned to Fuller Hall and is particularly grateful to the donors of goodies sent to cheer the returnees.
"They put smiles on our students' faces!"
The fire has also engendered a closer relationship between the two residences, as evidenced by a letter Possa-Mogoera received from Smuts Hall head student and chair of the Smuts House Committee, Linda Tshaya. This read:
Good morning Ma,
I hope that this email finds you well rested and in good health after the exhausting three weeks you have had.
Only yesterday, after I had drafted so many letters of gratitude to companies, hotel managers, staff and even UCT, I realised I did not thank the woman who helped us through it all. Hence, my apologies for this delayed letter.
I write to you in complete awe of the beautiful soul that you are, not knowing [or] even communicating with any Smutizens prior [to the fire]. On the 18th of April you proved to be a mother above all else, before a warden of Fuller Hall…
Thank you, ma'am, for showing care, kindness, patience and love to us in that chaotic time, and thank you once again for being a mother.
"Although the building may burn, and some belongings may be damaged, the essence of a home lies with those who inhabit it."
Smuts Hall subwarden Tafara Mkombe echoed Possa-Mogoera's sentiments on the collective effort of the Smuts Hall and Fuller Hall leadership structures – from the first fire alarms to welcoming students back into their homes.
"On behalf of the Smuts Hall House Committee and wardens team, I would like to thank all those involved in ensuring the safety of our residents, and for taking the time to create a conducive, wholesome and homely environment in all our respective emergency accommodation facilities.
"It really brought us such joy to see the greater community come together to donate various items for students on their return to the buildings and seeing the residents interacting, sharing their 'war stories' and looking forward toward the future truly reminded us of why we chose to serve in the first place."
He added: "Although the building may burn, and some belongings may be damaged, the essence of [a] home lies with those who inhabit it – and this was proven true over the last few weeks."
---
This work is licensed under a Creative Commons Attribution-NoDerivatives 4.0 International License.
Please view the republishing articles page for more information.
---