"Suddenly the sun was darkened by smoke and we were all engulfed." It was noon on Sunday, 18 April, when Professor Kelly Chibale, the warden of Smuts Hall men's residence, knew the historical building was in danger. Smoke had thrown an orange pall over the region as the fire that had started in the Table Mountain National Park quickly spread on the University of Cape Town's (UCT) upper campus.
Professor Chibale watched flames ignite the vegetation and grass just outside his warden's house, attached to Smuts Hall. By this time, all the students had been evacuated, along with Chibale's family. The Jagger Reading Room and HW Pearson Building had not yet begun to burn. But at Smuts Hall, flames were spreading up and along the creeper-clad walls, the autumn-dry leaves providing ready fuel. The heat and wind were intense.
One of Fortune magazine's 2018 World's 50 Greatest Leaders, the UCT professor of chemistry is used to combat. Chibale is the founder and director of Africa's first integrated drug discovery and development centre, H3D. His academic life has been a tactical war against lethal adversaries such as malaria, tuberculosis and other diseases of poverty in Africa.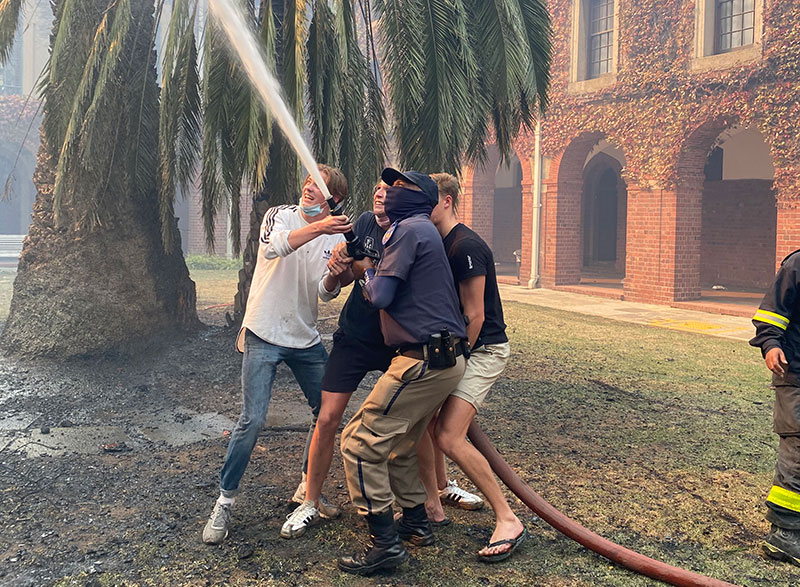 When he saw the fire around his warden's quarters and the section of Smuts Hall closest to it, the urge to stop it was strong, he said. "My instinct was to simply fight the fire calmly."
But Chibale's eldest son, UCT alumnus Kalaba Chibale, wasn't about to see his father stand alone. Neither were three Smuts subwardens, Siya Ntuntwana, Tafara Mkombe and Kealeboga Keretetse, and volunteers, engineering students Brandon Badenhorst and Dean Gibson, and later Kyle Jira.
Kalaba, who was preparing to enjoy Sunday lunch with his family, said he was galvanised by the sight of his father running out towards the raging inferno, wearing only shorts, a T-shirt and slip-ons.
"That gave me so much courage to participate in the saving of this old historical building and I couldn't leave him alone fighting the fire." Afterwards, Kalaba said he'd never been in a situation like that. "The only thing close was burning food on the stove," he quipped.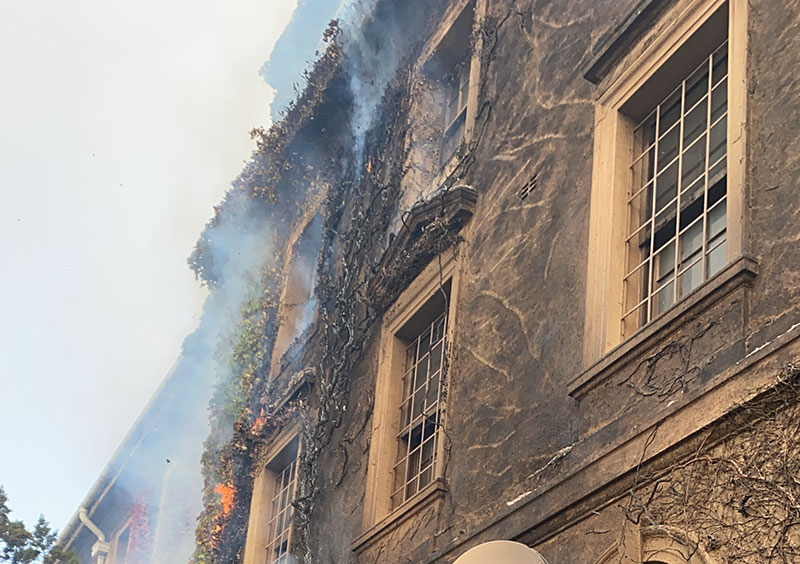 But the adrenalin was pumping. He wasn't worried about the danger. Like his dad, he wanted to stop the flames and help the fire department when they arrived.
There wasn't time to plan either, Chibale said.
"It was sheer instinct and a desire to provide leadership and fight to save lives and property."
Chibale and Kalaba first tackled the fire using buckets of water. The available fire hose couldn't reach the areas where the fire was blazing, Chibale said. But within minutes, the subwardens joined them, bringing fire extinguishers they'd collected around the residence. One of the subwardens quickly moved the cars from Chibale's home to safety.
But in the main Smuts quads, two tall palm trees had started burning. While Chibale and Kalaba concentrated on fighting the flare-ups around the warden's quarters, Siya, Tafara and Kealeboga were running between the two areas.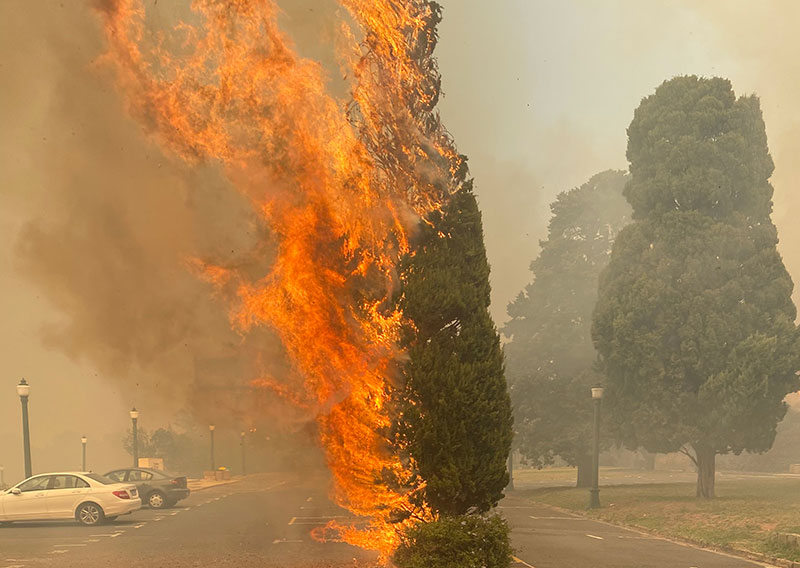 Dean and Brandon soon joined them as volunteers. By then, fires had started in and around Fuller Hall, the neighbouring women's residence. With the flames at Chibale's warden's quarters largely doused, the team switched.
"The guys were running between the two residences, but each time they got to one residence to put out a fire, multiple fires started in the other residence!" Chibale recalled.
Fortunately, the City of Cape Town Fire and Rescue Service arrived, and the two groups joined forces. Video footage shows them working in tandem. Although wardens and subwardens are trained to handle fire emergencies, this year's training was virtual, thanks to the COVID-19 lockdown.
"This is what makes what Siya, Tafara and Kealeboga did all the more impressive," Chibale said.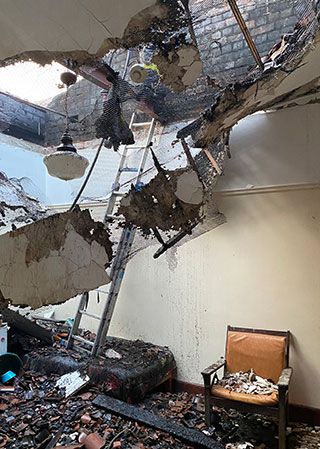 "It understandably took a while before the City of Cape Town Fire and Rescue Service could come into our area to provide the necessary help," said Chibale. "It is also noteworthy that they were reliant on the subwardens for their knowledge of the building and their help to access specific sections of both Smuts Hall and Fuller Hall, which were burning.
Unity, servant leadership and caring
"It was teamwork and comradeship at its best. You have to see the warden's quarters after the fire to appreciate how close the fire came to the house and how it encircled the entire residence from different directions."
He added, "It was God Almighty's absolute miracle. I can confidently say God protected us and made us calm and courageous. We were fearless!"
But Chibale is adamant that teamwork was the game changer.
"I must point out that fighting the recent fires at UCT involved collaboration between various role players both within UCT and outside UCT. But bringing the fire under control and saving some of the UCT buildings would not have been possible without this multifaceted collaboration."
Without a doubt, the university owes much to the small group whose efforts surely saved Smuts Hall and Fuller Hall from being destroyed. Chibale's highest praise is devoted to the unsung heroes from within UCT.
"Through the brave actions of the students and my son, we managed to put out most of the fires around Smuts Hall and Fuller Hall. Without our decision to stay and fight the fire, our collective action and timely intervention, my warden's residence, Smuts Hall and Fuller Hall would have been more severely damaged," he said.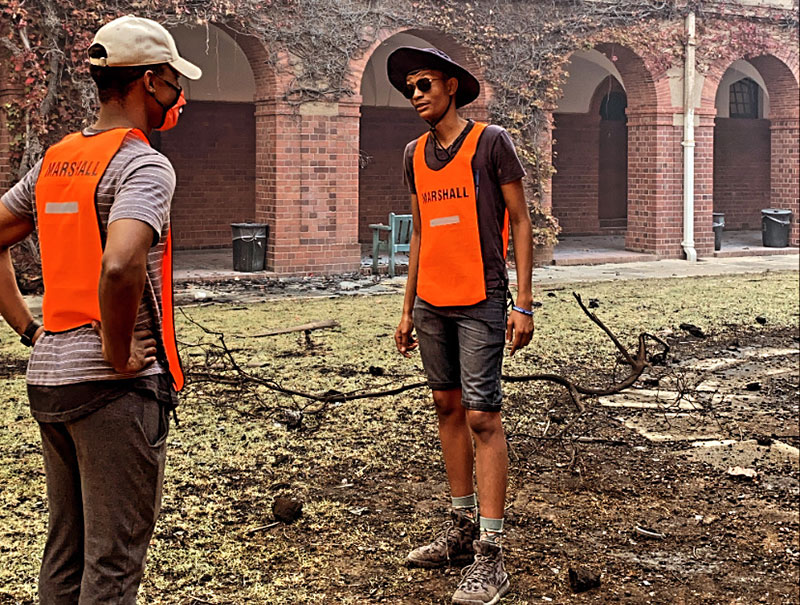 "It is also highly likely that the fire would have rapidly spread to several other adjacent buildings. I shudder to think what would have happened if the fire had not been contained by the time the City of Cape Town Fire and Rescue Service arrived to provide additional help.
"Unity, servant leadership and caring for the residence were on full display," he added.
On 22 April the students returned briefly to collect personal items before being taken to accommodation at various hotels around the city. Chibale said the majority of the students are expected to return to Smuts and Fuller halls on Friday, 7 May, while around 38 (10 from Smuts and 28 from Fuller) will continue to live in alternative accommodation and return only once the damage to their rooms has been repaired.
The good news, said Chibale, and thanks to the group, is that only one flat in the Smuts building was affected.
Gratitude in the aftermath
But the mood is one of gratitude, he said.
"We just witnessed miracles. The situation was scarily dangerous."
He added: "During the 2015 to 2017 student protests, we witnessed the unfortunate destruction of university property. I hope other students can be inspired by what Siya, Tafara, Kealeboga, Dean, Brandon and Kalaba did. These UCT students and a former UCT student risked their lives. I believe they did this for the sake of present and future generations of UCT students. This is what we call sacrificial leadership: to serve and protect rather than destroy."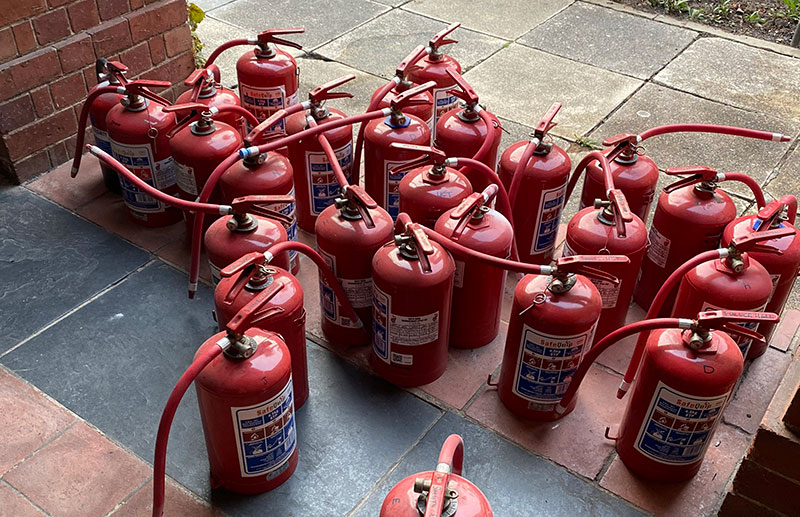 Kalaba added, "Afterwards, there was a sense of relief and shock that I had just participated in something that I will hopefully never have to experience again. Knowing I had helped save such a historical building is something I will never forget."
And he had a plug for his dad.
"Leadership is so important and sets the tone for the room, and the leadership Professor Kelly Chibale showed on the day was inspirational."
Following the recent wildfire that affected several UCT buildings, the university will conduct an immediate audit of all its emergency evacuation procedures and readiness policies, and guidelines and practices for each residence. This will include a representative sample of statements from directly affected students. This audit will be conducted by UCT's Occupational Health and Safety department, and will help UCT better plan for a variety of emergencies in the future where evacuation might be required.
---
This work is licensed under a Creative Commons Attribution-NoDerivatives 4.0 International License.
Please view the republishing articles page for more information.
---