Deputy Minister of Higher Education, Science and Innovation Buti Manamela visited the University of Cape Town (UCT) on Saturday, 24 April. This was in the wake of the recent runaway fire that destroyed parts of UCT's upper campus.
Manamela was accompanied by a delegation which included Professor Ramneek Ahluwalia, the chief executive officer of Higher Health, an agency mandated by the Department of Higher Education and Training to safeguard student health and well-being in post-school education; and Anuysha Naidu, the executive manager of Higher Health.
They were welcomed by UCT Chair of Council Babalwa Ngonyama, Vice-Chancellor Professor Mamokgethi Phakeng and other members of the executive.
The delegation was led on a tour to view some of the UCT buildings damaged in the fire. These included the Jagger Reading Room, the HW Pearson Building, the Smuts Hall student residence, Cadboll House and La Grotta.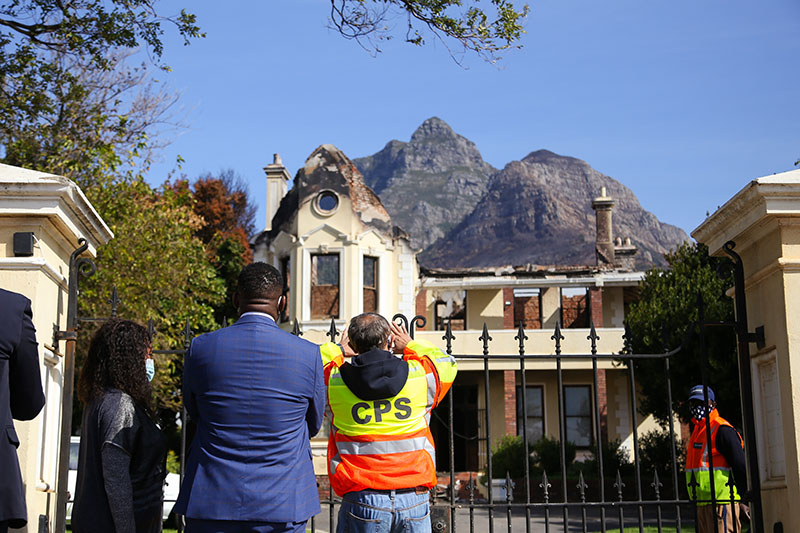 The tour included an opportunity to engage with library staff and volunteers who were salvaging material from the Jagger Reading Room. The delegation was informed that about 20 000 pages of manuscripts from the 1870s, which recorded accounts of the indigenous people of the Cape, were saved from the fire thanks to the library's fire-protection infrastructure. The documents sustained some water damage and will need to be restored.
Students successfully evacuated
Manamela commended the UCT team for how they had responded to the fire. It was particularly significant that no lives were lost, he said, and that 4 000 students were successfully evacuated from their residences during the emergency.
Professor Ahluwalia handed over a donation from Higher Health for distribution to students affected by the fire. These items included toiletries and medication. Addressing the vice-chancellor, he said: "Your leadership is very inspiring because you prioritised saving lives. The resilience of a university is only seen at the time of a severe crisis."
Higher Health is also concerned about the mental health of the students affected by the tragedy and is providing counselling and debriefing sessions.
Manamela said that he was pleased to hear that "inasmuch as the fire was a tragedy, it was also an opportunity to reimagine the university, especially the library and the residences". He conveyed the well wishes of Dr Blade Nzimande, the education minister, to the university community.
Ngonyama thanked the delegation for taking the time to visit the campus. "We are looking at our strengths that were highlighted by this crisis; we are looking at our weaknesses, where the gaps are, and we will be closing those gaps so that we can do even better in the future."
---
This work is licensed under a Creative Commons Attribution-NoDerivatives 4.0 International License.
Please view the republishing articles page for more information.
---