After 20 years with the University of Cape Town (UCT), 64-year-old Fouzia Thesen has seen graduation seasons come and go – many of them. But this time the Properties & Services staffer's granddaughter Leila will graduate, making her the first in the family to earn a degree.
Fouzie, as her colleagues in the Communication and Marketing Department know her, has watched Leila – the first of her five grandchildren – grow from a baby to "a very responsible young lady".
"She's always been that way, since she was a young girl," said Fouzia, or "Mama", as Leila calls her.
In conversation with Leila, it turns out that responsible attitude was a firm choice she made.
She grew up on the Cape Flats in Surrey Estate in Athlone. High school was a rocky time for her: She changed schools four times, with all the attendant social and academic upheavals. But high school was to become her platform. In grade 8 her teachers started taking an interest in the young teen.
"They saw something in me that I didn't. They pushed me to do better. At first it was about not disappointing them. But then it became about me, pushing myself."
"I felt I couldn't be mediocre. They worked really hard to place me in a better position than they were in."
At the end of grade 9 her world changed. She lost her best friend to suicide.
"It affected me mentally and emotionally and almost affected my grades, but I had to regroup and do better for myself and those around me – and for him."
She also wanted more out of life than her peers.
"Having a grandmother who is in cleaning services and a mother [who] worked in retail, I felt I couldn't be mediocre. They worked really hard to place me in a better position than they were in."
She was also keen to do something with her life that would help her community: Social work fitted the bill.
From challenges to top of class
Coming to UCT to study for a BSocSi shook her up. The campus was so diverse and at first she was intimidated by former Model C accents, "compared to my Cape Flats one". She soon learnt that meant little. She had determination and diligence on her side. It was also the first time she'd travelled alone, but the taxi drivers knew her mother and looked out for her.
She worked hard to put in the study hours and finish assignments. Final year was her best and worst. She'd changed degrees in second year – from social work to sociology – to focus on community development from a macro perspective; nine courses, instead of the usual six.
"My academic advisor told me I'd fail if I took [on] the load."
When she saw her first semester results, his words seemed prophetic. She was disheartened, but after excelling in a winter course, Leila went to the top of her class.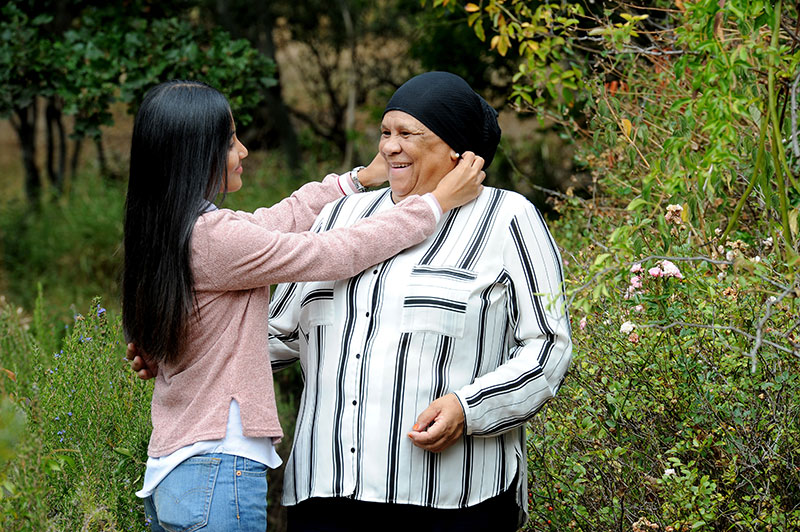 "It proved that I shouldn't be underestimated."
This year Leila is an honours student in social policy and management, with plans to go on to master's in social policy and planning in 2021.
"Overall, my dream is to make a meaningful impact on the study of social development and contribute to the literature in the field."
Solid foundations
Over these past four years her relationship with her grandmother has deepened.
"I took all the lessons she taught me and used them as the foundation of who I am. She's given me a lot of emotional support and was the one to explain the struggle of students to my parents. She's supported me at home … And because I have four other siblings, she keeps them quiet when I'm working.
"I know I can count on her for everything – she'll drop things in a heartbeat for those she loves. It's one of the things I love about her and one of the things I hope I've inherited from her."
Leila has come a long way, said her grandmother.
"I took all the lessons she taught me and used them as the foundation of who I am."
The gamut of the university experience, and everything she has brought to that, has seen to that.
"My experience at UCT is something I'll cherish forever," said Leila. "It's helped me become my best self, not only the amazing faculty and people in Humanities but the overall student culture. We suffer together and bond, laugh and cry over UCTJustKidding memes on Instagram.
"I've learnt a lot of important lessons here, both good and bad. It's also opened me up more to the issues of racism, sexism and classism – not only in the books I've read but also how these things affect me and my community."
The suspension of graduation because of Covid-19 has been disheartening.
"It's disappointing that I won't get the opportunity to walk across the stage as those before me [have done] and it has put a damper on spirits as many of us have worked towards this moment," Leila reflected.
"However, many of us live in intergenerational homes where elders are in the house, and it's important to not risk their health and the lives of others. There are pros and cons to the situation, but the bright side might be that the graduation was only 'suspended' and there may be a time where we will get to walk the stage."
---
This work is licensed under a Creative Commons Attribution-NoDerivatives 4.0 International License.
Please view the republishing articles page for more information.
---