In the hope of writing a new story for Macassar, a partnership between the community, the University of Cape Town (UCT) and three other institutions for higher education has resulted in the creation of a much-needed common space in the suburb.
The realisation of the need for a community venue evolved from a project that began in 2016. Wanting to promote an alternative, positive story of Macassar, a historically coloured suburb 38 kilometres outside of Cape Town which at the time was blighted by crime, local youth group Studio Light embarked on a street photography project to begin creating this new narrative.
After seeing the potential of the images captured on their cellphones, the group decided to make these photographs available to the greater community. They began by setting up a mobile display at three sites in Macassar, and then started imagining a common space where residents could share their stories.
The venue was launched recently after a year-long collaboration between the community; UCT's School of Architecture, Planning and Geomatics; the Cape Peninsula University of Technology (CPUT); Germany's Rheinisch-Westfälische Technische Hochschule (RWTH) Aachen University and the Peter Behrens School of Arts (PBSA) at the University of Applied Sciences Düsseldorf; and Studio Light.
Now, residents have a common space where they can view the images from the lenses of the young people, share stories about Macassar and hold intergenerational dialogue sessions. This will, in turn, help build community resilience and unity – highlighting that there is so much more to Macassar than headlines about crime.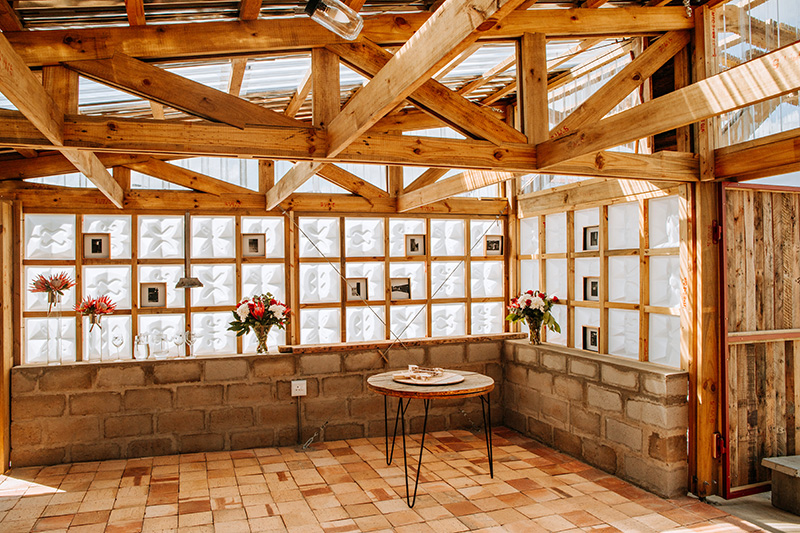 A new image
At the centre of the collaboration is UCT School of Architecture lecturer and architect Clint Abrahams, a community activist and former Macassar resident.
Abrahams's involvement began in 2016 with his work with Studio Light, at a time when crime dominated life in the suburb. Young people were dying and many of these victims were family and friends of members of the youth group.
"If you look long and hard enough, you'll see that the things your neighbour is doing are of incredible value and inspirational enough for you to arise and do something meaningful."
The group decided on a street photography project as a constructive and socially-responsive way of forging a new story for the area. Armed with their cellphones, 10 youngsters went about taking photographs of their neighbours and, in so doing, built new relationships, trust and appreciation for their community.
"If you look long and hard enough, you'll see that the things your neighbour is doing are of incredible value and inspirational enough for you to arise and do something meaningful," said Abrahams.
Aware of the potential of the images for community-building, the group was determined to make the photographs widely available. But finding a suitable space in Macassar was challenging.
The initial solution was to use mobile display systems that the group built from found objects in their parents' backyards and living rooms, turning ordinary spaces into extraordinary places.
Then, in July 2017, the youngsters attended a frame-making workshop at the School of Architecture, presented by principal technical officer John Coetzee and technical assistant Shafiek Matthews.
Exhibition sites
A year later and as a result of regular community participation meetings, an exhibition was held across three sites in Macassar: the local library and two private venues. The latter were the homes of Thomas and Enith Adonis, known locally as Bong's Place, and Paul Swartz, an inspiring television repairman and sculptor.
The exhibitions were a roaring success and saw community elders sharing stories that related to the photographs.
Encouraged by the positive response, the group's next move was to curate the stories. With that came the need for a common space where these stories could be told and viewed.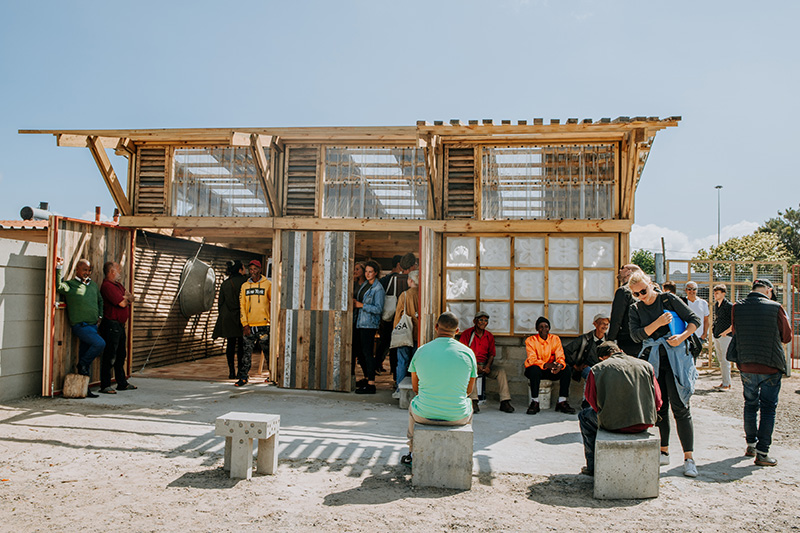 It was decided that Bong's Place was where they would hold meetings, share stories and display curated images. It was, in fact, the most common space in Macassar: It was once a shebeen, the place residents would buy their fruit and vegetables, an arcade, and, in its current iteration, where residents buy firewood and get the weekly newspapers.
Once the space had been identified, the follow-up project became its refurbishment.
"We think you [build community resilience] by creating common spaces for intergenerational dialogue and this space did that before we showed up," said Abrahams.
Building partnerships
By this point, the project had garnered the attention of the two German schools. RWTH and PBSA wanted to explore a mutually beneficial exchange between higher learning institutions.
Abrahams saw the construction of a common space in Macassar as a test case to start establishing a relationship between UCT, the German schools and CPUT, who Abrahams invited to participate because of their specialisation in design-build experiments, while also responding to the needs of the community.
Initially, 90 students from Abrahams's class spent six months in Macassar completing three projects, capturing data and creating base drawings. Then, 12 students from this second-year group were selected to work alongside six BTech students from CPUT and roughly 30 students from the two German schools.
Because of their experience in Macassar, the UCT students proved a necessary link that held the work together. From CPUT, PBSA and RWTH came a wealth of design-build experience which is a pedagogical method and framework of teaching and learning architecture through making.
To escalate the project, an application for funding was submitted to the German Academic Exchange Programme (DAAD), spearheaded by PBSA and supported by RWTH and Abrahms.
In July this year, the DAAD funding was used for a design-build summer school on emergent common spaces for building community resilience, and six weeks later, the students returned to Macassar to rebuild Bong's Place.
Abrahams secured the use of two vacant classrooms at Macassar Secondary School where the students built the components for the new-look shack, including trusses and walls. In parallel with this, community members and a smaller group of students collaborated on the necessary masonry work. The next week, the components were moved to the site and, over three days, everything was erected by students and community members.
"[The students] will forever remember the Macassar experience and remember the important role that we have as architects to have a socially responsive agenda … to make a contribution."
"[The students] will forever remember the Macassar experience and remember the important role that we have as architects to have a socially responsive agenda … to make a contribution," said Abrahams.
Community ownership
Running in parallel with this was a storytelling workshop, "Ons kom van daan", hosted by Abrahams and writer, poet and storyteller Diana Ferrus in a collection of ad hoc spaces made by local residents. When the space was completed, the stories from the workshop were curated and became the exhibition that filled the space.
On Friday, 20 September, the common space was opened to the public and on Heritage Day, a storytelling session was held. But the work has not slowed down.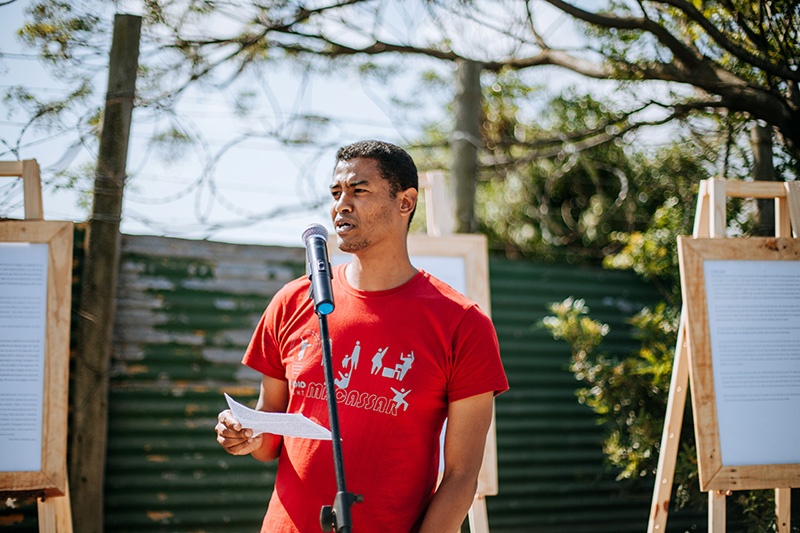 One future goal is to launch a publication in 2020 featuring the curated stories with the launch taking place in the new common space.
Abrahams is also imagining an off-campus design laboratory where students are taught and can test and prototype their work in the community.
"The minute you enable students to contribute in a physical artefact within that place, they are forever grounded there, and instilling an awareness of others is more embedded and we've experienced that," he said.
The group is also seeking similar sites to create a set of urban galleries. Like Bong's Place, these spaces will be ones people already use so that ownership spreads throughout the community.
Exhibitions and similar storytelling sessions will continue to take place on strategic days such as public holidays where there is a natural tie-in with the aims of building dignity and reminding people of the value of Macassar.
And in addition to the reward of helping to construct a new story for Macassar, the project will be honoured at the December 2019 graduation with a UCT Creative Works Award for its 2018 design build exhibition entitled "Who we are Macassar".
---
This work is licensed under a Creative Commons Attribution-NoDerivatives 4.0 International License.
Please view the republishing articles page for more information.
---