The KaeloClinic has officially opened its doors to University of Cape Town (UCT) staff in pay classes two to six, providing an accessible, on-site facility for all members of the university's KaeloHealth Primary Healthcare medical product.
While the clinic has been operational since the first week of September, the official opening took place on Wednesday, 25 September in Graça Machel Hall. UCT chief operating officer Dr Reno Morar delivered a speech announcing the launch and thanking all those who had made the clinic possible.
"The launch is an indication of how highly UCT values all our staff members, at all pay levels," he said.
"[As] we invest in the welfare of our people, we are investing not only in their lives and their families but also in the sustainability of this institution."
He commended a number of stakeholders: the coalition of unions at UCT (National Education, Health and Allied Workers' Union, University and Allied Workers' Union, South African Liberated Public Sector Workers' Union, Democratised Transport Logistics and Allied Workers' Union and the UCT Employees Union) and Human Resources for driving the project; PSG, the university's healthcare intermediary, for covering the costs of setting up the clinic and its monthly running expenses; and Properties and Services for refurbishing the facility.
The clinic, which is next to the Jammie Shuttle bus stop outside Graça Machel Hall on Baxter Road, is currently open from 08:00 to 12:00 daily.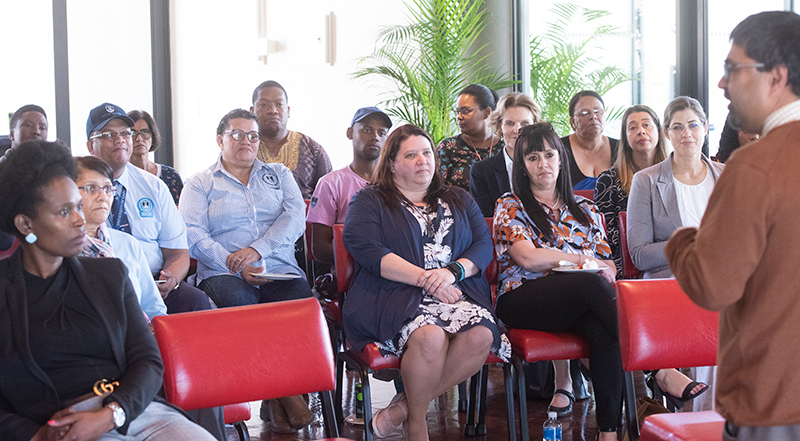 Accessing the clinic's services, such as the collection of chronic medication and having general check-ups, comes at no cost for staff who are on the KaeloHealth Primary Healthcare product, including those in pay classes two to six.
As well as healthcare provision, having the clinic on-site provides other benefits such as freeing staff from having to travel to government facilities, which often requires time away from work and their homes, so boosting productivity and creating a work environment where staff are assured of good medical care.
Bearing fruit
Already, the procurement of Kaelo for UCT staff members is bearing fruit. According to Morar, staff morale in the UCT Educare Centre group has risen noticeably since the initiation of the health plan and the team are happy to be included in a type of "medical aid" which they could not afford previously.
Educare staff who went on leave to the Eastern Cape were able to take full advantage of the service there because Kaelo is not limited to Cape Town, he added. Members of the team had had their eyes tested and now have new or upgraded spectacles which they also couldn't afford previously.
"This is a partnership we can be very proud of, because it will help to build a better future for our staff members."
Kaelo has helped staff identify illnesses which went undetected in the past, such as diabetes, Morar said. Staff have also undergone ultrasounds or scans which identified conditions such as cysts or infections.
Kaelo, according to Morar, is even offering hope to a colleague who was struggling to conceive. She and her husband are going for tests to assess their situation – a health benefit that was previously out of reach because of the high cost.
"This is a partnership we can be very proud of, because it will help to build a better future for our staff members," he said.
Substantive agreement
The clinic is part of a substantive arrangement concluded between UCT and the coalition of unions which was first announced in June this year.
The agreement for the compulsory cover was reached because of the reduced premiums offered to the UCT group, as well as access to the on-site clinic for staff.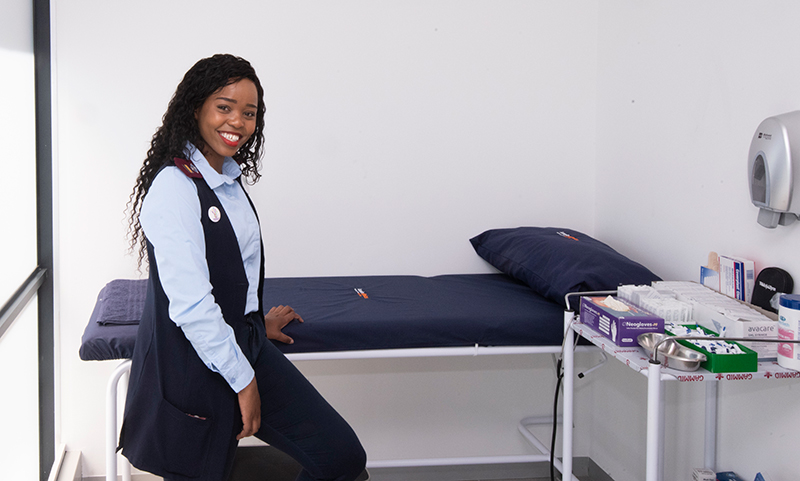 Membership of Kaelo MyHealth Plus, the chosen plan, came into effect on 1 July and is compulsory for staff in pay classes 2 to 6. Those who were already members of other registered medical aids had the option of remaining on the existing scheme as long as they provided proof of cover.
The cost of membership is deducted from the main member's cost of employment. These premiums are paid via UCT's monthly payroll deduction.
Contributions for 2019 (all including VAT) are R336.95 for principal members, R236.56 for a spouse, R136.16 for a child dependent (under 21 only), and R336.95 for an adult dependent (over 21) with mental or physical disabilities.
---
This work is licensed under a Creative Commons Attribution-NoDerivatives 4.0 International License.
Please view the republishing articles page for more information.
---