A group of young University of Cape Town (UCT) graduates have taken a year out to cycle from Cairo to Cape Town under the OurAfrica PolePole banner team (pole pole means "slowly, slowly" in Swahili). They're exploring the continent from a developmental perspective, putting their university education to the test, face-to-face, in local communities. In this second update, Helen Swingler caught up with team leader Michelle Rorich en route to Kenya.
The bad news first. There were five alumni and now there are four. Sadly, illness saw Jess McCormack (landscape architecture) return home. The good news is that Suzanne Lambert (civil engineering), Michelle Rorich (economic development), Robbie Rorich (electromechanical engineering) and Angus Teeton (African music and technology) are still in the saddle, pedalling south.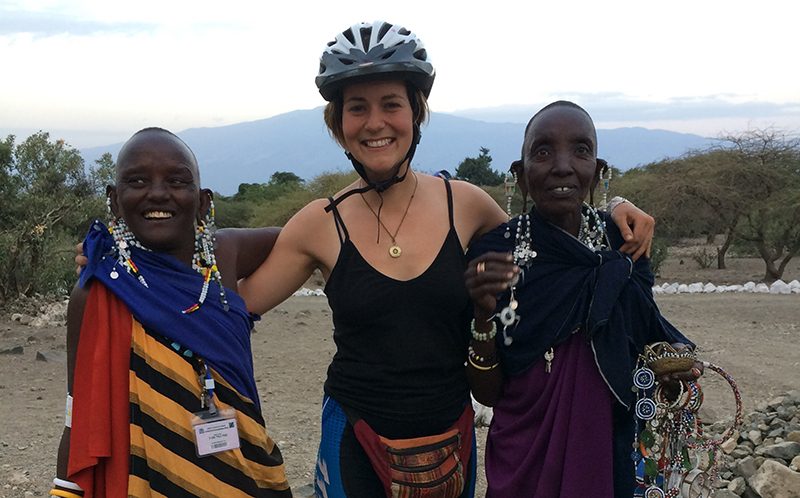 HS: Which countries have you passed through since our last communication?
MR: We cycled west from Kitale [in Kenya] where we spoke to you last, through hilly Uganda to the south-western corner, which borders Rwanda and the DRC [Democratic Republic of Congo]. Jess's parents and Robbie and my mom and other family friends joined us for a 10-day cycle around Bwindi Impenetrable Forest. From there, Lauren Ogg (a friend from Stellenbosch) and four of our parents' friends (one UCT alumnus, Guy Bloch) joined us for a leg through Tanzania. Lauren is still with us as we head to Nairobi. We're on a bus and we figured it's okay because we are going north. We also took a lift on the back of a bakkie through the Serengeti – we tried to talk the rangers into letting us cycle, but no luck!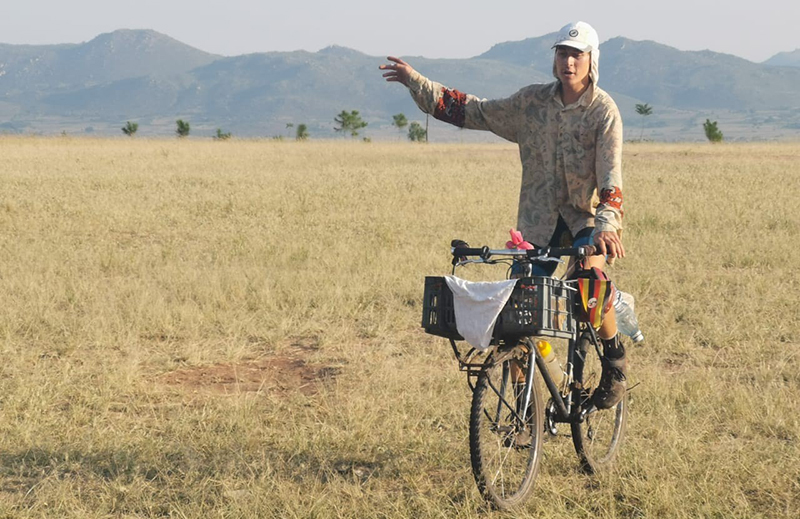 HS: Besides the geography has the regional cuisine and access to fresh produce changed markedly?
MR: Definitely. There was near nothing alongside Lake Turkana in Kenya. There was a drought but luckily lots of salty fish. Uganda is like heaven in comparison, where everything grows really big in the fertile soil. Trees drip with avos (a millennial's dream) and mangoes. We couldn't believe the size of the papayas and bananas! Somehow, people make do in the areas that aren't fertile. In the Masai areas in Tanzania they are mostly pastoralists. So, we've never been short of food – except when we got stuck in the middle of nowhere due to unexpected sandy roads and each of us had only a chia seed bar. There is Coca-Cola in every village, in every little shop.
"Trees drip with avos (a millennial's dream) and mangoes. We couldn't believe the size of the papayas and bananas!"
HS: You were waiting for Suzanne to join the group after completing her master's thesis. How has she slotted in to the already road-hardened group?
Suzanne: I joined the group at the start of Uganda. I've slotted in like a coin to a slot machine, except for the first day when I managed to cycle the whole day with my brakes dragging! Fortunately, the girls also kept a pole pole pace for me in the beginning, to warm up my cycling legs.
MR: Suz has brought a whole lot of sunshine to the group. We've really hit the jackpot having her join!
HS: Besides Jess leaving because of illness and Suzanne arriving, has anyone else left or joined the group?
MR: Lauren has nine more days before she goes back to varsity. Angus, who is super fit and was keen for a faster pole pole experience with more "rest days" for running between the cycling, has headed down towards Malawi where we will meet him in a couple months.
HS: Any problems since we last reported? No hassles with border guards, or difficult encounters with animals?
MR: We've almost bumped into sheep and goats as we tried to pass flocks occupying the roads. We were surprised at how unconcerned the rangers on the eastern side of the Serengeti were about animal difficulties – letting us go for wanders at the edge the game park (no fences), where we could sit and watch the famous migration from 100 metres away. The wildlife continued throughout much of Tanzania. Elephants, giraffe, cattle, goats and zebras seem to live in harmony. Unlike in South Africa, people aren't fenced off from wildlife. Instead their lives are intertwined. We were told a few times when we asked about safety for camping, "animals no problem; people problem". The people have given us only kindness and hospitality. Animals hakuna matata, people hakuna matata!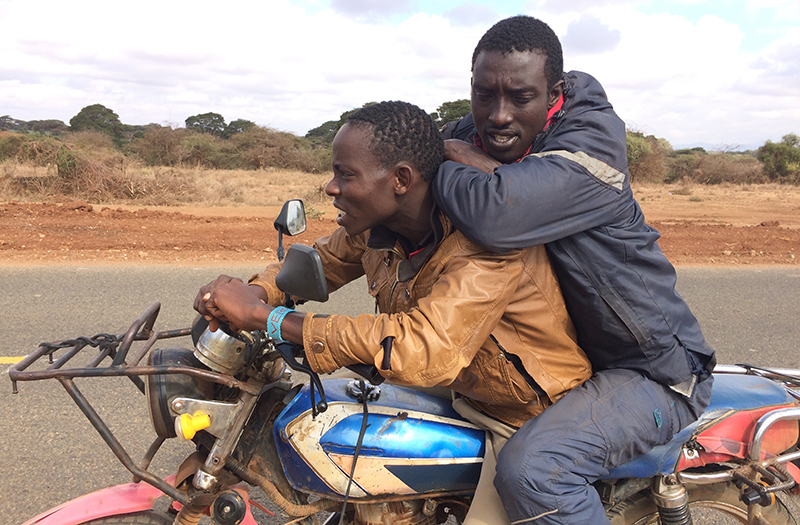 HS: The biggest nuisance?
MR: Horseflies! Unfortunately, we all have the same blue and black cycling pants, sponsored by the Tax Team, which have the same colouring as the horsefly [traps]. So, we have a few itchy bites on our bums, but no sleeping sickness so far!
HS: Each of the cyclists had a vision for the trip. How are these coming together? Are there examples of community engagement?
MR: What everyone has in common for their vision is to learn. To grow personally and to learn more about our respective disciplines. We've been trying to visit organisations that are working in development, landscape and more recently, waste management with Suz. We're engaging with people all the time. Everyone is super happy to chat and share their thoughts.
Right now, we're sitting waiting for a school director to give us permission to sleep at a women's group's primary school. We've been chatting with the two teachers here who welcomed us in. We've learnt so much from them in a short conversation. Schooling is expensive here, but the community members put all the money they must towards ensuring their children can attend a good school. One of the teachers came from a family that couldn't afford for her to study law. That's why she became a teacher...
She also spoke about teaching at a level so that the slowest learners can keep up, and adjusting her pedagogy to suit them. This is interesting because we were taught in our development economics classes that many teachers in post-colonial African countries teach at the level of the "highest" pupils, reinforcing the success of a small, elite group. This is a practice that remains from colonial days. So, we were impressed with them. And then the director arrived and just blew us away. So warm and full of positive energy. She was in a rush to attend a radio show to advocate against female genital mutilation – and we're excited to hear what she has to say on Suz's little radio speaker later!
A couple of days ago we visited Big Life, an organisation that has very successfully created community ownership of conservation in the area. We were blown away by how a deep understanding of community needs and assets can allow an organisation to have such a positive effect on community development. So, lots of learning – especially that we have a lot more to learn!
"We were blown away by how a deep understanding of community needs and assets can allow an organisation to have such a positive effect on community."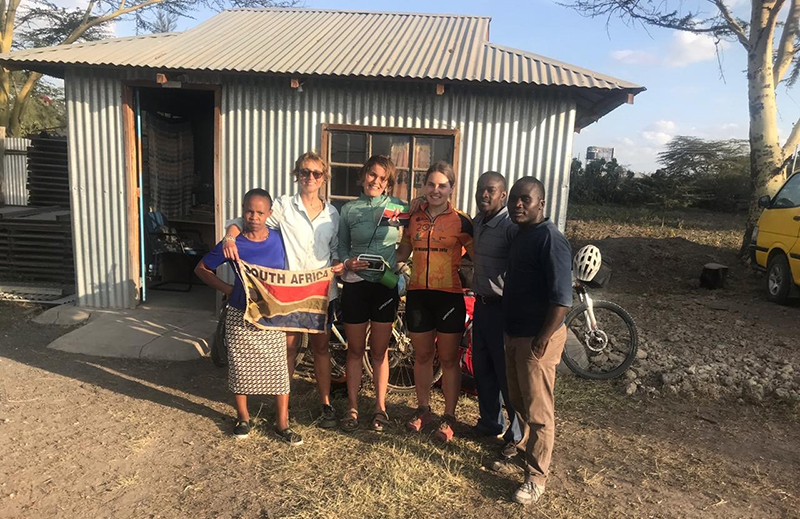 HS: How have the logistics been working out? I'm thinking, food, shelter and the bikes themselves.
MR: As we said, food is easily available, so we seldom plan more than a day in advance. We've been speaking about buying emergency tinned tuna for a while, but we may well run into an emergency before that plan materialises. Planning far in advance seems to slip our minds when we arrive in a village with lots of exciting fresh foods and friendly people to chat to. We've loved cooking with the different ingredients available. We were excited to learn about the wild basil that grows abundantly in Uganda and Tanzania. Much basil pesto and basil tomato salads at meal times, thanks to a Ugandan host who had a medicinal herb garden and enthusiastically showed us around.
A few days ago, we thought we might try cooking the wild dagga, which we're used to drinking as tea in South Africa. The lodge we were staying at (which is a perfect example of how our shelter logistics work) had sent a bakkie to rescue us from thick sand we'd pushed our bikes through for 22 km. So, we were happily cooking pap on the fire and tasting the leaves of the wild dagga. The wonderful chef dotingly scolded us, saying that "50 percent of plants are poisonous. You should buy greens at the market". Regarding the bikes, Robbie has had few more mechanical jobs – often with the help of local mechanics. Nothing is impossible when it comes to bike repair and spare parts, even in the most remote villages.
"Nothing is impossible when it comes to bike repair and spare parts, even in the most remote villages."
HS: Mood in the group?
MR: Mzuri sana! Very good, as we tell all the friendly Swahili people that ask how we are.
HS: What are you all missing most (if anything!)?
MR: Our friends and family, for sure!
---
This work is licensed under a Creative Commons Attribution-NoDerivatives 4.0 International License.
Please view the republishing articles page for more information.
---