History was made at the University of Cape Town (UCT) on 13 December when newly robed Vice-Chancellor, Professor Mamokgethi Phakeng, announced that Memorial Hall, previously Jameson Memorial Hall, will be renamed the Sarah Baartman Hall.
Sarah Baartman is a South African heroine who suffered grave injustice when she was enslaved and then paraded as a "freak of nature" in 19th-century Europe, where she later died. In 2002 her remains were returned to South Africa.
After years of consultation with the KhoiSan community, the decision to rename the hall was taken unanimously by the UCT Council at their meeting on 8 December.
"We are honoured that the Khoi community has allowed us to commemorate her in this way," said Phakeng.
"In 2019 we will have an official renaming ceremony, but we felt it fitting to share this news now as we work together towards a truly transformed institution."
Speaking at the press conference after her robing ceremony, Phakeng said Baartman had been robbed of her life and her potential. Her life story of slavery and humiliation had lessons for the university today.
It was a reminder to students, especially, of where the country had come from, she said.
"This is an important step in the ongoing symbolic transformation of the university. In this way we want to hold her memory and restore to her name the dignity that was so brutally taken from her in the 19th century.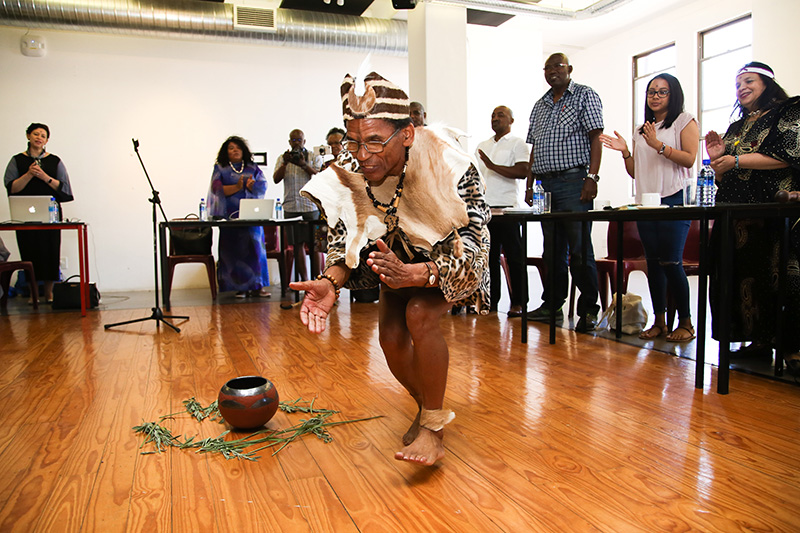 "She is a potent symbol of a new campus community we are building, and in some ways a symbol of all women in our history."
Potent symbol of new community
"[Baartman] is a potent symbol of a new campus community we are building, and in some ways a symbol of all women in our history who, for different reasons and at the hands of colonisers, lost the opportunity to share their talents and abilities with the world."
Many people had been involved in this important event in UCT's transformation, Phakeng said. She paid special thanks to Professor Loretta Feris, Deputy Vice-Chancellor for Transformation, for driving the long process; members of the Naming of Buildings Committee, led by their chair, Advocate Norman Arendse; the Works of Arts Committee; Sylvia Vollenhoven, who facilitated the first consultations with the KhoiSan community; and those who had guided UCT, particularly Dr June Bam-Hutchison of the Centre for African Studies, who convened the dialogue process for Feris and the Naming of Buildings Committee.
---
This work is licensed under a Creative Commons Attribution-NoDerivatives 4.0 International License.
Please view the republishing articles page for more information.
---