The University of Cape Town's Communication and Marketing Department CMD) has been lauded for "business communication excellence", winning three awards at the International Association of Business Communicators (IABC) 2018 Africa Silver Quill Awards.
The awards, announced in Johannesburg on 25 October, recognise work that makes a significant contribution to business outcomes, with evaluators seeking out entries where communicators can demonstrate the impact of their work on business goals. They must also be innovative and unique.
CMD was honoured for three entries, winning an Excellence award for the VC Transition Campaign, and two merit awards, one for the Slow the Flow Campaign and the other for the Year in Review 2017 publication.
The VC Transition Campaign was an extensive effort to send former Vice-Chancellor Dr Max Price off in style as he ended his 10-year term of office in June 2018, including special farewell events involving all sectors of the UCT community. It was also designed to give an equally warm welcome to incoming VC Professor Mamokgethi Phakeng, introducing her not only to her new UCT "family", but also to the broader Cape Town community and further afield nationally and internationally.
The Slow the Flow Campaign saw the university set itself a 50% water-savings target across campuses in a massive awareness exercise in light of the drought that had Cape Town preparing for Day Zero, when the taps would be turned off.
The Year in Review 2017 is UCT's annual review of the university's highs and lows, focusing special attention on debate, social responsiveness and excellence at the institution, along with sports, art and culture.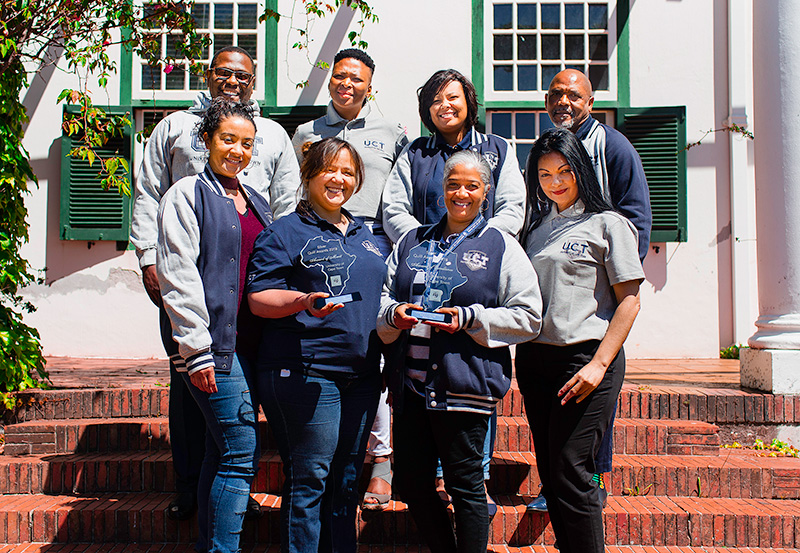 Carol Allers, IABC Africa regional chair, said the Silver Quill Awards recognise local communication excellence.
"We are especially proud to see the team acknowledged by our peers in the communication and marketing industry."
"Local communicators produce exceptional work, which deserves to be recognised on the global stage," she said.
Gerda Kruger, executive director for CMD, said she was extremely proud of the whole team, which always works in challenging and high-pressure circumstances.
"We are especially proud to see the team acknowledged by our peers in the communication and marketing industry, and for the recognition of the department's work in supporting and promoting the university's vision and strategic plan," she said.
"The team is a core group of committed and professional staff. We strive to produce excellent work under circumstances that are often difficult, and with limited resources. Once again the team has done us very proud. Well done!"
This marks the third year that the Silver Quill global awards programme has included the Africa region.
---
This work is licensed under a Creative Commons Attribution-NoDerivatives 4.0 International License.
Please view the republishing articles page for more information.
---