When it "forgot to rain" in Cape Town and Day Zero loomed large, the city went on water-saving alert and gained global recognition for its effort. But now it's time for a holistic approach to future water management, says Professor Neil Armitage.
Armitage, professor of Civil Engineering and deputy director of the University of Cape Town's (UCT) Future Water research institute, made the appeal when he addressed a capacity crowd in the most recent instalment of the Vice-Chancellor's Inaugural Lecture series. His lecture was titled "After the water crisis: How to turn Cape Town into a water-sensitive city".
The water engineering teacher, who has played a leading role in introducing the concepts of sustainable drainage systems and water-sensitive design to South Africa, began by reviewing Cape Town's recent water crisis.
The demand for water in the city, he explained, was not only expedited by a growing population, but also by increased access to services and a growing uptake of "thirsty" devices (including household washing machines) and lifestyles.
Cape Town's water requirements are growing at around 4% per annum, which exceeds its population growth of approximately 3% per annum. Up until recently though, the authorities had managed the demand well.
"There was a pressure point in 1999 when it became apparent that we were running out of surface water resources and that something would have to be done," he said.
"At that point, [the Cape Town] water and sanitation department began managing water better."
The results were positive: By doing things like reducing pressure and fixing leaks, the city kept demand flat for more than 18 years.
"It was a fantastic job; everyone was patting themselves on the back – and then, we had a disaster," Armitage said.
What happened?
"Quite simply, it forgot to rain. The fact of the matter was that we had three of the driest years on record. That was why we didn't have water. It was unexpected. It was out of normal climatic sequences and we needed to manage it urgently."
The now familiar Day Zero – that is, the day the taps would be turned off and people would be compelled to queue for water – was averted by several measures undertaken by the City of Cape Town and the Western Cape government.
"It was a fantastic job; everyone was patting themselves on the back – and then, we had a disaster."
"Ultimately, it was WDM (water demand management) that saved the day," said Armitage, who holds BSc(Eng), MSc(Eng) and PhD degrees from the universities of KwaZulu-Natal, Cape Town and Stellenbosch respectively. He is also a professional engineer, registered with the Engineering Council of South Africa, and has more than 33 years' experience (both as a consultant and an academic) in a wide range of water-related engineering.
City and government interventions to avoid Day Zero included drilling boreholes to tap groundwater, small-scale salt-water desalination plants, and a pilot reclamation plant to treat sewage and convert it to potable water (in other words, to recycle water).
The latter method, explained the professor, has been shown to be effective elsewhere. For example, treated sewage water accounts for one-third of the water used in Windhoek, Namibia.
But the dodging of Day Zero wasn't only due to reactionary processes put in place by the authorities. The well-documented water-saving measures undertaken by Capetonians (including farmers, who made considerable sacrifices) also played a crucial role.
"We did so well, in fact, that Cape Town is now regarded as one of the most successful cities in the world in terms of water-wise management," said Armitage.
"So, well done – but let's not forget what we learnt. And, as importantly, now that the water crisis seems to be a thing of the past, we need to ask ourselves what we should be doing to avoid future Day Zeroes."
What now?
It is, he insisted, essential to take "a more holistic look at the way water is managed for Cape Town and decide what kind of city we want".
Water augmentation schemes proposed by the City of Cape Town and the province include projects that look to improve access to groundwater, advance the reuse/reclamation of water, increase desalination, and develop the use of surface water.
But is this enough? Armitage proposed more could be done, pointing to initiatives undertaken elsewhere in the world.
Professor Tony Wong of Monash University in Melbourne pioneered the concept of water-sensitive cities (that is, cities and towns that keep water in the city).
Wong is also chief executive of the Cooperative Research Centre for Water Sensitive Cities that has research hubs in Brisbane, Melbourne, Perth and Singapore. He was recently awarded the 2018 International Water Association (IWA) Global Water Award for his pioneering work on water-sensitive cities.
Wong, said Armitage, introduced the concept of future-proofing cities in 2012.
Some of the key motivations for developing systems for cities to catch and store water within their precincts are obvious: The approach provides resilience and coping capacity, it makes places more liveable and comfortable, and it expedites sustainability.
Other drivers, he said, are less apparent.
"The concept of blue-green corridors is not just about flowers or even rivers. It's about the combination of natural space and water systems as integral elements of a city's drainage infrastructure for flood conveyance and amenity, that is, what helps people."
Storm water as a resource
A further characteristic of Wong's water-sensitive cities is the strategic use of storm water as a resource. This, explained Armitage, is different because, historically, engineers have designed systems that collect water in catchment areas outside cities and then pipe it to where it is required.
"This has worked very well for a few hundred years, but it is not going to work for very much longer," he said, pointing out that current primary augmentation schemes for Cape Town do not necessarily fully appreciate the potential value of storm water as a resource.
"Historically, engineers have designed systems that collect water in catchment areas outside cities and then piped it to where it is required. This has worked very well for a few hundred years, but it is not going to work for very much longer."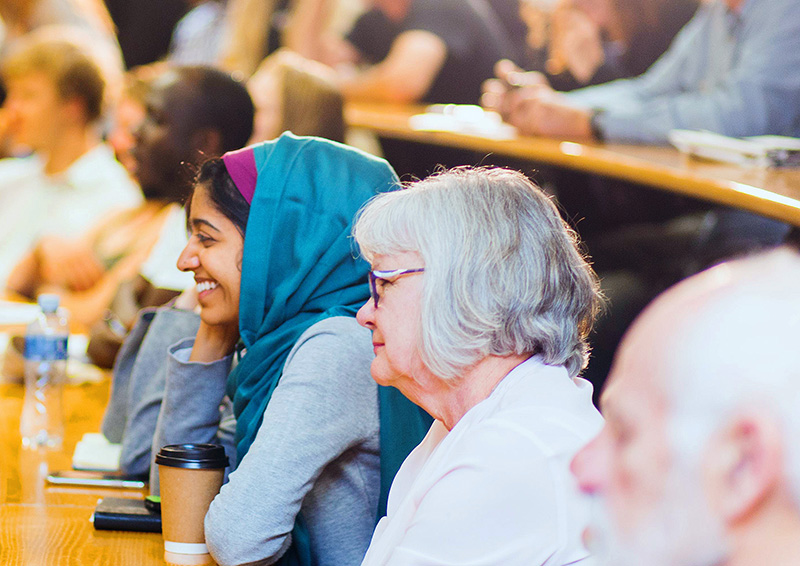 He demonstrated this with examples of initiatives undertaken by other cities.
Melbourne and Singapore are among the world's leading water-sensitive cities. They have adapted infrastructure and systems into water supply catchments in various ways. Moreover, they have established ecosystems to enable the built environment to supplement and support natural environments.
He described how sluices and streams in Singapore – some of which resemble Cape Town's Liesbeek and Black rivers – now feed into freshwater lakes that are not only beautiful, but also provide water for the city.
"In fact, Singapore has cleaned up its storm-water collection so well that its harbour is now also a clean, freshwater lake."
The Chinese government's "sponge cities" initiative, which has been introduced to 30 cities in that country, involves planting greenery on rooftops and walls, building wetlands for rainwater storage, and constructing permeable roads and pavements to help slow down, capture and filter storm water, and store it below cities.
Organisations such as the South African Water Research Commission and UCT's Future Water research institute (co-founded by Armitage in 2015) provide a growing body of information on the development of sustainable water-management systems.
Among this information is a case for an alternative technology for storm-water management, which is detailed in a document titled The South African Guideline for Sustainable Drainage Systems. It can be found on the South African Water Research Commission website at www.wrc.org.za. (Armitage received the South African Water Research Commission Award for Human Capital Development in the Water and Science Sectors in 2013.)
Innovative management
That's not to say that there are no examples of innovative management of storm water in the Western Cape, said Armitage.
More than 40 years ago – before the region was connected to water from the city – engineers involved in the design of Atlantis outside Cape Town devised a system to channel storm water underground to supplement other resources.
This self-sufficient approach was "forward-thinking" and a good example of "design for inner cities, which would benefit from not having to rely on outside water", he said.
Armitage's lecture ended with a brief description of a project by UCT PhD student John Okedi, who is working on a proposal to access storm water in the Cape Flats Aquifer and Zeekoe catchments.
The region's original drainage system was, said the professor, designed to avoid flooding. However, it also provides opportunities for storm-water harvesting from underground, and for incorporating an aquifer recharge and recovery system.
In addition, Okedi's work investigates the use of real-time control to improve the efficiency of the system without compromising flood management, and examines whether this water will be most effectively available as potable or non-potable water. The results of his research, which, said Armitage, are highly anticipated, will be released early next year.
Thanking his colleagues for the roles they have played in his work, Armitage said: "As I was preparing this paper and thinking about my career, I realised you don't have to be smart or clever to do great things; you just have to surround yourself with great people."
---
This work is licensed under a Creative Commons Attribution-NoDerivatives 4.0 International License.
Please view the republishing articles page for more information.
---