Some might describe Mughtar Parker's move from the University of the Witwatersrand (Wits) to the University of Cape Town (UCT) as the proverbial leap from the frying pan into the fire. University managers with vast property portfolios to manage haven't had an easy time of things these past three years.
UCT's new executive director of Properties & Services, custodian of its multi-billion-rand estate, knows this well. The former director of property and infrastructure management at Wits, Parker is familiar with the pressures of managing and safeguarding large real-estate portfolios and assets.
Before Wits, he managed the real estate portfolio and security for Liberty Life sub-Saharan Africa – 16 countries in all. In South Africa alone, Liberty owns around 52 branches and three campus environments. The portfolio of prime real estate included malls such as Sandton City, where risk management was significant and included internal and external threats – malicious or accidental.
Just a few months into his job at UCT, and with a catering and transport strike recently ended, Parker is philosophical.
"This environment is always going to be pressurised; there's something happening every day."
"This environment is always going to be pressurised; there's something happening every day."
Finding emotional and mental coping mechanisms helps to manage the pressure and one's personal life, he said.
Moving to the Mother City has been a homecoming. He grew up here, helping his father in the family shop between studying towards a BCom (Accounting) at the University of the Western Cape – and paying for it through a cricket scholarship.
He also holds a master's in corporate real estate from CoreNet Global, Atlanta in the US, as well as a Senior Leader in real estate, which is a post-master's qualification. To date, Parker is the only individual in Africa to have achieved this.
But Cape Town is where his family and heart are. For three and a half years he commuted between the cities.
"This was an awesome opportunity to get back to Cape Town," he said.
Diverse portfolio
Parker heads up one of UCT's largest service and support departments, with a budget of R425 million and 1 026 staff. Six deputies in finance, capital planning and projects, risk services, information technology (IT) systems, repairs and maintenance report to him. His line manager will be UCT's new chief operating officer (COO), Dr Reno Morar.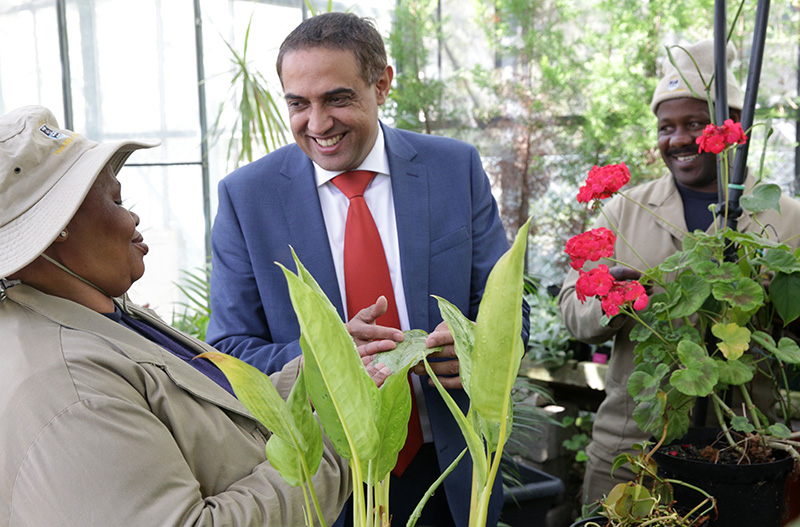 The size of the university's portfolio surprised him. These are not "facilities" but real estate; a million square metres of buildings, laboratories, residences, sports facilities, galleries and so on, with a replacement value of some R26 billion (R36 billion market value) and a market value of around R36 billion. It's among the top 20 portfolios in South Africa in terms of scale and complexity.
But it needs more attention to secure it for future generations of students.
"Our buildings are old, and we haven't invested significantly in technology."
"Our buildings are old, and we haven't invested significantly in technology. Though state subsidies have been steadily declining, money will have to be spent on [the] portfolio in the next five to 10 years. We need to plan far ahead."
The growing need for student accommodation will also have to be addressed.
"Conventional building and construction methods don't seem to be working as student accommodation, so you have to be creative in terms of supply and demand for residences – and that's a challenge."
Visionary leader
Parker described himself as a visionary leader. But before a leader can get to the "visionary" stage, much baseline auditing and spadework needs to be done.
His first 40 days were devoted to framing an "as is" assessment of UCT's portfolio, "enough data to have meaningful conversations with the people that matter". Next will be a five-year road map, pulling everything together under one integrated workplace management system in five years. This will be aligned to the vice-chancellor's vision.
"In good real estate practice, you have something called an integrated workplace management system. We don't have one of these. From a technology landscape point of view, we've got various systems that don't really talk to each other. The plan is to stabilise the business first, then build and run."
As a strategic pragmatist, Parker sees his role evolving.
"Now I'm a reactive, ad hoc manager. By 2020 I want to be an adviser, by 2024 a strategist and when all our systems and practices are in place, a visionary."
He is also passionate about people and creating a positive culture that ensures everyone feels part of the team – seen and heard – to gain commitment and inspire people about the value of their work. A key challenge will be changing the culture and managing change in the department from a reactive environment, where there's little feedback, to a proactive, service-orientated environment.
Service excellence is also high on his priority list based on integrated information and appropriate software tools, putting adequately trained people in the right places and ensuring effective feedback.
Relationships with key stakeholders are important to him. One of his first tasks was meeting with the deans and departmental executive directors to better understand their needs.
Sustainability is also high on his agenda; reducing UCT's carbon footprint, and its water use. At Liberty, he introduced one of the first corporate grey-water and rainwater harvesting installations. The project was presented at Massachusetts Institute of Technology (MIT) last month.
He's elated that UCT will be appointing a head of sustainability for the institution, important to triple bottom line reporting and good corporate citizenship.
At home
Beyond UCT's walls, Parker is an avid sportsman, a cricket aficionado and recreational traveller.
"I love understanding different cultures."
Family is important. He and his wife, Wahieda, have two sons of 13 and 15, Shuaib and Naqeeb. As the only boy in his direct and extended family, Parker said he grew up among strong women.
"I have a tolerance level of note!" he quipped.
But his mother, Fatima, is his hero and role model for her tenacity and strength in adversity.
---
This work is licensed under a Creative Commons Attribution-NoDerivatives 4.0 International License.
Please view the republishing articles page for more information.
---