UCT academics expressed mixed feelings about blended learning, which was one of the strategies adopted to complete the academic programme during the 2016/17 student protests, researcher Genevieve Haupt said at the 2018 Teaching and Learning Conference.
This is based on a Carnegie Corporation of New York-funded collaborative project with three other institutions across South Africa. Haupt worked with principal investigator Associate Professor Laura Czerniewicz at the Centre for Innovation in Learning and Teaching (CILT), in the Centre for Higher Education Development, to understand academic and student perspectives.
Their primary research question was: How have students and academics negotiated the opportunities and challenges of blended learning in the complex circumstances in South African higher education in 2016 and 2017?
Haupt's presentation at the annual conference, held on 17 July under the banner 'Care. Connect. Create.', was one of more than 60 individual sessions.
Blended learning, which combines online digital media with traditional classroom methods, has been widely adopted throughout the world and is part of a general repertoire of teaching approaches at UCT. It came to the fore as a mode of teaching and learning during the protest disruptions.
This is not an aspect of blended learning that has been previously studied, and the research saw interviews undertaken with academics in three of UCT's faculties.
Desperate times, desperate measures
In October 2016 UCT shut down for two weeks. The curriculum was shortened, exams were deferred and a mini-semester was held in early 2017. The stakes were high for the university and its students. On 14 October 2016 former Vice-Chancellor Dr Max Price announced the move to blended learning and teaching as one of the strategies to complete the academic year.
This was repeated in 2017 after further disruptions to the academic programme.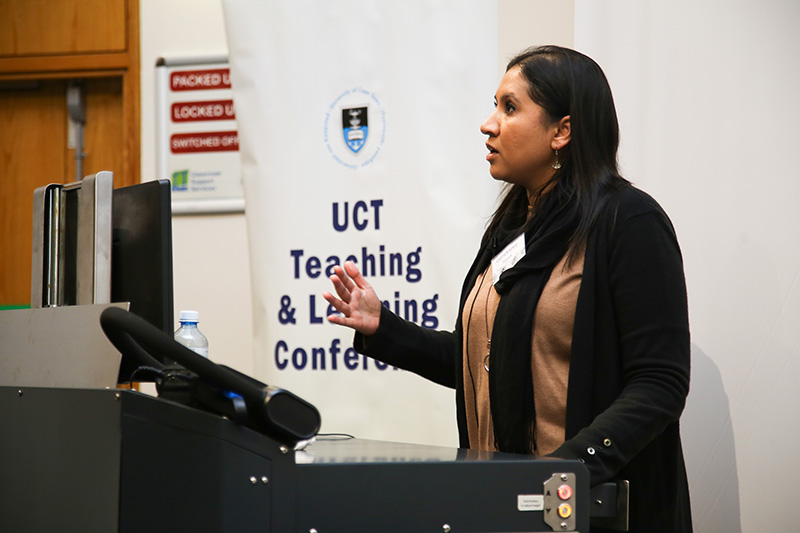 The move to blended learning affected academics in different ways, Haupt and Czerniewicz's report shows. Some had already moved to a mixed mode for teaching and exam preparation. Others had already completed their curricula.
Having tried a mixed approach in 2016, many found it hadn't achieved the desired results ("there wasn't much of an appetite") and didn't adopt it in 2017. Others felt conflicted about continuing the academic enterprise, not wanting to undermine the protesters' intentions.
"Others felt conflicted about continuing the academic enterprise, not wanting to undermine the protesters' intentions."
Summarising how academics felt about blended learning, the research found that several of those interviewed said that they felt forced into it, that it shouldn't be regarded as a first option to teaching, that it was inappropriate for a residential university. Yet others had already adopted this mode and felt it was no big deal.
Technology benefits privileged
Other findings were that teaching staff, whether or not they were in favour of the protests, resented having to use blended learning. Many made the point that what was being promoted was not really blended learning at all, while others were concerned that the students who benefited most were privileged students.
One interviewee said, "The thing about it is that all these electronic things, which are great and marvellous, they benefit the wealthy students, they don't benefit the students who are struggling anyway."
Other limitations which surfaced were that not all disciplines are suited to blended learning and that many staff lacked experience in this mode, others questioning the value and 'enablement' factors of blended learning. There were also tensions between wanting to complete the academic year but not wanting to engage with blended learning.
Positives and negatives
An interesting outcome, from the research, was that between 2016 and 2017 academics had incorporated new methods in their teaching practices despite this not being the route they would have chosen to innovate and try blended approaches.
However, blended learning also developed negative associations.
As one interviewee reported, "I have major doubts as to how effective the actual interventions have been in terms of helping students to learn in this time of crisis – and so I worry that this kind of online thing is a recipe for disaster in terms of actually being able to motivate students, to engage with material."
---
This work is licensed under a Creative Commons Attribution-NoDerivatives 4.0 International License.
Please view the republishing articles page for more information.
---