Developing a community of care has emerged as a central message at several recent high-profile University of Cape Town (UCT) events, augmented this week by the Student Wellness Service's 'The Wellness Drive' which aims to help destigmatise mental health challenges.
Against this background, and with consensus that such a community of care is vital in a transforming institution that is exploring new ways of teaching and learning, Edwina Brooks, director of student development in the Student Affairs department, has urged the institution to help develop "mechanisms for self-care".
The theme proved dominant at the memorials following the death of Health Sciences Dean Professor Bongani Mayosi, during Chancellor Graça Machel's National Women's Day address, and was also central to Brooks's presentation at the recent 2018 Teaching & Learning Conference.
In her presentation at that conference, entitled "Criminalising Students Who Protest(ed) – Do we care?", Brooks said caring for staff and students who were vulnerable, or became vulnerable as a result of challenging the status quo, was crucial.
Taking her lead from political science and women's studies professor Joan Tronto's Ethic of Care philosophy, Brooks questioned the care of UCT students generally, but especially those whose ideological contestations had put them at risk during the past three years.
"Tronto defines care as 'a species activity that includes everything we do to maintain, continue, and repair our world so that we may live in it as well as possible. That world includes our bodies, ourselves, and our environment, all of which we seek to interweave in a complex, life-sustaining web'," she explained.
Pointing to the turbulent higher education sector, Brooks said that care had to be at the core of a community learning to transform and cope in an environment of complexity and tension.
Under the banners of Rhodes Must Fall and Fees Must Fall, students had challenged first UCTs colonial identity and then its role in terms of the public good.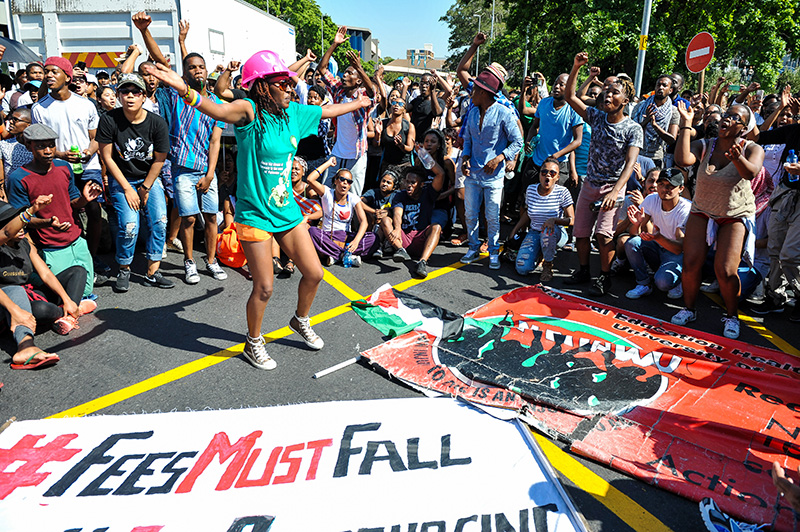 Education as transformation
This was not new, she said. Student protests around the world had challenged the global trend towards the mass commodification and marketisation of higher education, the rise of managerialism and "playing the ranking game" as a means of measuring success.
Economic decline had also introduced austerity measures that impacted student health and care provisions, with casualisation of academic staff and the growing vulnerability of those who research and teach among the consequent by-products.
As global student protest was changing, so too were governments' responses, seen in increased surveillance, securitisation and militarisation, Brooks warned.
In commodifying higher education, she said, teaching and learning had become more instrumental; students were more concerned about obtaining a certificate than about the depth and quality of their education and its transformative value.
All these factors had created complex challenges.
Brooks explained that her department, in creating a psycho-social framework for student development, had taken the lead from US student engagement theories which centre on what students – in all their intersectional diversity – bring to the institution, how they enrich the community, and how universities can provide opportunities for students to engage and develop.
"The idea is that the more students engage, the happier they are."
"The idea is that the more students engage, the happier they are and the more likely to succeed," she said.
Care for 'criminalised' students
Brooks was frank that given the broader social and political culture in South Africa, no-one should have been surprised by events of the past three years. The question, however, was how the UCT community should respond when acts of protest become violent or criminal, or when students were labelled "criminal" for participating in such protest.
Recourse to police and private security on campus had only escalated the culture of fear, mistrust and conflict.
"We have to learn that private security and police can't solve our problems. They can't be here forever," she said.
The alternative? A community of care.
"It's at this intersection that ethical care plays a vital role, fostering difficult conversations and interactions at a time when this difficult work is urgent and necessary," said Brooks.
"Many of the students I've spoken to have reflected and learnt [from the past few years] and we must give them that opportunity.
"[But] it's difficult for people [students] to have honest conversations if they know there's a threat of some kind of action. Relationships suffer, there are personal costs like academic performance. Some of the students have been in and out of court the entire semester."
"It's at this intersection that ethical care plays a vital role, fostering difficult conversations and interactions at a time when this difficult work is urgent and necessary."
Criminalisation is unsustainable, she added.
"You can't spend lots of time in courts. At the end of the day, we must do the hard work to solve our problems. In terms of a way forward the first thing is to acknowledge our position as staff. We often talk about the student experience, but what about our experience?
"This is a great opportunity to start reflecting on our own, on ourselves, on our 'isms'. It's important for us to have an honest reflection and not just to be flippant and superficial about it. We need to be able to work within this complexity and tension."
'Do the hard work'
Care included trauma counselling.
"I don't think it's too late for trauma debriefing … We need to have some form of acknowledgement that we've gone through a tough time and that trauma plays out in different ways."
Brooks also encouraged the community to share their experiences at the Institutional Reconciliation and Transformation Commission.
"It's not an easy journey, not by any stretch of the imagination, but I really want us to think about how we are investing in taking this institution forward by participating in structures like that. The forging of a new identity should be about the real commitment to change and to learn from what we've been through," she said.
---
This work is licensed under a Creative Commons Attribution-NoDerivatives 4.0 International License.
Please view the republishing articles page for more information.
---