It's four o'clock on a Monday and Arnold Wepenaar has just completed his shift at the Forest Hill headquarters – the Jammie Shuttle driver has been helping out with admin after back surgery put him temporarily out of action. But his day is not yet done. In 30 minutes, he'll join Properties and Services colleagues at UCT's Staff Learning Centre where for two-and-a-half hours he'll become a student.
Wepenaar is one of five recently insourced staff who are tackling the one-year General Education and Training Certificate (GETC), a bridging programme for matric.
Thirty others have enrolled for the two-year matric course – the Amended Senior Certificate. They will write three subjects each year. Both pilot courses, funded by staff bursaries, are convened by the Staff Learning Centre's Sibongile Dano-Bopape and Jessica Selfe.
The programmes kicked off in August this year, with classes every Monday to Thursday from 16:30 to 19:00, when the Jammie Shuttle collects the group and takes them to Claremont and Mowbray stations.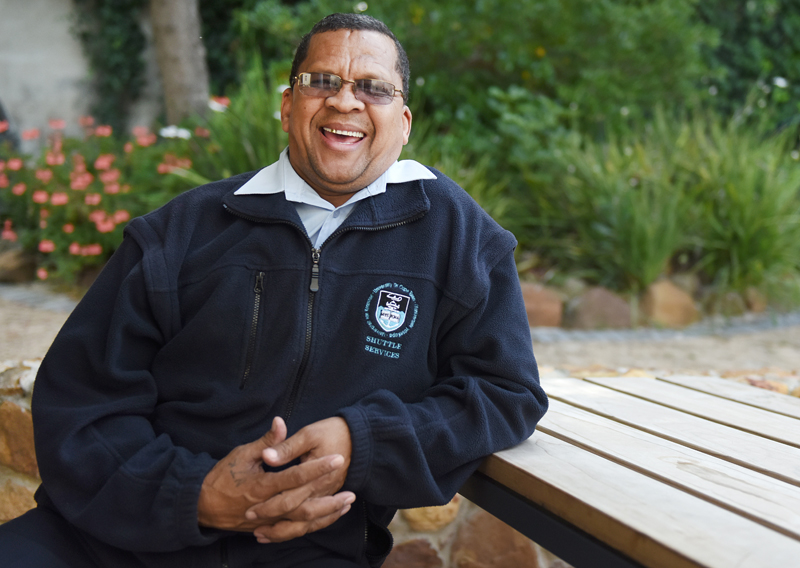 Stepping stone for Wepenaar
Wepenaar sees the GETC course as a stepping stone to matric studies next year. He's amused that his plan has shocked his children.
"But Dad, you'll be going for your matric certificate when you're almost 60!" he mimics.
"But Dad, you'll be going for your matric certificate when you're almost 60!"
"This course gives me so much enjoyment because it doesn't just empower me, it empowers my family. My one son is in grade 10 and we help each other."
Wepenaar's story is one of determination. The Group Areas Act saw the family moved from Diep River to Claremont and then to Wynberg and Grassy Park, where he now lives. He passed grade 10, but because his mother hadn't registered him in the name he was known by at school, the education department had no formal record of him, or his passage through school.
"It was 1976, a time of riots, and, well, everything just went haywire from there. A lot of us dropped out of school."
Though he has a diploma in theology from the Western Cape Bible College (he also pastors a church in Retreat), his desire is to get a theology degree. Not having schooling certification has been a huge hurdle and he has nothing but praise for Selfe, who opened a door to the GETC course.
"She really came through for me when it seemed hopeless. She gave me a lifeline," he says of his UCT colleague.
Studying after hours hasn't been easy; there are family and church commitments that demand his time.
"But I'm reaching for my dream and there've got to be sacrifices."
To his colleagues, wondering if they too should take the gap, he says: "Let go of whatever you've lost out there and continue on a path of finding yourself in this system. The very best way to fight the system is to educate yourself, to empower yourself to know what's going on around you."
For now, Wepenaar is doing just that, four nights a week with the tight-knit group of five on the course.
"It's awesome, just an awesome vibe. I can't wait to get to class each evening!"
'It's never too late'
Earl Delport of Properties and Services' campus cleaning team is tackling the two-year Amended Senior Certificate. The father of four dropped out of school at St Andrews High in Elsie's River in grade 10.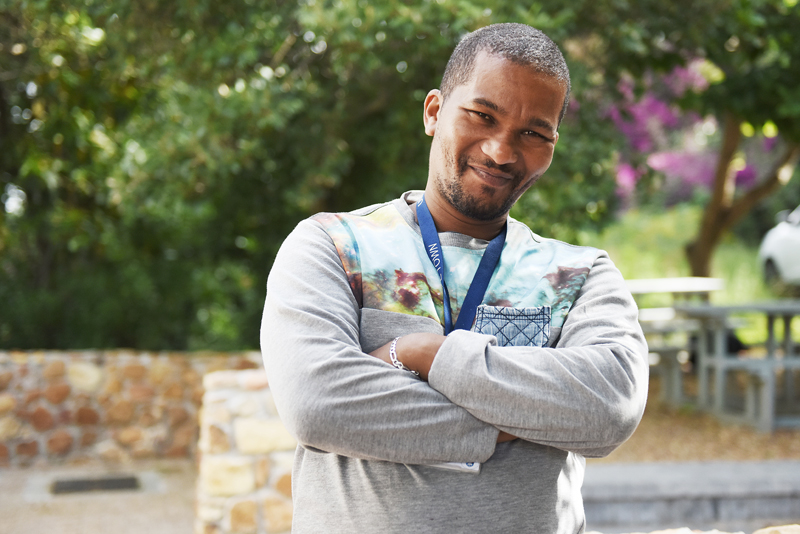 "I was a wild child. I got involved in gangsterism. All that stuff began to influence me. I wasn't paying attention to my school work. If I knew at the time what I know now I would have appreciated school. But I do now and my performance is above average."
It's tough working a full day, attending classes and then going home to tend to a house, children and fiancée, and homework. By day, Delport is responsible for an entire building, the New Lecture Theatre at the end of University Avenue.
"That's my building," he beams. "But, yoh, it was chaos there," he adds, referring to protest action targeting the facility. There's plenty to be done before he can even think of evening classes at Cambria House. But affirmation from his teacher and his colleagues keeps him on track.
"I just got a compliment from my teacher today. He liked the way I performed in class yesterday. I like that because I put work into it," says Delport.
"I'm doing this not for myself. I'm doing this so I can give my kids a better shot at a better future."
Afrikaans is his favourite subject (in this block the class is tackling English, Afrikaans or isiXhosa, and Business Studies).
"What made me come back [to school]? There are many reasons … Life is getting expensive out there. I'm doing this not for myself. I'm doing this so I can give my kids a better shot at a better future.
"It's a good thing too. My son Yannick is in grade 8 and we challenge each other at night doing homework. He is one of the reasons I'm doing well; he helps me and I help him. He helps me a lot."
Once Delport has his matric certificate, he plans to study further on a part-time basis.
"It's never too late," he tells colleagues keen to enrol. "There's a guy in my class who's close to 60. So why can't we do this?"
He is set for the long haul, despite the challenges.
"I know it's going to be worth it. I love school. But with all this student protest; some days we don't have school and that puts you down."
A communal effort
Family circumstances were responsible for Campus Security Services' Nonkosinathi Silanbela dropping out of school in grade 10 in 1998. She left her home in Queenstown for Cape Town and found work with UCT security providers, G4S Secure Solutions. In July last year, after 10 years with the company (six spent on the UCT campus), she was one of over 1 000 service staff insourced to UCT.
She is now based at UCT's Hiddingh Campus in the city. Tackling matric is a something she's always wanted to do.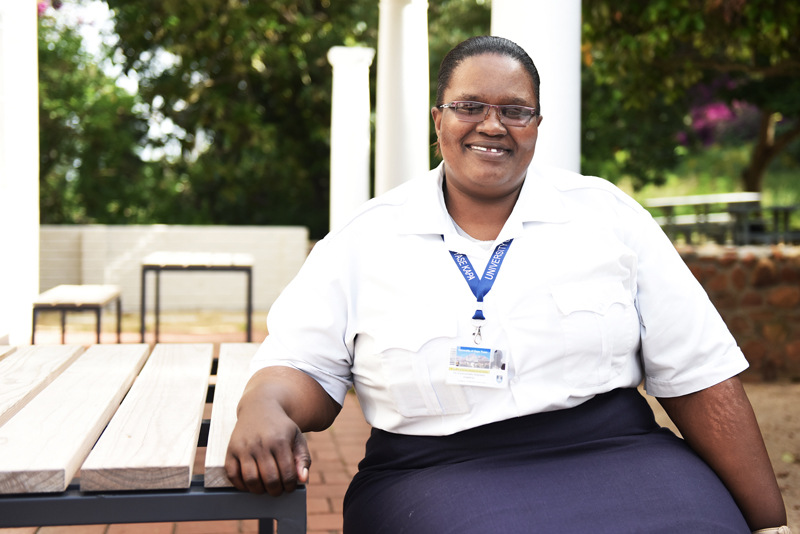 "When I saw an opportunity to do grade 12 I thought to grab it with both hands because I have always wanted to do it but never had the time."
Though her shifts can be tricky to manage with classes in the afternoon, her managers have made it possible for her to get to class on time and fulfil her learning commitments.
"It's a long day − and it's a lot," says the mother of two from Khayelitsha. "When we started it was difficult because I was 18 years out of school. But there are others who have more years out of school … It's difficult because we have our household problems; we have kids and stuff like that. Now, when we arrive at home each day we must study. But we're used to it now; it's been almost four months. It was difficult, but we have learnt so much up until now. I'm enjoying it."
She is hoping that a matric certificate will be a springboard; Silanbela is determined to create other opportunities for herself.
"I do have bigger dreams. I want to work in human resources. That's one of the motivating factors."
She wants to encourage her colleagues to do the same.
"I say to them: When we finish our studies, they must register as well so they can complete their matric. We too thought it would be impossible, but now we are getting 50 out of 60, 30 out of 60, 25 out of 40; we are making a huge effort."
"What we also do is to discuss and analyse our work before class starts. We look at how we can help each other."
It helps being able to work in groups, and they have a WhatsApp group to keep them on track with homework and help with work content.
"What we also do is to discuss and analyse our work before class starts. We look at how we can help each other."
Despite the after-hours assignments, Silanbela says her family is very happy she's 'back at school'.
"My paternal uncle said, 'My child, continue because we see others graduating and we were not aware how they managed to do that. Continue to be whatever you desire to be.' "
---
This work is licensed under a Creative Commons Attribution-NoDerivatives 4.0 International License.
Please view the republishing articles page for more information.
---