It was a case of "ready, steady, go" on 13 September when 14 PhD students taking part in the 3MT® – or Three Minute Thesis – competition at the University of Cape Town (UCT) were given just three minutes to explain their entire PhDs to a public audience.
The students did not disappoint: The large audience in the Engineering Mall's Snape Teaching Studio heard a range of fascinating, easy-to-understand 180-second synopses of theses which have taken many years to compile.
They dealt with issues from malaria and bilharzia treatments to talent development in cricket and climate change. Listeners were even treated to a three-minute case study on the Tijani Sufis in Turkey.
This was the UCT round of the national competition, and monetary prizes were awarded to the winners in two categories – one in Sciences and the other in Social Sciences – as well as to one runner-up and one award for the People's Choice.
Normally an 80 000 word PhD thesis would take about nine hours to present, but the challenge of this contest is for participants to explain their theses in plain language, make them understandable, convince non-specialist listeners of their argument, and also leave them with a lasting impression – all in just three minutes.
It is open to all registered PhD students who have completed enough research to tell a compelling story, but competitors are restricted to using one static PowerPoint slide, and no other props.
The first 3MT event was held at the University of Queensland, Australia, in 2008 with the aim of honing the presentation and communication skills of students, while celebrating their research.
After its launch, the competition moved to other Australian and New Zealand universities and soon became a multi-national event, with 3MT competitions now being held in more than 600 universities and institutions in 65 countries.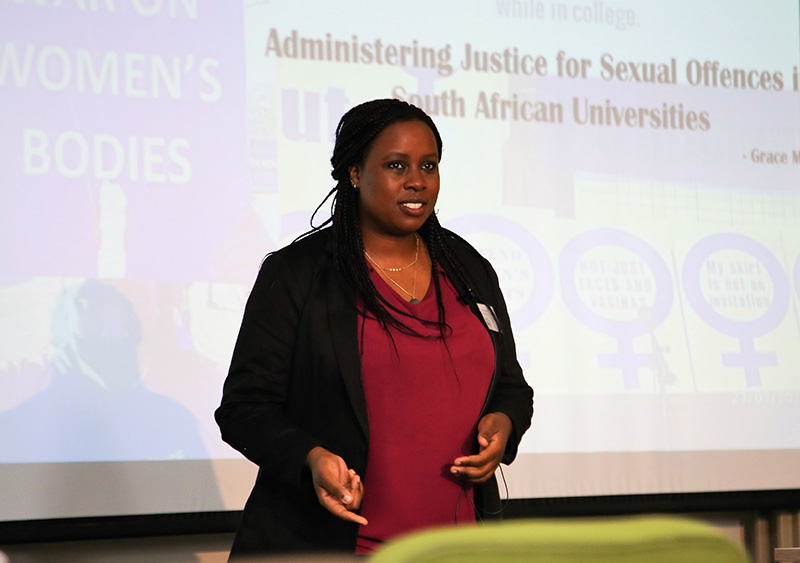 In the end, the winner in the Science category was Rwandan-born and Swaziland-raised Rene Nsanzubuhoro, assistant lecturer in the Department of Civil Engineering, for his contribution to addressing the water crisis in South Africa.
His presentation, entitled Pipe Condition Assessment Device for Assessing the Condition of Water Pipelines, looked at the identification of leakage in water reticulation systems.
Impactful and topical PhD
The winner in the Social Sciences category was Grace Moyo, teaching assistant in the Department of Public Law, for her thesis entitled Administering Justice for Sexual Offences in South African Universities.
The overall runner-up was Naadirah Moola, from the Department of Molecular and Cell Biology, for her talk entitled Chitosan – A Cereal Killers Killer.
"The aim of my project was to develop a condition assessment device … that can assess the condition of pipelines to detect and quantify leakage and to identify what type of leakage is happening underground."
Nsanzubuhoro also clinched the People's Choice award, with the judges describing his presentation as "impactful and topical" in light of the drought which has dominated headlines in Cape Town and other parts of South Africa.
"South Africa is ranked the 30th driest country in the world. However, in South Africa, we lose about 1 580 megalitres of water every year from undetected leakage in our water supply pipelines," Nsanzubuhoro explained.
"This is equivalent to two years water supply to the City of Cape Town and it translates to about R7.2 billion every year.
"The aim of my project was to develop a condition assessment device … that can assess the condition of pipelines to detect and quantify leakage and to identify what type of leakage is happening underground."
As well as detecting leaks, the device provides information on the size and type of the leak as well as how much leakage happens during operational pressure.
Nsanzubuhoro said he had tested a number of pipes in Gauteng and the Western Cape, uncovering previously undetected leaks.
"The findings of our study show great potential in future field application and also commercialisation of this technology," he said.
Sexual violence
In her presentation, Moyo described the disciplinary tribunal process for sexual offences in universities as an incredibly violent one, "marred with procedural uncertainty, undue burden on victims and an astonishing number of findings in favour of the perpetrator".
She said her research will seek "to ask and answer how we can change this process so that it is victim-friendly, regulated, yields more just outcomes and is cognisant of the complex socio-legal display of power that characterises sexual violence".
"Sexual violence is the most under-reported and under-prosecuted crime in South Africa, and this is the same for universities. While institutional responses need to be holistic in order to be effective, my research focuses specifically on the disciplinary tribunal processes which follow after a victim has reported and decided to go ahead with a criminal process," Moyo explained.
"The question that is asked is how do we make these processes just, and [ensure] that they yield just outcomes for survivors," she said, adding that there is much room for "creative policy making" in the area.
"I am acutely aware that there are likely survivors of campus sexual violence in this room today."
"I am acutely aware that there are likely survivors of campus sexual violence in this room today. To you I would like to say, I believe you. I know our systems are failing you and I am working to ensure that in future we do better," Moyo concluded.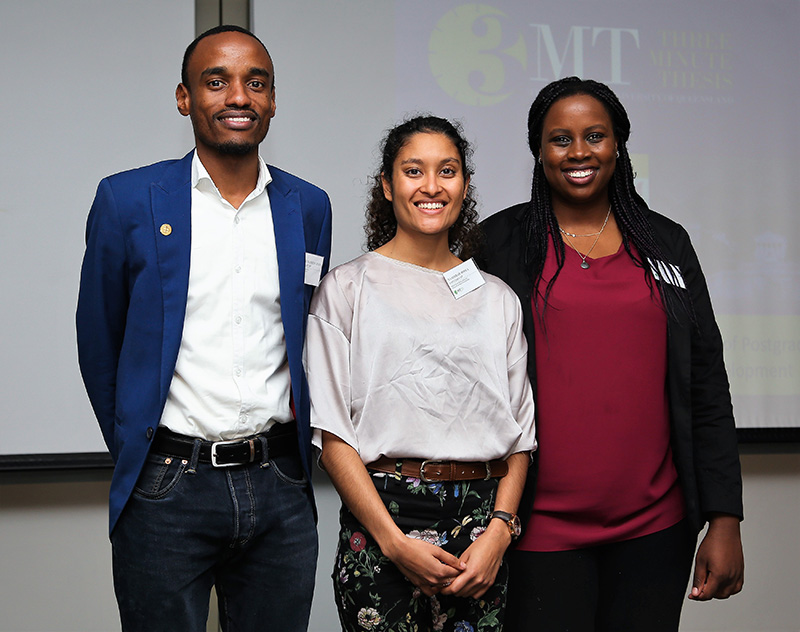 'Toxic secret'
Moola, meanwhile, explained how maize, a staple food in South Africa, is hiding a "toxic secret" called Fusarium verticillioides, a fungus responsible for a reduction in the quality and quantity of maize due to maize rot and the production of toxins. Products affected include common foods like mealiepap, popcorn and beer.
These toxins have been associated with various cancers and adverse health effects in humans and animals, she said, adding that biodegradable and non-toxic biopesticides are being investigated for use as additional infection control strategies.
Professor Peter Meissner, director of the Office of Postgraduate Studies and chair of the event, congratulated all the students who took part.
"It is very important for students to take part in a competitive forum like this. Each time we run this competition, the students give us a very hard time, such is the high quality of the presentations," he said.
The two first-prize winners will represent UCT at the national finals of the competition at the University of the Free State on 26 October.
---
This work is licensed under a Creative Commons Attribution-NoDerivatives 4.0 International License.
Please view the republishing articles page for more information.
---