Professor Kelly Chibale holds a SARChI chair in drug discovery and heads up UCT's Drug Discovery and Development Centre (H3D), and will be joining forces with four other research institutions around South Africa in a Community of Practice (CoP) dedicated to developing new malaria intervention strategies.

Your work is focused on building a pipeline of malaria drug leads: Why is this necessary?
Our most advanced drug candidate is in Phase II human clinical trials but we have a pipeline of molecules at different stages. There is a high attrition or failure rate in the process of developing drugs along the preclinical and clinical value chain. There is just no guarantee of success from one stage to the next. A drug can fail at any stage for a variety of reasons.
When a drug fails, at any stage, there are always useful lessons to be learnt and built on for the next round of the discovery process. Even if a drug, for any disease, makes it all the way to the market, it is only a matter of time before resistance to the drug emerges and renders it useless and the disease impossible to treat.
Understanding the molecular basis for the resistance then becomes critical in addressing or circumventing the problem of resistance in the next generation of medicines.
South Africa wants to stamp out malaria by 2020; do you think this is possible?
Yes. South Africa formally adopted a malaria elimination strategy in 2012. A mid-term review in 2015 indicated that South Africa is now officially classified as pre-elimination due to a sustained incidence of less than one case per 1 000 people at risk, restricted to only three provinces (Limpopo, Mpumalanga and KwaZulu-Natal) at the low-lying regions bordering Zimbabwe and Mozambique.

Since the disease knows no borders, cross-country regional initiatives are imperative for achieving the goals of malaria control and elimination.
Although this success is due to malaria control efforts in South Africa that have been rigorously sustained since the 1940s, this control is fragile and our malaria programme is extremely vulnerable, as evidenced by several episodes of malaria epidemics in the country.
Since the disease knows no borders, cross-country regional initiatives are imperative for achieving the goals of malaria control and elimination. Encouragingly, the Southern Africa Development Community (SADC) has pledged to eliminate malaria, resulting in the establishment of the Elimination 8, a cross-country coordinated effort to achieve malaria elimination in eight SADC member states: The four frontline countries (Botswana, Namibia, South Africa and Swaziland) will aim to eliminate malaria by 2020, followed by Angola, Mozambique, Zambia and Zimbabwe.
Your SARChI chair is now part of a wider community of practice in eliminating malaria. How many institutions are involved and how do you work together?
The CoP will centre on the current expertise of five SARChI chairs from UCT, the University of Pretoria, Stellenbosch University and the University of the Witwatersrand.
The focus area of the members of the CoP will revolve around malaria intervention strategies. These include the discovery of novel drug leads (SARChI in Drug Discovery, myself, UCT) with optimised delivery systems (SARChI in Advanced Macromolecular Architectures, Professor B Klumperman, Stellenbosch University) against both the malaria parasite (SARChI in Sustainable Malaria Control, Professor L Birkholtz, University of Pretoria) and mosquito vectors (SARChI in Medical Entomology and Vector Control, Professor M Coetzee, University of the Witwatersrand), modelled within a malaria elimination setting (SARChI in Mathematical Models and Methods in Biosciences and Bioengineering, Professor J Banasiak, University of Pretoria).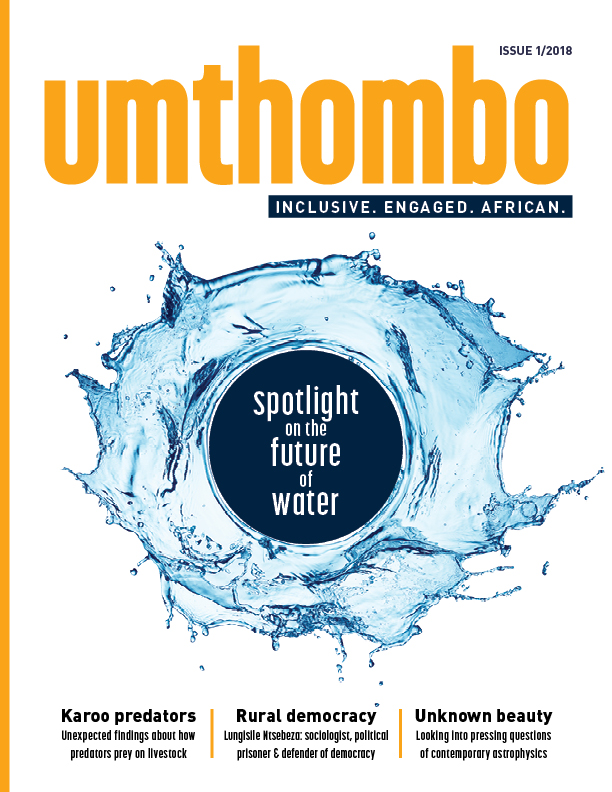 This story was published in the inaugural issue of
Umthombo
, a magazine featuring research stories from across the university.
Umthombo
is the isiXhosa word for a natural spring of water or fountain. The most notable features of a fountain are its natural occurrence and limitlessness.
Umthombo
as a name positions the University of Cape Town, and this publication in particular, as an undepletable well of knowledge.
Read the complete first issue
online
or
subscribe
and receive new issues in your inbox every few months.
---
This work is licensed under a Creative Commons Attribution-NoDerivatives 4.0 International License.
Please view the republishing articles page for more information.
---