The Grade 12 learners who gathered on UCT's upper campus on Saturday morning, 27 January, in anticipation of hearing about the 'when' and 'where' of the SHAWCO Saturday School orientation programme received far more than they bargained for as they learnt the 'why' of education.
Saturday School, which is facilitated by the Students' Health and Welfare Centres Organisation (SHAWCO), is an educational programme for Grade 12 learners that aims to improve matric results and assist youngsters from under-resourced schools to gain entrance to the tertiary education system.
Neil de Wet, programme manager of the SHAWCO Academic Interventions Unit, emphasised the importance of punctuality, attendance and discipline. After a teaching career spanning 22 years, including more than a decade in the Middle East, De Wet is a disciplinarian who is unafraid of declaring that he is an "old school type of teacher" and expects 100% attendance and commitment from the learners.
Saturday School offers more than simply being a place for improving academic results, he said. He encouraged those present to take ownership of the university, to familiarise themselves with the campus – from the cafeteria to the playing fields – and to set their sights on beginning their studies there in 2019.
Moagi Mpshe, a chartered accountant working at Deloitte, captivated the learners as he described his own journey from a background not dissimilar to those in the auditorium. He grew up in the township of Alexandra in Johannesburg.
"If you don't know it, you will know its rats," he joked.
Despite, or perhaps because of his background, he was "willing to push harder and put in the time" that classmates from privileged backgrounds seemed reluctant to do. Perseverance and hard work have been the hallmarks of his success despite self-doubt and the naysayers who told him that a black student was unlikely to succeed in his chosen field.
"Your background doesn't determine your destination," he told his audience to exuberant applause.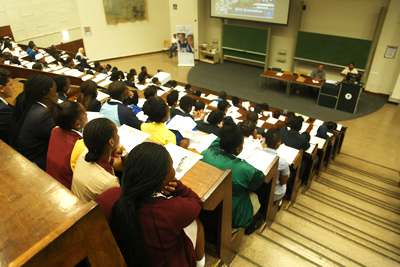 Broad horizons
Professor Crain Soudien, the chief executive officer of the Human Sciences Research Council and a previous deputy vice-chancellor at UCT, is the chair of the SHAWCO board. His delight in the beauty of learning and education was infectious and his advice not to limit one's horizons – "Discover the range of what you can do in life, not just lawyers and doctors and accountants" – resonated with many.
"Discover both the campus and yourself and come to a clear understanding, not just of what you can do but what you cannot do. There is nothing to stop you going home this afternoon and beginning that inventory today.
"Take charge of your life and become a person of the mind," he urged, extolling the beauty of mathematics and physics, the mastery of which, he assured them, was "better than Beyoncé".
"Discover the range of what you can do in life, not just lawyers and doctors and accountants."
Uplifting others
The passionate staff on SHAWCO's Saturday School programme are key to its success.
Vanessa Mouton, one of nine educators, teaches at St Cyprian's School and expressed her delight at continuing with the programme for her eighth year.
"The children are just so amazing. I can see that what I am doing makes a visible difference in each life."
For Thara Kallungal, SHAWCO's operations manager, "the spirit of service is the heart of humanity", and her role is more than a job to her.
"We rise by uplifting others. The way to change a society is to inspire and elevate through a holistic approach to education."
Looking to the future
The energy and excitement of the learners was palpable.
Impassioned and keen to learn, with a clear understanding of the challenges they face and a burning desire to overcome them and begin their tertiary studies, they all saw Saturday School as the first step on that journey.
Noncendo Sikhosana attends Luhlaza Senior Secondary School in Khayelitsha and is keen to improve her marks. She loves English and life sciences and is firmly committed to becoming a forensic pathologist.
"Since I found forensic pathology at a career day in Grade 7, I have been fascinated with it – opening bodies, performing autopsies. Ever since then I have been addicted to that."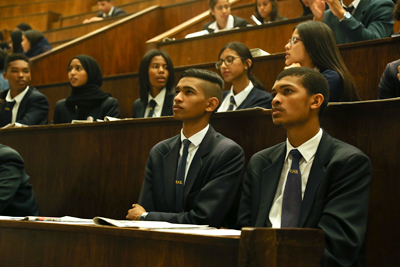 Sinithemba Gantsono from Groenvlei High School in Lansdowne wants to become a doctor and has her sights set on studying at UCT.
Iviwe Mtubu from Wynberg Boys' High School is 16 years old, and with his diverse subject choices – mathematics, accounting, music and history – wants to matriculate with results that allow him as wide a choice of universities and study paths as possible.
He was motivated by the day's speakers: "It was very encouraging to see Moagi with a very similar background to me and to see that he has succeeded."
Not all the learners are planning to follow science, technology, engineering and maths (STEM) careers, however. Terri-Lee Bantam, from Rocklands in Mitchells Plain, wants to pursue tourism – her favourite subject at school.
While their dreams may be different, all the learners shared a common commitment to seizing this opportunity, which prepares them to apply for one of the limited places at UCT or another tertiary institution.
Saturday School is not only one of the best places to jump start a tertiary education, but the ideal place to begin a life of education and learning.
---
This work is licensed under a Creative Commons Attribution-NoDerivatives 4.0 International License.
Please view the republishing articles page for more information.
---