The South African Film and Television Awards (SAFTAs) ceremony, which was hosted at Sun City at the end of March, is a significant event in the South African film industry calendar. Two alumni from the Centre for Film and Media Studies who were nominated for awards won in their categories.
Mia Cilliers won the SAFTA for Best Achievement in Directing: Documentary Short for Six to Six. Roxanne Dalton's master's graduation film, Finding Freedom, won the Best Student Film award. Cilliers and Dalton, together with UCT alumna Jackie Ruth Murray, formed Reel Epics Productions after they finished their degrees at the Centre for Film and Media Studies.
Six to Six is a short documentary which takes an intimate look into the night shift at the Salt River mortuary, Cape Town's busiest morgue. The film reveals the human and often humorous side of working with the aftermath of loss. It paints a portrait of three forensic pathology officers who deal with death night after night.
Cilliers, Dalton and Murray spent over two years intermittently shooting footage with the mortuary staff. The narrative follows each of them as they attend to a different death scene in a vast and varied Cape Town.
Six to Six tells the story of three forensic pathology officers who deal with death every night.
"We'd like to thank Forensic Pathology Services for giving us access to their world and sharing their experiences with us. Documentaries like this cannot be made without people giving of themselves and we appreciate that endlessly," said Cilliers.
Watch the trailer for Six to Six...
Dalton's film Finding Freedom: Life after a Life Sentence formed part of her master's degree in documentary arts.
The film follows two youths, Franklin and Malcolm, after being released from South Africa's prison system, and focuses on the work it takes to redefine the freedom that comes with life after a life sentence.
"This award would not have been possible without my supervisor Liani Maasdorp's keen editorial eye and constant support, and neither would it be possible without Franklin and Malcolm, who had the courage to share their stories and stick it out till the end. Definitely a group effort," said Dalton.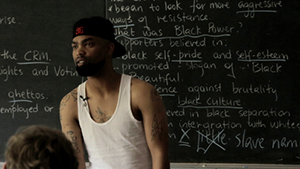 Franklin Esau in Finding Freedom.
"I hope the film sends the message that there is really very little that separates us all and that there is a common humanity that binds us together. We are all capable of terrible acts or deeds, but are equally capable of the most honourable ones, and it is the dance between the two that makes us human."
Watch the trailer for Finding Freedom...
---
This work is licensed under a Creative Commons Attribution-NoDerivatives 4.0 International License.
Please view the republishing articles page for more information.
---