Fifty years after South Africa performed the world's first successful heart transplant' researchers at UCT's Hatter Institute for Cardiovascular Research in Africa (HICRA), through global collaboration, have identified a new gene that is a major cause of sudden death among young people and athletes. Maryam Fish' Gasnat Shaboodien and Sarah Kraus make up the all-female UCT team that made the discovery.
The gene' called CDH2' is found in everyone, but a mutation causes a genetic disorder known as arrhythmogenic right ventricle cardiomyopathy (ARVC)' which increases the risk of heart disease and cardiac arrest.
ARVC is a genetic disorder in which the heart tissue is replaced by fatty and fibrous tissue. This development causes rapid heart rhythm (cardiac arrhythmias) or rapid and erratic heart rhythm (ventricular fibrillation), which causes loss of consciousness and cardiac arrest. In the case of ventricular fibrillation, without a ready device to shock the heart, it causes sudden death in minutes.
The discovery, which was published on 9 March 2017 in
Circulation: Cardiovascular Genetics
, is the result of international collaboration that began 20 years ago. It was led by a South African team headed by Professor Bongani Mayosi, dean of UCT's Faculty of Health Sciences, along with researchers of the Italian Auxologico Institute of Milan and the University of Pavia.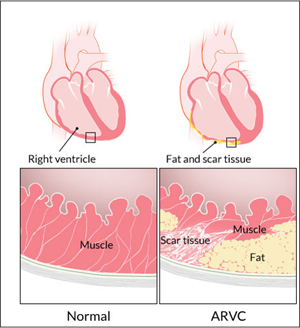 A team of investigators from the Population Health Research Institute of McMaster University and Hamilton Health Sciences, led by Dr Guillaume Paré, performed the genetic sequencing, as well as the Paré, performed the genetic sequencing, as well as the bioinformatics analysis for the study. Dr Lia Crotti and Professor Peter Schwartz of the Italian Auxologico Institute of Milan sequenced all the coding regions of the genome.
"This is probably the biggest breakthrough in South African cardiology since Dr Chris Barnard's first heart transplant," said Professor Bongani Mayosi. "This discovery is a first in the world – on our soil – and will permit the diagnosis and possible targeted treatment of heart muscle disease in the future."
Preventive strategies
According to research, cardiac deaths claim more than five lives every day in South Africa. In young South Africans, an inherited form of disease of the heart muscle (cardiomyopathy) appears to have a prominent role in the cause of sudden death that is related to cardiac disease.
The discovery of the CDH2 gene will help clarify the genetic mechanisms underlying ARVC, and will make early detection of the disease possible in otherwise unsuspecting people.
"We learnt that it's important if someone has the disease, intensive sports would be avoided. Athletes should be screened carefully. The disease can be treated, so that's why it's important to make the diagnosis early," said Professor Schwartz.
Often, the diagnostic clinical signs of the disease only become clear after many years. However, if a subject with ARVC is a carrier of a mutation of the CDH2 gene, other members of their family who are genetically affected can be identified and preventive strategies could be started. This may lead to a reduction of cases of sudden death in patients with the mutation, explained the researchers.
Evolution of the understanding of ARVC
For almost 20 years, Mayosi followed a South African family affected by ARVC that had experienced several cases of juvenile sudden death. Excluding all genetic causes known at the time, the Italian researchers sequenced all the coding regions of the genome in two ill members of the family.
According to Shaboodien, whole exome sequencing, the technique the researchers used to find the gene, was unheard of about seven to eight years ago.
"In the old days it used to take two to three years to screen one gene … Suddenly with technology you are able to screen 19 000 genes within a matter of hours. We called it genetics on steroids."
After the sudden death of a 22-year-old family member, cousins of the family member were identified as carriers of ARVC.
"We sequenced all the genes in the human genome in two cousins who were affected'" says Fish. "We then looked for common variants and had a list of 13 000, which we narrowed down through a series of filtering criteria to the CDH2 variant' which was the most likely causal variant in this family."
The discovery of this gene was validated by finding a second mutation of the same gene in a number of unrelated individuals who also had ARVC.
"None of this would have been possible without the families and people willing to allow us to explore their families and screen them," says Kraus.
Currently the UCT research centre where the researchers worked is one of the few places in South Africa where genetic screening was done.
"When pioneering medical researchers make discoveries such as this, it enables us to innovate to find easy ways to detect the gene or diagnose ARVC and find ways to prevent sudden death in young South Africans," says Professor Glenda Gray, President and CEO of the South African Medical Research Council.
"This collaborative research is what we relentlessly seek to fund, because it directly translates into finding ways to save lives in South Africa."
Photos: Michael Hammond. Infographic: Illustration of a heart with arrhythmogenic right ventricular cardiomyopathy. The right ventricular myocytes are replaced with fibro-fatty tissue leading to the arrhythmias characteristic of the disease / Image: Ted Rogers Centre for Heart Research.
---
This work is licensed under a Creative Commons Attribution-NoDerivatives 4.0 International License.
Please view the republishing articles page for more information.
---