The Desmond Tutu HIV Foundation (DTHF), whose HIV Centre is based at UCT, has been chosen to implement the Zimele Project, a multi-dimensional health and social intervention programme for young people aged 10–24 years.
In partnership with the Western Cape Department of Health, the Zimele Project is designed to serve 20 000 young people, both in and out of school, and will run for two years in the Mitchells Plain / Klipfontein health sub-district.
The DTHF will implement the Zimele Project with the support of a grant from the Global Fund to Fight AIDS, Tuberculosis and Malaria.
Different programmes are aimed at different age groups and will include school-based interventions for 10–14-year-old boys and girls modelled on the famous Soul Buddyz clubs.
It also includes school and community-based programmes for 15–19-year-old girls that will build motivation to remain in school and provide important life skills, health services and educational support. Modelled on the RISE in school club, this programme is also available for 19–24-year-olds, called RISE out of school.
The Soul Buddyz Club and RISE clubs' curricula are based on Soul City's model – Soul City created both of those programmes.
Further, teen parenting workshops, child protection services, career jamborees and community dialogues will be hosted throughout the project to provide opportunities, reinforce community alliance and help those most vulnerable, as well as supplying comprehensive adolescent-friendly health services in local clinics and through DTHF mobile services.
Women of Worth
There is a special programme named Women of Worth, which is billed as a monthly empowerment session for 19–24-year-olds that aims to "ignite women's dreams" and provide guidance on how to achieve them. In a public statement, the DTHF explained the driving force behind this special programme.
"At this age, young women are stepping out of school and beginning the transition into adulthood. It is their choices and actions that will determine the future of women in the community, and that of the next generation as they become mothers.
"Women of Worth will offer unique and innovative monthly empowerment workshops that challenge common gender norms and provide relevant life skills. Workshop themes will include CV writing and contraceptives, sexuality and self-defence, pregnancy and politics, mental health and making decisions."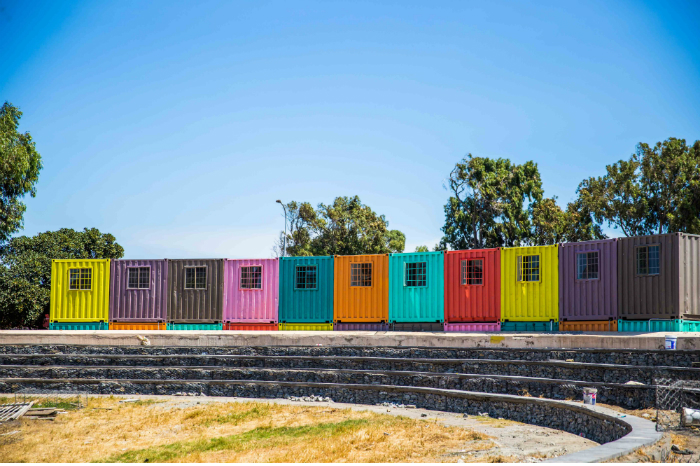 The DTHF rents space along the delightfully colourful container walk in Philippi.
Award for DTHF
In a related piece of good news, the DTHF received the South African Ubuntu Award for Social Responsibility 2017 on 17 February. The Ubuntu Award recognises South African citizens and organisations whose excellent work projects a positive image of South Africa globally.
"The Desmond Tutu HIV Foundation passionately seeks to reduce the impact of HIV, tuberculosis and related conditions on the lives of individuals, in families and communities in South Africa, the region and in Africa. We are greatly honoured to have been singled out with this award ... and express our gratitude to our nominators and the South African community," said Riaan Beukes, project leader for Zimele, in his acceptance speech.
---
This work is licensed under a Creative Commons Attribution-NoDerivatives 4.0 International License.
Please view the republishing articles page for more information.
---