The partnership between the MasterCard Foundation and the University of Cape Town will provide 338 scholarships to academically talented yet economically disadvantaged students from sub-Saharan Africa – 68 undergraduates and 270 postgraduates. In 2016 three MasterCard Foundation scholars graduated from UCT with their master's degrees.
The $700 million MasterCard Foundation Scholars Program – which includes mentoring, leadership development, academic and life skills support – enables young people from the African continent to pursue their academic goals and prepare to transform their communities.
Having recently graduated from their respective fields of study at UCT, Jeremiah Mutungi, Christina Nyandoro and Ramontsheng Rapolaki are ready to take what they have learned and use it for good.
Making mobile work for Africa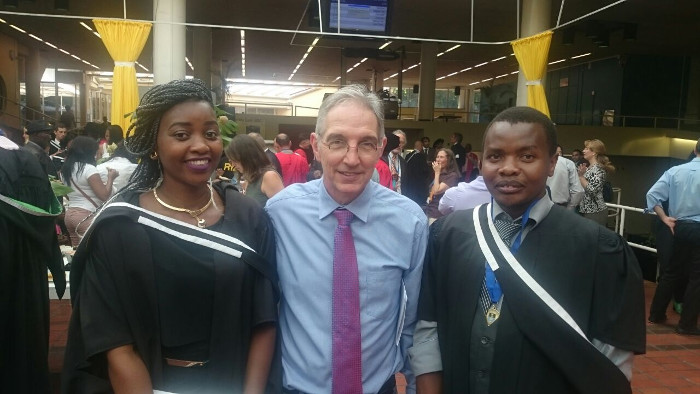 VC Dr Max Price with Christina Nyandoro and Jeremiah Mutungi after their graduation.
Kenya's Jeremiah Mutungi, who studied a master's degree in electrical engineering, majoring in telecommunications, has a passion for technology.
"I believe it holds the key to transforming Africa," he says.
With mobile phone penetration constantly increasing in Africa, the continent's unbanked – adults without an account at a bank or other financial institution – have been brought into the fast-forming mobile-money ecosystem, enabling them to participate actively in their nation's economy.
Despite revolutionising the financial sector in Africa, Mutungi does not believe that the full potential of mobile phones has yet been realised. He believes that the success of the banking sector can be recreated in other sectors such as agriculture – a backbone of many African economies.
Mutungi's passion was rewarded during his time at UCT, earning him an award for one of the best three papers at the 19th Annual Southern Africa Telecommunication Networks and Applications Conference.
"I did not believe I stood a chance," he says. "This has reignited the belief that, whatever one's academic level, we can all make meaningful contributions to the existing body of knowledge and in our communities at large."
Ready to spread the rule of law
With her master's in the bag, Zimbabwean-born Christina Nyandoro hopes that she will find full-time employment in the legal sector within the next two years; within a decade, she hopes to find her niche in a large commercial company at home in Harare.
Nyandoro graduated from UCT with a master's in commercial law. She has high praise for her academic experience at the university.
"The high level of academia and professionalism I experienced during my one-year programme is the thing I am most proud of as a UCT graduate," she says.
But it wasn't just academia that made Nyandoro's time at UCT an enjoyable one: "I had an overwhelming experience. One thing that I particularly liked was UCT's diversity and multicultural environment. This made it easy for me to settle in as I met different people who were friendly and very helpful."
Weathering the climate change storm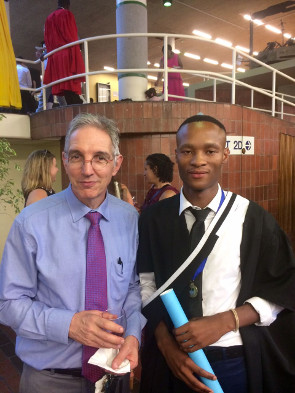 VC Dr Max Price with Ramontsheng Rapolaki after his graduation.
Another MasterCard Foundation scholar who appreciated the support of the UCT community was Ramontsheng Rapolaki, from Ladybrand in the Free State. Through his master's, Rapolaki pursued his interest in weather and climate studies, particularly the extreme events occurring over southern Africa. He graduated with a master's in ocean and climate science.
"I was taught and supervised by excellent lecturers who are leaders in their fields. I also made good friends and interacted with a lot of people who went out of their way to ensure that I succeeded in my studies," he says.
For the next two years, Rapolaki is planning to focus on his PhD, which he began in September 2016. He hopes to contribute to research in African meteorology and climatology, particularly severe weather events in a changing climate.
Story Carla Bernardo. Photos Supplied.
---
This work is licensed under a Creative Commons Attribution-NoDerivatives 4.0 International License.
Please view the republishing articles page for more information.
---