Dear colleagues and students,
As part of the ongoing work to improve safety on our campuses and in the surrounding neighbourhoods, UCT's Safety and Violence Initiative in co-ordination with Campus Protection Services (CPS) has produced the following insights related to crime on and around campus. This information is intended to offer UCT's students, staff and visitors an overview of past crime on and around our campuses so that they can make more informed decisions about their personal safety.
UCT is an open campus, and a number of our properties – particularly student residences – are in residential areas that are currently experiencing elevated crime levels. For example, the South African Police Service data for the Mowbray policing area has shown a 113% increase in reported robberies with aggravated circumstances between 2010/11 and 2014/15 (from 47 to 100 cases respectively).
---
Reported robberies and attempted robberies on and around UCT campuses
The number of robberies and attempted robberies on and around UCT campuses has also increased significantly. From 2012 to 2015 there was a 163% increase in robberies and attempted robberies as reported by UCT students and staff. As of 20 July 2016 this year, 43 robberies and attempted robberies of students and staff have been reported.
Reported robberies and attempted robberies of UCT students and staff: 2012–2015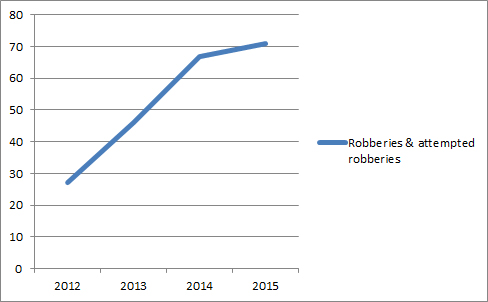 ---
Current crime hotspots
Most robberies have been concentrated in certain hotspots, mainly in Mowbray and Observatory, but robberies have also taken place in other areas. The majority of the incidents have taken place after dark, in the early hours of the morning and at times during the day when fewer people are around.
While the hotspots have varied over time, the main robbery hotspots for the past 12 months have been:
Falmouth Road, Observatory (and adjoining streets) (11 cases)
Grotto Road and Lovers Walk, Rondebosch (11 cases)
Cecil Road and Chapel Road, Mowbray (9 cases)
Main Road, Mowbray (5 cases)
A number of students and staff have also been robbed in the following places:
Durban Road, Mowbray
Rhodes Avenue, Mowbray
Rosebank Metrorail Station and subway
Anzio Road, Observatory
M3 footbridge, Mowbray
Stanley Road, Rondebosch (including the M3 subway to the UCT rugby fields)
Perpetrators
Most perpetrators of robberies have been men, with women being involved in a minority of cases. Robbers have mostly used knives and firearms during robberies, but the threat of violence has also been used. There have been two broad categories of perpetrators:
A single person, or a small group of people, that robs victims and then runs away
Small groups of men that travel by car and rob victims and then drive away.
In some cases UCT students have been robbed while travelling in minibus taxis.
---
People affected by crime
Both men and women have been affected by crime on and around UCT campuses, with persons walking (or waiting) alone being the most vulnerable. Small groups of women walking together have also frequently been robbed in crime hotspots.
In the vast majority of cases, staff and students have been robbed of their cellphones and money. Robbery victims have also frequently had laptops, items of clothing and student cards stolen. Fortunately, very few robbery victims have been injured.
---
Recent Cellphone Theft Cases
Campus Protection Services has noted four cellphone theft cases since late last month. The perpetrator of this crime appears to be the same person, using the same modus operandi in roughly the same part of Upper Campus around the same time (between 12h00 and 14h00). In all the incidents, the complainants were all approached by an unknown man who asked to use their cellphones to make a call. He then ran off with the phones. Students are urged to be cautious should they be approached in this way and to report such incidents.
---
Campus Protection Services (CPS), the Groote Schuur Community Improvement District (GSCID) and the South African Police Services
UCT's Campus Protection Services (CPS), the Groote Schuur Community Improvement District (GSCID) security personnel and the South African Police Service (SAPS) undertake extensive patrolling and other visible policing functions on and around UCT campuses. They have prevented numerous robberies from taking place and have been directly involved in the arrest of a number of robbery suspects. Critically, they do not have the capacity to patrol all areas at all times.
CPS operates 24 hours a day, seven days a week. With 280 campus protection officers, CPS is committed to maintaining the safety of the university community and property as well as keeping order in accordance with university policies. The CPS officers operate from six centres around the university and can be seen on foot, in marked cars, on bicycles and on two-wheeler scooters. This makes them easily accessible to the community and also helps to deter any would-be criminals.
In 2014 UCT introduced a Rapid Deployment Unit, which is fully equipped and trained in unarmed combat. The unit specifically patrols the recommended Foot Route and any crime hotspots. In addition to the three CPS patrol vehicles on campus, there are three GSCID vehicles that operate on the periphery of campus. Between CPS and GSCID, seven mobile kiosks are available for students, staff and visitors to report crime, to seek assistance when feeling unsafe or to find support if needed. CPS monitors the campus with over 300 CCTV cameras. The unit also works closely with SAPS to keep UCT staff, students and visitors safe.
Safety and security on campus is a ongoing concern and we call on all staff and students to play their part in working towards a safer, crime-free environment. One way of doing so is to report suspicious behaviour.
CPS can be contacted on 021 650 2222.
---
Sincerely,
Gerda Kruger
Executive Director
Communication & Marketing Department
---
Read previous communications:
---
This work is licensed under a Creative Commons Attribution-NoDerivatives 4.0 International License.
Please view the republishing articles page for more information.
---