This update on the progress and activities of the first cohort of the Next Generation Professoriate (NGP) features two major events – Manya Mooya's book launch and the Zevenwacht writing retreat.
Manya Mooya launched his new book in the Department of Construction Economics and Management, New Snape Building, upper campus, on 11 May 2016. The event celebrated the publication of his book Real Estate Valuation Theory: A Critical Appraisal (Springer 2016). Mr Christopher Gavor, the valuer-general, gave the guest address. He praised not only the sophistication, novelty and ambition of the book but also told a rapt audience that Mooya had been the inspiration behind the Property Valuation Act 17 of 2014 and the creation of the office of the valuer-general.
Professor Francis Petersen warmly congratulated Mooya, drawing connections between the past when he (Petersen) was dean of Engineering and the Built Environment and related to Mooya as a faculty member and the present in which he relates to Mooya as a member of the Next Generation Professoriate cohort.
In his speech, Mooya praised UCT as a centre of research excellence. He thanked UCT as an institution that had supported him since he arrived as a lecturer at UCT in 2006. He thanked his colleagues, particularly his head of department, Associate Professor Kathy Michell, and Mr Rob McGaffen, who offered closing comments. But his greatest debt of gratitude was extended to Dr Lyn Holness of the Emerging Researcher Programme, who had given him hope and inspiration throughout his stay at UCT.
Read further reporting on the book launch
---
The second major NGP autumn event was the writing retreat at the Zevenwacht Estate, Kuils River, from 16 to 18 May 2016. The event was funded by a grant from the UCT Skills Development Fund. The event was very well attended but also featured some notable and regrettable absentees. Ed February had a serious mountain-bike accident and is recovering in a hospital in Wellington.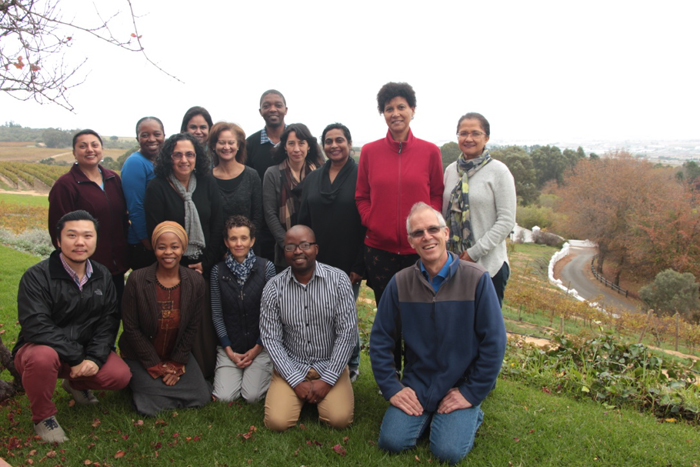 (Back row from left to right) Waheeda Amien, Sine Duma, Sharon Kleintjes, Virna Leaner, Tracy Gutuza, Frank Matose, Lee-Ann Tong, Jennifer Moodley, Sylvia Bruinders and Corrinne Shaw. (Front row from left to right) Chun-Sung Huang, Bongi Bangeni, Kate le Roux, Lebogang Ramma and Robert Morrell.
The writing retreat provided an opportunity to concentrate exclusively on a writing task – journal article, book chapter, funding proposal, conference abstract, paper or poster. Apart from the obvious singular focus of the participants – and the scarcely audible tickle of laptop keys – the retreat also allowed members of the cohort to get to know and assist one another. The statistical skill of one cohort member helped to solve the problem of another. A difficult methodological issue was taken outside by two cohort members who were writing a joint paper. Cohort members conferred earnestly about particular writing challenges that they faced and Robert Morrell, the NGP director, was on hand to assist when requested.
The retreat is one of many activities that slowly but steadily build networks and trust. The members of this cohort may one day be members of Senate together and the friendships and mutual knowing that is being forged now will be counted in years to come as the cement of transformation.
The retreat also provided some enthusiastic cohort members with the chance to stretch their legs. Frank Molteno, Corrinne Shaw and Kate le Roux took an early morning run among the vines to activate their synapses and ready them for the day ahead.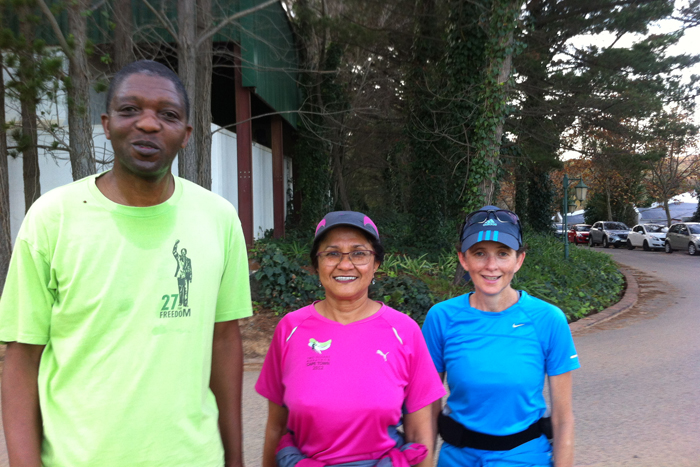 Intrepid early morning runners – Frank Matose (Sociology), Corrinne Shaw (Mechanical Engineering) and Kate le Roux (CHED)
---
This work is licensed under a Creative Commons Attribution-NoDerivatives 4.0 International License.
Please view the republishing articles page for more information.
---