Are women with feminisms rooted in different eras able to speak with one voice on big issues affecting them? And does it matter? Dr Nadia Sanger addressed this issue in a recent series, 'Conversations on Feminisms', presented by the South African Association of Women Graduates.
When the Sex Workers Education Advocacy Taskforce (SWEAT) began to campaign for the decriminalisation of sex workers, not all feminists agreed this was important.
SWEAT advocates for the rights of sex workers to earn a living, enjoy protection and healthcare – this in the context of an environment rife with unemployment.
But some in the feminist movement see sex work in another human rights context: the perpetuation of patriarchy and the exploitation of women's bodies, resulting in economic slavery. Both are pro-women groups.
Feminism in context
"Both are understandable, rational arguments," says Sanger, an independent researcher and part-time lecturer in gender studies at UCT. "And they both make sense within their own contexts."
These 'generational' viewpoints have different situational contexts, one in intellectualism and theory, and the other in the reality of on-the-ground experience, characteristic of civic movements. The result is a schism, a lack of collaboration and a severely compromised message about essential issues affecting women.
"Right now the feminist movements are not espousing different ideologies but different circumstances. It's critical that these differences don't stop the conversation."
In the 90s, for example, the focus was on political rights for women, and black feminists championed issues to do with race.
"It was very important for black feminists to say: 'The knowledge [production] is still owned by the white feminists. We want to produce other kinds of knowledge around feminism that is linked to our realities'".
Side by side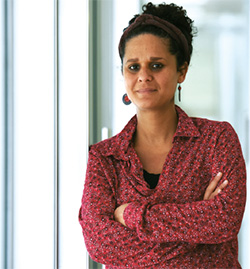 Dr Nadia Sanger. (Photo by Michael Hammond.)
There have been big shifts in the issues affecting women since the 90s (thanks to the new Constitution), but some things have remained the same. Race and class still dominate, but now jostle with more pressing socio-economic issues in women's lives – such as access to employment in a context where rates of unemployment are exceptionally high.
Sanger believes feminists need to re-evaluate their universal goals. "We need to review what was important 10 years ago, two years ago and what's pertinent today and say, okay these issues remain important so we need to build strategies around them."
Generational differences are apparent even among her students in gender studies.
"Young women are saying different things. Some are speaking the language of the 90s, because some of those issues haven't disappeared; others are saying 'I don't identify as a feminist', because they find the label exclusionary and want to talk about gender and not feminism."
Counting heads
Others are interested in a more 'technicist' approach to gender. They want to know how many women are in business and academia and in Parliament. But there are dangers to this approach, says Sanger.
"We should ask: are the women in Parliament actually representing the interests of women outside Parliament?"
One example is the ANC Women's League, which Sanger believes has been co-opted by the patriarchy in Parliament and no longer represents women's interests. And in spite of all the advances in human rights since the 90s, feminists remain a marginalised group.
"We still do not have a strong feminist movement in the country."
And feminists need to be held to account too, even though we're working in different spaces. "We don't need to be saying the same thing, but we do need some common goals."
One voice, one banner
When Bredasdorp teen Anene Booysens was gang raped, murdered and her body dumped, there was no outcry by women united under one banner.
"We need collaboration and coalescence against such endemic violence and it must be tackled on every side – inside and outside Parliament, in the community and in the academy.
"Ultimately, one of the central feminist goals is to disrupt and eradicate patriarchy. But part of the problem is that the various factions of feminists are separate – and it's unsustainable in the current context. If the goal is to stop black lesbians being raped in the townships, we may not agree on the steps or methods, but we can agree on the end result and we need to move towards that."
Head and heart
Some academics that work only with theory are separate from the realities women face right now: high rates of poverty, HIV/AIDS and violence.
"We need to look at whether not engaging feminists outside academia is not perhaps arrogant, considering the kinds of social and political issues we're dealing with."
"It's not an anti-intellectual position," Sanger argues. "Activism should be foregrounded by intellectualism."
Story by Helen Swingler. Photo by Je'nine May.
---
This work is licensed under a Creative Commons Attribution-NoDerivatives 4.0 International License.
Please view the republishing articles page for more information.
---