Education and art are antidotes that can counter xenophobic violence in South Africa said prominent arts scholar Okwui Enwezor, who received an honorary degree at the final mid-year graduation ceremony, held on 12 June.
Enwezor, a renowned art critic, curator, publisher and scholar, has a special interest in modern and contemporary African art. Addressing arts and science graduands, he referred to the xenophobic attacks as a "form of Afro pessimism that sees foreign Africans as grotesque 'others' whose dreams are incompatible with those of South Africans languishing at the lowest rung of economic opportunity".
"It is my firm belief that the best education gives an incentive and orientation for invention and self-examination. It provides us with the capacity to interrogate the state of the world into which we make our own contribution about the kind of society we wish to live in. It provides us with the tools and perspectives with which to transform our ideas into creative works that impact positively on the world around us," he stated.
A Nigerian scholar, Enwezor spoke of his efforts to ensure that Africa is recognised as a fully-fledged member of the global art world. "For more than 25 years I, as critic and curator, have been preoccupied by how to bring modern and contemporary African art into greater intimacy with global currents of art." Full membership to the global art community will bring about equality with other members, he added.
"Sometimes we need to remind ourselves that equality stems from how we allow the dreams of others to be part of our own dreaming. Part of that dreaming requires the creation of physical and imaginative hospitality for strangers," he argued highlighting the crucial role art can play in accommodating foreigners in one's home country.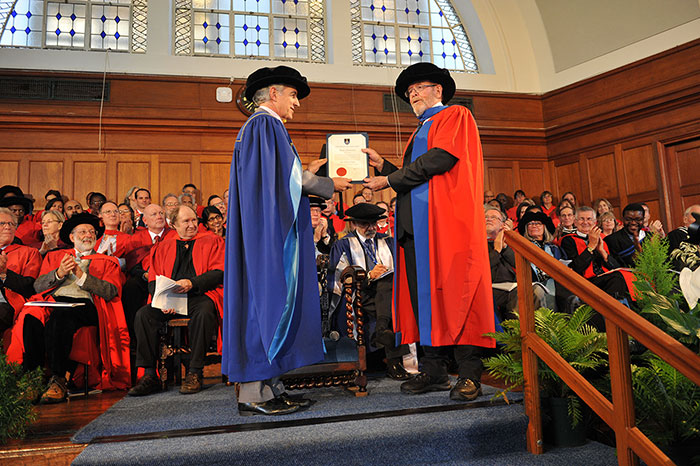 Dedicated scholar John Britten Wright receives his DLitt (honoris causa) from Vice-Chancellor Dr Max Price.
Honours conferred
Like Enwezor, John Britten Wright was awarded an honorary doctorate in literature. Wright is best known for his contributions to the James Stuart Archive – a central source for the history of south-east Africa before 1910. With this honorary degree the university recognises "his extraordinary scholarship on the pre-colonial history of south-east Africa and his development of an archive that enables wider scholarship".
John Britten Wright's oration was delivered by Professor Nigel Worden.
"John Wright does not shout his achievements from the rooftops or in the media. But he is a man of immense scholarship, of empathy and intense humanity, who has quietly, but fundamentally, changed our understanding of the South African past and who has in particular brought the complexities and richness of pre-colonial Africa to light."
The UCT Book Award was presented to Assoc Prof Sa'diyya Shaikh (Department of Religious Studies) for her book titled Sufi Narratives of Intimacy, while the Department of Drama's Prof Mark Fleishman collected the Creative Works Award for his production Every year, Every Day, I am Walking.
Story by Abigail Calata. Photos by Michael Hammond and Je'nine May.
---
This work is licensed under a Creative Commons Attribution-NoDerivatives 4.0 International License.
Please view the republishing articles page for more information.
---