It's a story that deserves to be told – and celebrated – more often: the tale of a small group of impoverished, homeless women who grew tired of waiting for the government to build them houses, and did it themselves. A new book recounts the history of the Victoria Mxenge Housing Project, one of South Africa's most remarkable and inspiring social movements.
Figures recently released by the City of Cape Town show that the number of shack fires in the Western Cape in 2014 was just under 8 000 – almost double the previous year's 4 832. At least 20 people died in these fires, with countless others left homeless.
Those numbers are a reminder of how perilous shack living can be, as well as a testament to the housing backlog in a rapidly-expanding city. That backlog currently stands at around 400 000, with a City of Cape Town report last February stating that the city was only able to build just over 6 000 homes annually, given its resources.
It's a housing crisis that has been brewing for well over two decades, spawning frustration and protest; but also innovation. Dr Salma Ismail, of UCT's adult education department, has just written a book chronicling the stirring story of the homeless women of Victoria Mxenge.
It started with a small group of women, most of whom who had come to Cape Town from the rural Eastern Cape. They had some schooling, but not a lot. They lived in shacks in Khayelitsha, and their main sources of income were domestic work, selling fruit and vegetables, and childcare.
The woman at their helm was Patricia Matolengwe, whom Ismail met for the first time in 1994.
Matolengwe was an active member of the ANC Women's League, and she was selected to attend an important meeting in 1991: the South African People's Dialogue on Land and Shelter, held at Broederstroom, where social movements the People's Dialogue (PD) and Shack/Slum Dwellers International presented their ideas for addressing South Africa's housing problem.
The thrust of their solution was based on something that has been observed internationally: the potential benefits that can spring from giving people – specifically poor women – micro-finance. Evidence suggests that women are less likely than men to default on small loans. In this case, Ismail writes, underprivileged African women were targeted because "their repayment rate was good, and they were mainly responsible for the home and children".
Matolengwe returned to Cape Town with a project in mind. She would bring a small number of women in her community together to start a savings scheme. They would name it the Victoria Mxenge Savings Scheme, after the assassinated human rights lawyer of the same name. In 1992 they set out, with eight members who shared similar experiences: constant forced removals, and a lack of access to basic resources.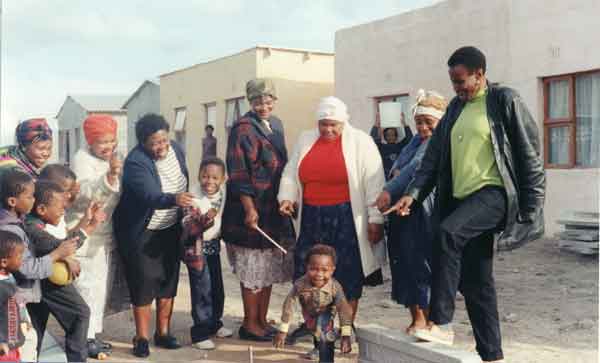 The savings scheme was run like a stokvel, a type of scheme developed out of necessity during the apartheid years, when black people could not get credit from a bank. Each member was expected to contribute an amount of money every single day – however small – and deposit it with the group's bookkeeper. Every week, they would come together to check the amounts.
"We were talking of saving one rand or 50 cents per day," group member Nokhangelani Roji told Ismail in a subsequent interview.
"People would ask us, 'Where have you seen a house for fifty cents or one rand?' People never took us seriously; they thought that we were telling them a fairy tale. But once we started building in Victoria Mxenge, everybody started to believe us."
The Victoria Mxenge savings group began with savings of R56 in 1992. A year later, this had increased to R11 532. By 1996, as their numbers swelled, it had grown to R25 498.
Almost all the group's members were women. Two members – Xoliswa Tiso and Veliswa Mbeki – told Ismail: "We are not against men being part of us, but we want the majority to be women; because we are the ones who feel the pain of looking after the children, and having to witness our houses burning, and the rain coming inside the house; even when it comes to evictions the women are at the forefront, protecting the houses."
The Victoria Mxenge group was just one of an estimated 1 500 savings schemes operational in the country by 1994, when the South African Homeless People's Federation was launched. From this body, groups could apply for loans or assistance, and the Utshani Fund – initiated by the PD – provided supplementary loans, with funds drawn partly from donors and partly from the Department of Land Affairs and Social Development. The Victoria Mxenge group's commitment to saving, and its meticulous record-keeping, secured them the necessary subsidies to supplement their own resources.
In 1993, they lobbied for a piece of land in Philippi that the Catholic Church had indicated that it wanted to donate. Having secured it, they required a government housing subsidy, which involved forming a Communal Development Association, and negotiating – fairly torturously, it seems – with the Department of Agriculture and Land Affairs.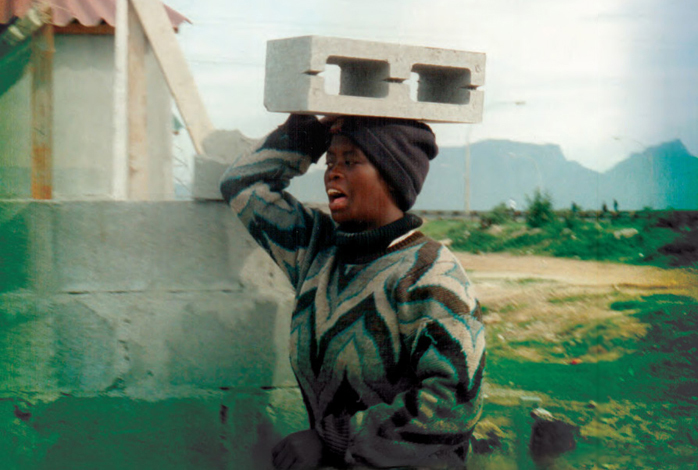 An architect took the Victoria Mxenge women through workshops, training them in technical skills to do with planning, designing and pricing their houses. Initially, the women would create cardboard models.
"We make the cardboard houses, and then the technical adviser [the architect] improves them," group members Rose Maso and Nokhangelani Roji told Ismail.
"After we design these cardboard houses, we cost them. We look at how much concrete would be needed, how much sand, cement and how many bricks needed. In terms of dividing the house, it was collective thinking; everybody had to say where we should have a kitchen, bedrooms and the lounge. People built according to the size of the family and the amount of money they had."
With the architectural plans fine-tuned, who built the houses? Predominantly women, learning both through observation and through practice.
Writes Ismail: "For example, when a German funder, Misereor, donated a brick machine, Mama Msiza and Mama Dlamini went to a brick factory, while a few others went to a training centre in Khayelitsha to learn brick-making."
The Victoria Mxenge women built their first house in 1996 – a 'show house', which cost R9 976. Erstwhile housing minister Sanki Mahanyele came to see it.
They would go on to build 5 000 houses.
It was the women who became the officially registered owners of the houses. This was a difficult decision, Ismail writes, as group members feared husbands might reduce financial contributions, or resort to violence. But in many cases it strengthened partnerships: as one woman said, "it is not so easy for them to kick you out because you have built the house, so you are strong in the marriage."
Husbands' knowledge of their wives' increasing skills led to shifts in other parts of relationships. Ismail records that some of the women became more able to discuss contraception with their partners.
The Victoria Mxenge Development Association grew out of the original group as a social movement, organising savings groups in different parts of the Western Cape. They trained others in the array of skills they had acquired for themselves during their own house-building process: identifying vacant land, negotiating tenure, applying for subsidies, learning about house design, constructing houses.
From being a development organisation, the Victoria Mxenge women moved on to become service providers for government. But this government partnership essentially stymied things – as is often the case, Ismail notes, when NGOs partner with the state, and the state is able to shift responsibility and blame on to the NGOs. A number of the original Victoria Mxenge group went on to form a small construction company.
Ismail points out that, in fact, when the women wanted to start the company, they had to complete a course with the government skills development training sector to qualify with a certificate in building construction. Having built 5 000 houses, largely with their own hands, was not considered qualification enough.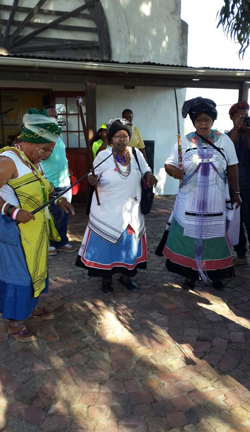 Proud women celebrate The Victoria Mxenge Housing Project book launch at the Derek Hanekom Resource Centre near the Victoria Mxenge Project.
"It was unfortunate that the women had to undergo more formal training, as they knew the basic principles of building very well," Ismail writes drily. "But the Construction Education and Training Authority (CETA) did not have an understanding of the women's pedagogy."
When the group started putting away their R1 per day in 1992, they could scarcely have imagined that they would go on to become internationally-regarded leaders on the topic of women-delivered housing. In 1996 the UN Habitat Conference in Istanbul gave them a standing ovation; Hillary Clinton took a close interest in the project.
What galvanised the movement, Ismail writes, was something summed up by a participant in the Asian Coalition for Housing Rights: "When you see ideas being put into practice by people as poor as you, it's powerful; you see possibilities that did not come from a textbook or an expert."
The Victoria Mxenge Housing Project, by Salma Ismail, has just been published by UCT Press. It is available at Clarke's Bookshop, the Book Lounge as well as on Kalahari.com
Story by Rebecca Davis. This story originally appeared in the Daily Maverick. Images courtesy of Salma Ismail.
---
This work is licensed under a Creative Commons Attribution-NoDerivatives 4.0 International License.
Please view the republishing articles page for more information.
---