An alumnus and a world leader in energy storage, Thackeray, who took his place among UCT's honorary graduates after the university conferred a Doctor of Science (honoris causa) on him, addressed science and commerce graduates at a ceremony on 19 December 2014.
"On graduating today, you have become a vitally important resource to serve the needs of society, whether in science, commerce or some other discipline. So the world beckons as you embark on your careers – the future lies in your hands."
Equally important, he said, was harnessing and storing energy that will lessen the world's dependence on fossil fuels, provide a means for slowing global warming, and minimise the interruption of power supply that plagues South Africa today.
Thackeray's benediction to students was both timely and challenging: "Find a passion; follow a cause; aim high; do what you want to do; ask for help if you need it; be guided by instinct; take calculated chances; be bold; and have that bit of luck."
Luck had played a role in his own success; a pioneer of several big design advances in metal oxide electrodes for lithium batteries, notably manganese oxide spinel materials now used in electric vehicles.
And although he had never contemplated a career as a battery scientist, Thackeray said he counted himself fortunate to have found his passion.
Thackeray used the analogy of batteries, or electrical energy storage, to tell a story about South Africa's scientific and commercial contributions to this field – and creating, recognising and capitalising on opportunities.
His own career had been founded on excellent teaching and grounding at UCT – from the late Professor Morna Matthias, an inspiring lecturer in the geology department who'd introduced him to the beauty of the crystalline world, and Emeritus Professor Luigi Nassimbeni, who had helped him master crystallography.
"I am indebted to them for exposing the road I was to follow."
One advantage of studying in South African in mid-1970s, said Thackeray, was that you were not "contaminated" by conventional thinking in the battery community.
"We worked outside the box. One idea led to another and to a sequence of discoveries. With Anglo American's support, the ideas began to flourish, but not without moments of despair when problems seemed insurmountable. We needed help to drive the science to technology development and to commercialisation."
But his own development and the development of his work necessitated a move to Chicago. Over the next 10 years, research at the Argonne National Laboratory capitalised on the platform in energy storage research that Thackeray and colleagues had created in South Africa, from which several more advances were made and successes achieved, the latter through teamwork and the "cross fertilisation of diverse minds across the globe, both young and old".
Distinguished teachers
There were two other crowning moments at the ceremony. The first was the awarding of three Distinguished Teacher Awards, honouring Dr Spencer Wheaton (Department of Physics), Dr Linda Ronnie (Graduate School of Business) and Associate Professor James Gain (Department of Computer Science).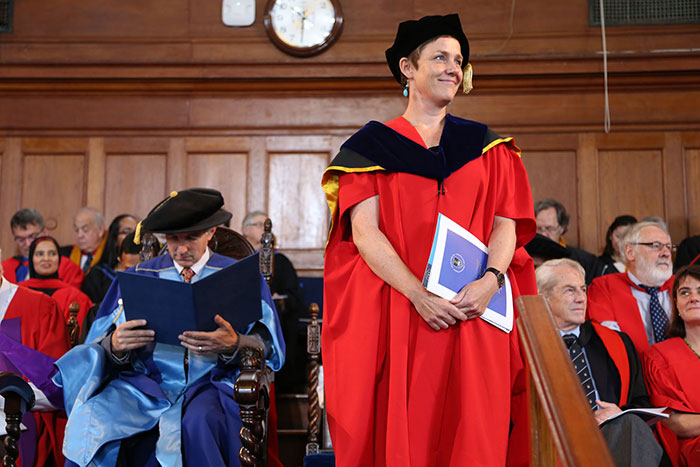 Community minded: Assoc Prof Sophie Oldfield of the Department of Environmental and Geographical Science was one of two recipients of a Social Responsiveness Award.
Socially responsive research
Next was the award of the second of two Social Responsiveness Awards for 2014. This went to Associate Professor Sophie Oldfield of the Department of Environmental and Geographical Science.
Oldfield's approach to scholarship and pedagogy has been built through a decade-long collaboration with Gertrude Square and the Valhalla Park United Front Civic Organisation, a Cape Town community organisation formed in the 1980s to challenge apartheid-era evictions. Post-1994 it has opposed evictions and mobilised for state-built housing.
Together, they have built a research-teaching partnership through which university-based research methodologies and activist research imperatives have been combined to build a body of neighbourhood knowledge. In the process they have taught hundreds of UCT students about the imperatives of community mobilisation and the realities of township poverty.
Inaugural Golden Graduation
Participating in the morning's academic procession were 17 'Golden Oldies', alumni of the class of 1964, who joined the graduation to celebrate the 50th anniversary of their graduation. Afterwards they toured the campus and enjoyed lunch with Vice-Chancellor Dr Max Price. UCT plans to make this Golden Graduation an annual event.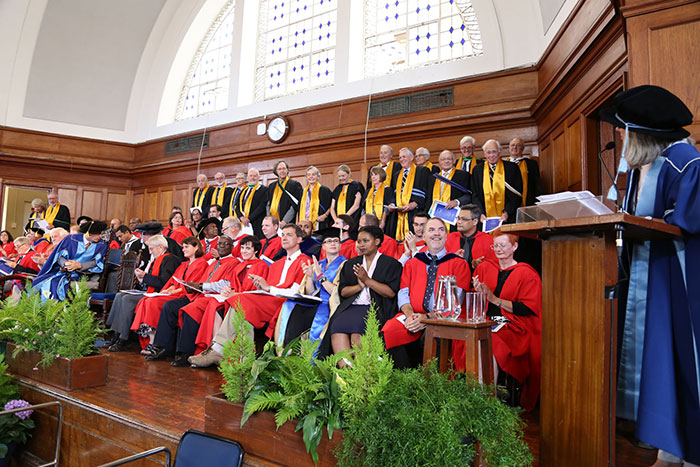 Golden graduates – alumni who kept in touch with UCT since they graduated in 1964 – were invited to take part in December's graduation celebrations. On Friday morning, 19 December 2014, they marched with the academic procession and were seated on stage, a mark of respect for their contribution to the university. UCT intends making this an annual tradition.
Download the citation for Dr Michael Thackeray
Download Dr Michael Thackeray's speech
Graduation fact: Did you know that the university orator Professor Alison Lewis is the first woman in the university's history to be formally appointed to this position? At graduation the orator delivers citations for honorary graduands. Her predecessor was Emeritus Professor Francis Wilson.
Share the excitement of #UCTGrad2014 with us on Twitter, Facebook and YouTube.
Story compiled by Helen Swingler. Images by Michael Hammond and Je'nine May.
---
This work is licensed under a Creative Commons Attribution-NoDerivatives 4.0 International License.
Please view the republishing articles page for more information.
---