At a dinner held in Smuts Dining Hall in late September, UCT honoured the contributions of 91 members of staff who have served the university and its broader community for 15, 35 and 45 years.
"You truly represent a treasury of memories, experience and institutional knowledge," said Vice-Chancellor Dr Max Price. "It is increasingly rare to find staff members that stay with an organisation for long periods, but I would like to think that's what makes our organisation different from others is that no matter what job we undertake at UCT, we all share common goals and take the university's mission to heart."
Collectively this year's awarded have contributed 1 355 years of service in areas as diverse as arts and music, civil and mechanical engineering, sport, properties and services, academic records, finance and administration, human resources, specialist laboratories and generalist Libraries. Here are a few of their stories.
35 years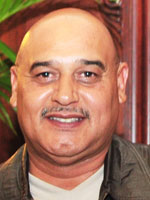 Mogamat Benjamin
Service Controller in Properties & Services
At age 16, Benjamin started off as a mailroom messenger on upper campus, working his way up to service controller approximately 15 years ago '" in his own words, his greatest achievement. He's particularly grateful to director Duke Metcalf because, as he puts it, "He recognised my potential and strengths and allowed me to grow."
Benjamin loves the variety that his position brings, from overseeing the cleaning contractor and food department to interacting with the academics. "It keeps me on my toes the whole time, but I truly enjoy interacting with everyone," he says.
His most treasured UCT memory is the day he met Nelson Mandela when Graça Machel was inaugurated as UCT's chancellor in 1999. "Security was very tight around Mr Mandela that day, but I managed to creep through them, grab his hand and give it a good shake," he says. "He smiled at me and said he was honoured to meet me. But the honour was all mine. I didn't want to wash my hand for a week!"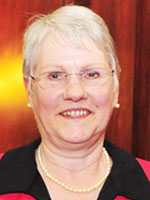 Sandra Dewberry
Finance and Administration Manager at the Postgraduate Centre and Funding Office
At 28, Dewberry landed a position as secretary and bookkeeper to university architect Wynand Dyzel. After working for Dyzel for eight and a half years, she moved to the Finance Department, where she administered student loans. She was relieved to move onto the Postgraduate Funding Office a year later, because, in her own words, "It's much nicer to give students funding than to take it back!" During that time (totalling around two decades), Linda Vranas has been Dewberry's line manager – it's Vranas in particular that she'd like to thank, for inspiring her to see challenges from a different perspective.
What Dewberry says she'll never forget about her time at UCT are the many parking tickets she's amassed over 35 years and the many laughs she enjoyed with her colleagues. Her greatest highlight was the day her son graduated with a LLB degree: "He's obtained two master's degrees in London and Switzerland since!"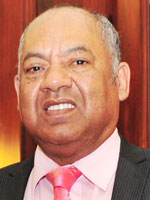 Keyam Diedericks
Teaching Technical Assistant in the Department of Molecular and Cell Biology
When his father, a lab assistant in the former Department of Biochemistry, passed away, Diedericks was offered his job, but declined. A year later, however, he snapped up a post at the Department of Microbiology, looking after the plants and animal rooms for Professor Barbara von Wechmar – someone he's "extremely indebted to" for the many skills she taught him.
When asked about his most memorable moment at UCT, he recalls an incident in the 80s that nearly spelled departmental disaster. It involved plastic ware that had been forgotten in a very hot oven. Smoke and fumes engulfed the second floor, and was finally contained when firemen sprayed dry chemical powder over the flames. While tackling the clean up, Diedericks vividly remembers how the floor looked like "Switzerland, with all the white snow". The offending molten plastic has been kept as a departmental memento, he says.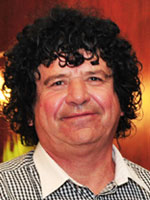 Russell Gurling
Shift Supervisor at Student Sports & Recreation
At age 20, Gurling started as a lab assistant at the medical school's animal unit. After 15 years of working there, however, he developed asthma and an allergy to rabbit fur. Since then he's found his niche at the Sports and Recreation Centre, first as a sports attendant and then as the swimming pool's shift supervisor.
Gurling counts coaching the UCT women's soccer team and becoming a SA Student Sports Union provincial soccer coach as his most valued achievements '" although rowing is another highlight. He's travelled the whole country with the UCT Rowing Club and ultimately became a boat skipper.
The most valuable lesson he's learnt over the years? "How to treat each and every one with respect" – a lesson that includes the pool's resident Egyptian geese, who at one point chased him around the pool and into the plant room. Gurling says they thankfully lost interest in him quickly and he was able to make his escape; ego dented but lesson learnt.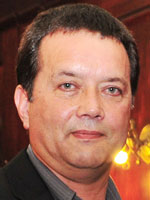 Noor Hassen
Principal Technical Officer and Laboratory Manager in the Department of Civil Engineering
Hassen recalls how he wasn't given much time to find his feet when he was appointed as a laboratory attendant in May 1979; he was immediately put out to sea aboard the Thomas B Davie. Despite this being his first time at sea, Hassen managed to find his sea legs and didn't succumb to seasickness during this 10-day research trip.
His career highlight was his promotion to principal technical officer in 2010 – this was also the year that he earned a National Certificate in Management through UCT's Staff Learning Centre. Qualifying as a fitter and turner and developing a course with Professor Nick Marais also count as valued achievements.
But it's his son Tariq's achievements that outrank his own, Hassen says. Tariq has a master's degree in architecture and last year was awarded the prestigious Renzo Piano Award, winning him an internship with the renowned Italian architect. In turn, Tariq calls his father his "greatest inspiration".
Hassen's most important mentors include Professors Nick Marais, Dereck Sparks, Mark Alexander and Hans Beushausen, and he's also "especially grateful" to the many engineering students who've enriched his life.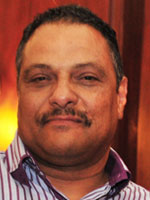 Samuel Kruger
Building Supervisor at the South African College of Music
Kruger first started at UCT as a cleaner at the College of Music when he was 20 years old, moving on to become a departmental and then technical assistant. Earlier this year he was appointed building supervisor – his proudest achievement to date.
His most memorable moments working at the college have been closing up the building alone at night under the ever-watchful gaze of the legendary turret ghost in Strubenholm. He recalls an incident many years ago where he arrived at the building early one morning to find two frightened female students who eventually admitted they'd sneaked into the turret room the night before in the hope of sleeping there. "But they regretted their decision because they heard voices the whole night and even chains clanking!" he relates with a laugh.
Kruger pays special tribute to Rob Johnson, his chief technical officer, for invaluable guidance and advice when it comes to learning about the latest technology. "Because of Rob, I am where I am today."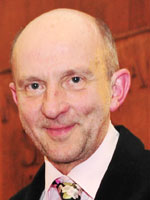 Christopher Peter
Director of the Irma Stern Museum and Director of the University Works of Art Collection
When Peter started working as the Irma Stern Museum's resident supervisor at age 25, he was completely awed by the grandeur of the revered artist's collection. This is a feeling he still experiences even after all his years at its director. "I feel privileged to work in an atmosphere of such beauty on an everyday basis," he says.
His position evolved into that of curator and he was grateful to be presented with the curatorship of the UCT Works of Art Collection by the late Professor Neville Dubow and the Registrar Hugh Amoore.
Peter recounts how one of his most memorable successes at the museum was to implement, with Dubow, a policy to host a programme of exhibitions that would present the artist's house in a new, dynamic way to ensure return visits. Several hundreds of these exhibitions were held, and many of the artists involved have gone on to exhibit more than four times at the museum since. In the realm of the Works of Art Collection, he also helped secure the Johann C Porer loan to UCT, which boosted the presence of art on campus. "UCT has been an immensely kind and creative environment, and I am privileged to be part of it," Peter says.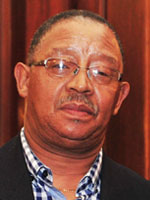 Charles Potgieter
Receptionist at the South African College of Music
Potgieter was 29 when he accepted a position as a cleaner at the College of Music. He proved himself such an asset to the department that Emeritus Professor James May promoted him to receptionist. He pays particular tribute to Prof May for his support and for always being willing to listen.
Outside of the office, Potgieter describes himself as a committed family man and an elder in his church. What many won't know about him though, is that he has a very kind heart, says his line manager Angelisa Scheepers. She relays the story of a talented young man called Duncan Johnson in Potgieter's church who desperately wanted to play the saxophone in the church band, but didn't have his own instrument. After consulting with his own family, Potgieter decided to raffle their timeshare holiday in Club Mykonos to raise funds for a saxophone for Johnson. Now, after two years of playing his own tenor sax at school and in the church band, Johnson is a first-year student at the College of Music.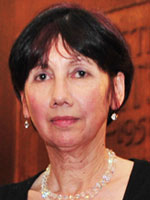 Sigrid Rich
Manager of Student Academic Records and Data in the Office of the Deputy Registrar
At 23, while studying music at UCT, Rich realised that teaching music wasn't what she had in mind for her future. She took on a job as a receptionist at the Student Records Enquiries Counter, where she realised that academic administration was where she truly wanted to be. Her passion for music still called, however, so when she wasn't working, she studied classical guitar at the College of Music and worked her way up to the Royal School's Grade 6 Guitar in only three years.
Rich singles out her manager, Karen van Heerden, for being "a compassionate and engaged leader", and also pays tribute to Registrar Hugh Amoore. "He's a wealth of institutional knowledge, has an inspirational work ethic and a great sense of humour," she says. In fact, one of her mother's most prized mementos was a Monday Paper photograph of her daughter standing next to the Amoore.
45 years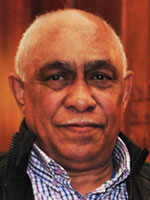 Lionel Hector
Library Assistant in the Digitisation & Digital Services Unit in the Libraries
In September 1969, Hector's brother, who was working in the Libraries' Bindery, brought his 19-year-old sibling in for an interview. Hector landed a position as a cleaner, but he was an ambitious young man and after only a few years was promoted to the Printing Department, where he collated papers and deliveries. When that department closed down, he moved to the Bindery, where he bound theses. As new technology became available, the Bindery was shut down and Hector was set a new challenge working in Digitisation & Digital Services. Today his main job is to remove the binding off the older theses so that they can all be digitised – an exercise in patience and dedication.
For Hector, his main achievements have been coming to work every day, doing a good job and, as he puts it, "staying out of trouble". The highlight of his professional life has undoubtedly been the people he's worked with. "I'd like to thank all my colleagues, past and present, as they've all been very helpful to me."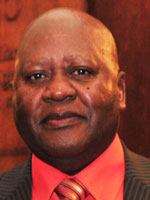 Patrick Kanye
Technical Assistant in the School of Architecture, Planning and Geomatics
In October 1969, while visiting a friend in one of the university's kitchens, 17-year-old Kanye decided to apply for a job at the supervisor's office. He was promptly appointed a cleaner, first at the Department of Civil Engineering and then the School of Architecture.
He proved an industrious worker and within three years was promoted to operating the switchboard and duplicating reproduction support, thanks to support from his mentor, the late Udo Klop. By the 80s, he'd moved up to photographic assistant, and from 1996, helped the department transition into the digital era while working as a technical assistant. Kanye is most proud of his commitment and his ability to adapt in what he calls "a highly-demanding, volatile department".
The most memorable UCT moment he experienced – and still laughs about – was witnessing the thesis class of 1973 brick up the door to the HOD's office during the Easter weekend. The senior students were "very upset" with the HOD, he relates, and even after they were forced to take their wall down, they continued protesting. The HOD only lasted a few more months in the department, he chuckles.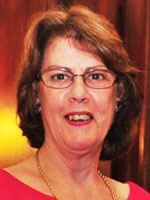 Linda Jones
SAP HR Consultant in the Human Resources Systems and Support Office
Jones remembers being paid a sizeable R105 per month back in 1969 when she was appointed as a punch card operator in UCT's Finance Department, where she continued to work until 1975 when she moved to the Personnel Department as an administrative assistant and then an administrative officer. In the late 80s, she was seconded to the Information Systems Department at UCT as a business resource for developing the new IBM in-house Heritage payroll and HR system.
Although she's enjoyed every single one of her 45 years at the university, she describes tackling the PRISM project to implement the UCT payroll and HR on the new SAP R/3 system, and the OASYS project to re-implement SAP HR as very challenging times for her and her department.
Jones is particularly grateful to her line manager Lisa Baxter for being "a superb role model", and particularly appreciative of the friendship and support she finds in people like Pam Home, Willie Low, Derek Edwards, Yafa Abraham and Siobhan Evans.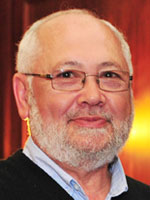 Hubert Tomlinson
Chief Technical Officer in the Department of Mechanical Engineering
From a cleaner at age 18 to lab attendant, technical officer and chief technical officer, Tomlinson has established himself as an integral part of the Department of Mechanical Engineering. For him, his most notable achievements include constructing a wind tunnel with his colleagues in 1971 and working with the first-, second-, third-, and final-year as well as postgraduate and PhD students after 12 years of service in the department. "It was heartwarming to see them progress and achieve their goals," he says.
His most frightening experience at UCT, however, was when his long-time mentor and close friend Len Watkins nearly lost his leg in a workshop accident 20 years ago. He and Watkins had been lifting a car chassis when the rope broke, resulting in the heavy metal chassis penetrating Watkins' leg. He had to be rushed to hospital but thankfully recovered and went on to become instrumental in Tomlinson's career and personal development.
Story by Carla Calitz. Photos by Morgan Morris.
---
This work is licensed under a Creative Commons Attribution-NoDerivatives 4.0 International License.
Please view the republishing articles page for more information.
---